WOW Days
Ready, Steady Cook at the Bythams
For our WOW days the theme was healthy lifestyles.
What a great way to start the day off with a Ready Steady Cook Assembly! After our daily run, the children entered the hall filled with excitement, ready to watch their teams cook up a delicious healthy meal in under 30 minutes.
On Wednesday morning it was the Red Apples against the Blue Berries. The Red Apples team (Ellie-Sky, Lara, Mr Wilkins and Mrs Foster) were cooking a succulent, spicy, speedy biryani. The Blue Berries team (Georgia, Louis, Mrs Golby and Mrs Jack) were cooking an easy, peasy omelette. After some skilful cooking by the children the 30 minutes were up and it was time to "Stop cooking!" Both dishes were amazing and it was a very close decision and the children voted for the easy peasy omelette. The audience was then allowed to sample the dishes and it was great to see some of the children tasting food that they would not normally have tried. All of the children agree that the food was yummy (and healthy too)!
Thursday morning saw the Yellow Peppers team (Max, Oscar, Mrs Wilson and Mrs Pyne) go up against the Green Apples team (Amber, Olivia, Mrs Lovesey and Mr Starr). The Yellow Peppers cooked up an amazing vegetable chow mein and the Green Apples cooked a healthy, eatwell pizza (the pizza base was made with yoghurt and flour). Once again the children's culinary skills were amazing and the staff all shared their hottest cooking tips (I've never seen a pepper popped before). When it was time to "Stop Cooking!" the children had their turn to vote. It was a draw!
The staff and children were really impressive with their cooking skills, the audience loved sampling the dishes at the end of each session and above all the children had a fun way of learning about healthy eating and had a chance to try new and different foods. A big thank you to Mrs Lovesey for all of her hard work setting this activity up for the school, it was a huge success. All of the delicious and nutritious recipes can be found on the school website. "3,2,1 Let's Get Cooking!"
After the superb cooking demonstration, the children all went off in their house colours to have a go at a wide variety of activities linked to healthy lifestyles. This is what we got up to:
Healthy Cookies?
For WOW days in Squirrel's class we looked where foods come from and how they are packaged.  We discussed the ingredients used to make "Healthy Oatmeal and Raisin Cookies" and where they came from. Two groups then made the cookies whilst the other 2 groups learned about packaging and designed their own box for their finished cookie.  The groups then swapped around.  The cookies themselves turned out extremely well, the children using such words as "gorgeous", "fabulous" and "yummy" to describe them once they had tasted them.  Alfie Johnson said he had "great fun" cooking them and Willow Westgate added, "I am going to make these at home!"  A great day was had by all!
Giuseppe Arcimboldo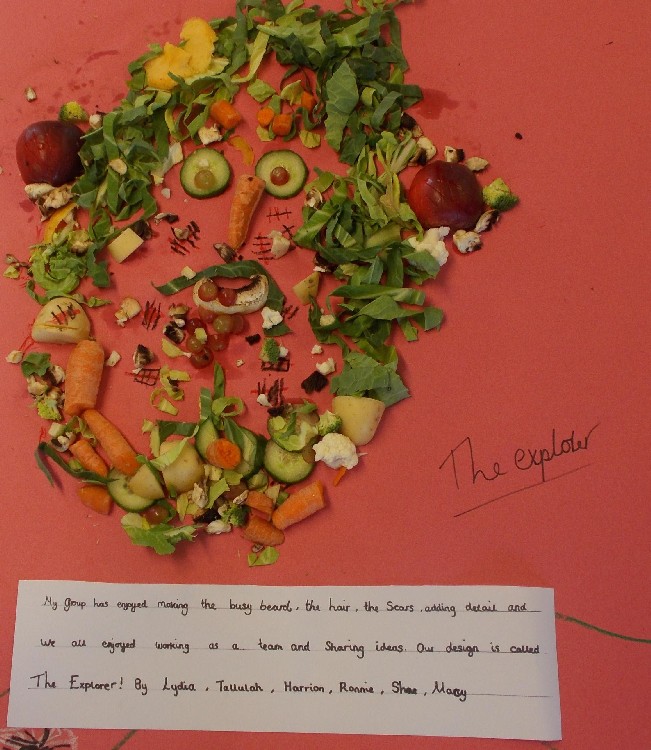 The children have been researching the Italian Artist Giuseppe Arcimboldo and have created portraits using real fruit and vegetables.  It was fun working with food and making pictures.
Macy Rodaway said, "Our group enjoyed making our pictures and working as a team. Our design was called 'The Explorer'."
Holly Allett added "We really liked making a picture from food and we crumbled cauliflower to make teeth.  Everybody loved making the green hair from cabbage."
Wow Outdoor Leaning!
Outdoor learning is so much fun! We started the session by planting onions; we planted them in house colours, so that we can weigh them in May to see which house team has the highest weight. The children painted sticks to show where their teams planting bed is.
We then played two orienteering games. The first was where the children had to find markers with clues given from a map and the second where paper punches were hidden around school for them to find. After this we moved on to the guttering game and because it was a 'healthy themed' wow day we used oranges. The challenge was for the children to transport the orange from one end of the field to the other without touching it. The children had different lengths of guttering to use, they had to rotate around each other to make a track for it to go along. If it dropped on the floor they had to start again.  
Lastly we played the spider web game where the children had to go through the holes on the web without the bells ringing. The only thing was that once they had been through a hole they could not use it again. Some of the holes were high and others were low. This meant that the children had to lift one another through the holes and work as a team. Great teamwork skills were shown by all of the children. Take a look at some of our fantastic photos we took.
Healthy choices - healthy bodies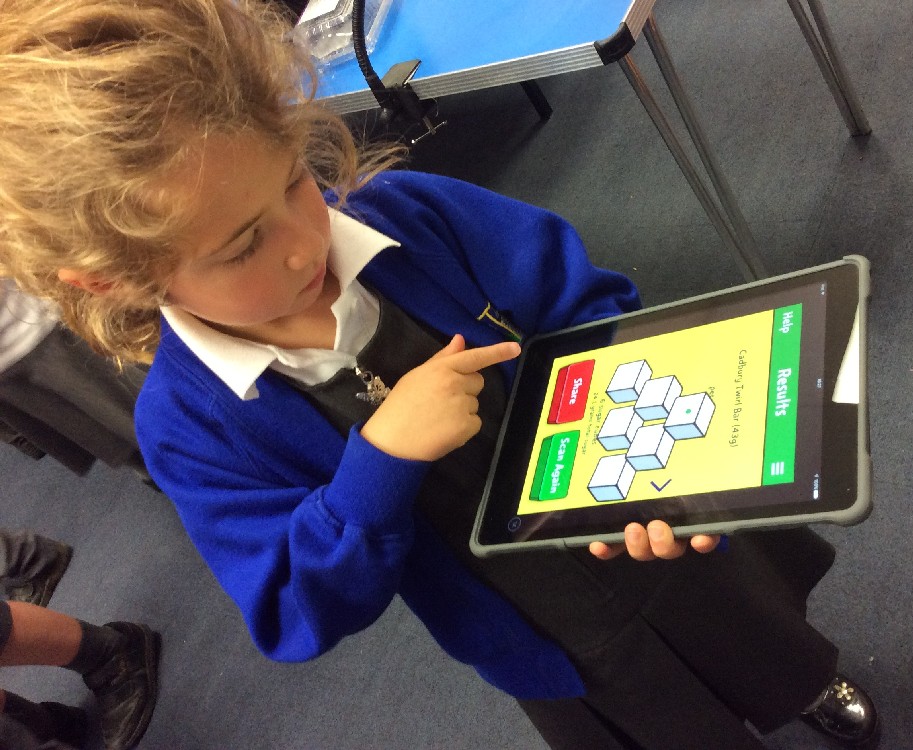 Over the two WOW days we have been looking at making sensible choices when we are eating our foods. We learned about what to look for on food labels. Firstly we looked at how many sugar cubes are in the foods we eat. We used the app Sugar Smart (https://www.nhs.uk/sugar-smart/home); this scans barcodes, and then tells you how many sugar cubes are in our foods.
Following learning about sugar, we looked at the calories in our foods. The children learned that calories are not a bad thing, but they shouldn't eat them in excess. We had a challenge if we could do enough exercise to eat a grape, or a twirl. A minute of jogging on the spot earned up 3 grapes – we were far away from eating that twirl! If you would like see how many calories are burnt during exercise look at the following link: https://www.bhf.org.uk/heart-health/preventing-heart-disease/staying-active/exercise-calorie-calculator.
Finally the children used the iPads to create their own stop – start animation. They had the theme of healthy eating to create this video. The children worked in mixed year groups and came up with a fantastic range of videos. A few videos can be watched below.
"I really liked seeing how many (calories) we burnt off from dancing, we danced around the room for 4 minutes and only burnt off 24 calories! It was really fun" Olivia Anderson said.
The WOW days were great fun and have got the children thinking about making healthy choices, that exercise can be great fun and that healthy food is SCRUMMY!
Air Power WOW day
With Mrs Leroy and Mrs Lovesey each team were exploring the flow of air. They had to design and make something that would move using wind power. This involved all sorts of creations including parachutes, planes, vehicles with sails, and boats as well as windmills. The children decided whether to work as a group, with a partner or individually. There were some brilliant ideas and some were more successful that others, but all of the children had a great time and persevered to overcome problems that they encountered. They were so excited when we tested out their creation and it moved with the electric fan.
---
Lions Water Challenge
In Lions class, with Mrs Hardie and Mrs Pyne, the children were part of a relief effort to provide running water to a village that had been isolated by a tidal wave.  This meant using lots of basic equipment to try to build a drain that could provide much needed clean water. The children had to face the challenges as a team and overcome barriers such as holey buckets and avoiding the contaminated water. Storm Barney provided extra challenges but the children persevered!
---
Pumas class WOW day - Volcanos!
The theme for this term's WOW day was flow, inspired by Pumas' class topic and our activity was centred around volcanos.  There were two activities:  individual volcanos made from clay, and one large group volcano made from chicken wire, boxes and covered with papier mache.
The individual ones were suitable for all ages, from Reception to Year 6 and were made by moulding a volcano shape around a plastic cup as a base.  We then created trenches in the sides, like lava running down a mountain, and filled them with red glitter.  This was extremely effective.  Finally we split the top of the plastic cup and inserted various fire coloured tissue paper, for the effect of an eruption. 
The large volcano was covered with the papier mache on day one, then painted and scrunched up tissue paper was stuck on to make it look like a mountain.  Finally, in Thursday's assembly, the top was filled with bicarbonate of soda, red food colouring and vinegar to create our very own eruption. 
Over the 2 days, the children learned a great deal.  Their team building skills were developed, the older children actively helping the younger ones, their creativity as they decided how to style their volcanoes and often their determination to succeed, as the efforts did not always work first time!  All in all a wonderful two days!
---
Mrs Jack's WOW Work
In my class we were looking at how water is portrayed through art and interpreted through a range of media.  
We began by looking at how water has been painted across the centuries; ranging from the work by Monet, Turner and Georgia O'Keefe.  We discussed how important it is to be inspired by real life objects and the work of others to create your own unique pieces of art.  
This then lead us on to looking at my art work.  I studied woven textiles at university, so I couldn't resist the opportunity to show the children the stages of my work. This ranged from what inspired me, to my finished art work, and then how that is translated to a final woven piece.  
We then used these ideas and techniques on a simple hand loom.  Every child from the school had a turn to contribute to this final piece of fabric inspired by the colours of water, and it looks amazing! Not only did they do weaving but they all improved their skills of painting with water colours.  
The children painted their landscapes using techniques that are most effective with water colours.  Once these dried they worked on top with a range of media such as oil pastels and pencil crayons.  They were extremely effective.  
Finally everyone had a go at marbling; drops of ink were placed on water and then swirled around to create some stunning pieces of art.  All children were fantastic over the two days, the atmosphere was calm and relaxed and full of excitement, especially when they lifted up the marbling and saw their creations!