Bythams' Forest School
A Forest School is an innovative, practical, educational approach to outdoor play and learning where children learn about the unique environment around them, how to keep themselves safe, how to use tools and create things. They learn the importance of co-operation and communication in teamwork, of determination and perseverance and using their initiative in problem solving. They learn about boundaries, responsibilities and being independent.
The Forest School philosophy at The Bythams is to "encourage, enrich and inspire children through positive outdoor experiences." By participating in engaging, motivating and achievable tasks and activities in a woodland environment, each child has the opportunity to develop intrinsic motivation, sound emotional and social skills.
Forest School brings learning to life and life to learning!
As part of our creative curriculum we have exciting opportunities for children to explore learning through the forest school. We have a member of staff that has a Forest School Level 3 qualification. All other staff have completed in-house training and now deliver regular, innovative forest school activities with their classes over the year.
We are able to access the Bythams Spinney for forest school sessions, particularly with older children. On the school grounds we are lucky enough to have our own private woodland area that we have named "The Mini Spinney" and so we have two woodland areas for Forest School sessions.
After a successful bid for funding we now have a raft of quality resources and tools for children to use during these forest school sessions. Over the last year the children have taken part in woodland wow days and these activities are now becoming embedded as a part of the curriculum each term. Please have a look at the class pages to see the many activities. The leaflet on this page gives a bit more information about forest schools.
Our New Saw Horse
We were very eager to get out to Forest Schools today as it meant we were able to test out our new saw horse. The saw horse was kindly made by Damien Spires, thank you Mr Spires. It is a valuable addition to our tool use in the woods. It means the children can safely saw wood of varying lengths to enable us to create a range of items.
Dinosaurs
Mr Clarke and the Hedgehogs Class had great fun outdoors making some magnificent nature pictures of a dinosaur landscape, using only natural materials, based on the work of the famous transient artist Andy Goldsworthy. Watch out Lucy I think he's going to bite you!
Hedgehogs exploring
The children have had a wonderful time exploring the Mini Spinney this week. They were able to access a wide range of resources to use in their active learning time. They made some fantastic dens and showed great team work skills. Some children were using the baskets to collect autumn objects, making animals houses, and even tying some knots.
Squirrels' Transient Art
In Forest School we had a wonderful session where we made some transient art.  First we went around the school grounds and outside the grounds up to the railway track to collect some natural materials for the artwork to be made of. 
The children were then split into groups to decide what pirate related picture they would make.  They then used all the natural materials around to make their picture.  They even finished them with borders of stones!
Badgers Class
As part of our Forest School afternoons we have been building sculptures out of natural materials, all under the theme of our topic, Blood Heart. We have been using saws, hammers, glue and pyrography pens to create these masterpieces. Some children made giant wooden hearts and covered them in acorns, leaves and pine cones, others a ginormous bike where they looked how exercise makes a healthy heart. We concluding the project by opening the sculpture trail for parents to come and look around.
Forest Schools Summer update
Now we are approaching summer, and with all the sun and rain, the Mini Spinney is alive with plants, animals and mini beasts. We have been learning how to maintain a sustainable area and started creating features inside for other classes to explore and use. We created 'The Door'; this is a wooden door on a tree which leads to anywhere you can imagine. The children got out the knives to whittle a fence around the area and sawed disks off large sticks to make a path.
We also put up a weaving frame, kindly made by Mr Spires, which the children from the whole school will keep using. It is a natural weaving frame so will be filled with long grasses and leaves the children find.
Den Day
All children from years 3, 4, 5 and 6 went down to the Big Spinney to participate in Den Day. The children split up from their usual friendship groups and formed new ones to create a variety of dens. Some used only natural materials found in the area; the most creative group covered their den completely in sticky weed. Other children combined sticks and grasses with tarpaulin to ensure their dens were kept dry. The children surpassed themselves, they were fantastic, and the skills they learnt will be transferable to any situation. They worked together, they had to compromise, made new or improved old friendships, and they had to problem solve to build their dens. The most important thing is they enjoyed themselves so much we didn't want to leave, and were late back to school; we could have stayed there all day!
Training Day
At the Bytham's we are strong believers that outdoor education motivates, engages and enhances children's learning. As a result we even had our training day out in the woods. We explored the new tools we have in school, used the bow saws to make wood cookies, and used the knives to whittle a stick to create plant markers. As well as learning how to safely use the new tools, we lit a fire and cooked stew over it for our lunch. We went away very enthusiastic, and with lots to inspire the children.
Three Chairs for Mr Spires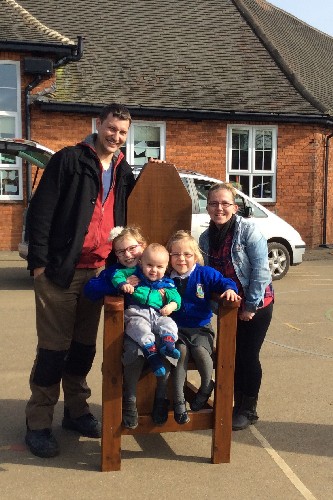 Bythams would like to give Damien Spires a massive thank you for designing and crafting an amazing story-telling chair for the Bythams Mini Spinney woodland area. A talented carpenter, Damien spent hours sawing, sanding and varnishing the chair in his own time so that the school would have a fantastic story-telling resource for all the children, staff and parents to enjoy. The picture shows Damien with his wife Helen standing by as their three children Charlie, Faith and Olivia sit on the majestic throne! Three chairs for Damien "Hip Hip…"
Our new fire pits
We are very excited to have two new fire pits this week. They are made from an oil drum and other recycled materials. We couldn't resist but build a fire in them week and toast marshmallows over it, a lovely treat during our Forest School afternoon. A big thank you to Wilfred's Dad for making the fire pits, we will get lots of use from them!
The Fire Burns Bright at Bythams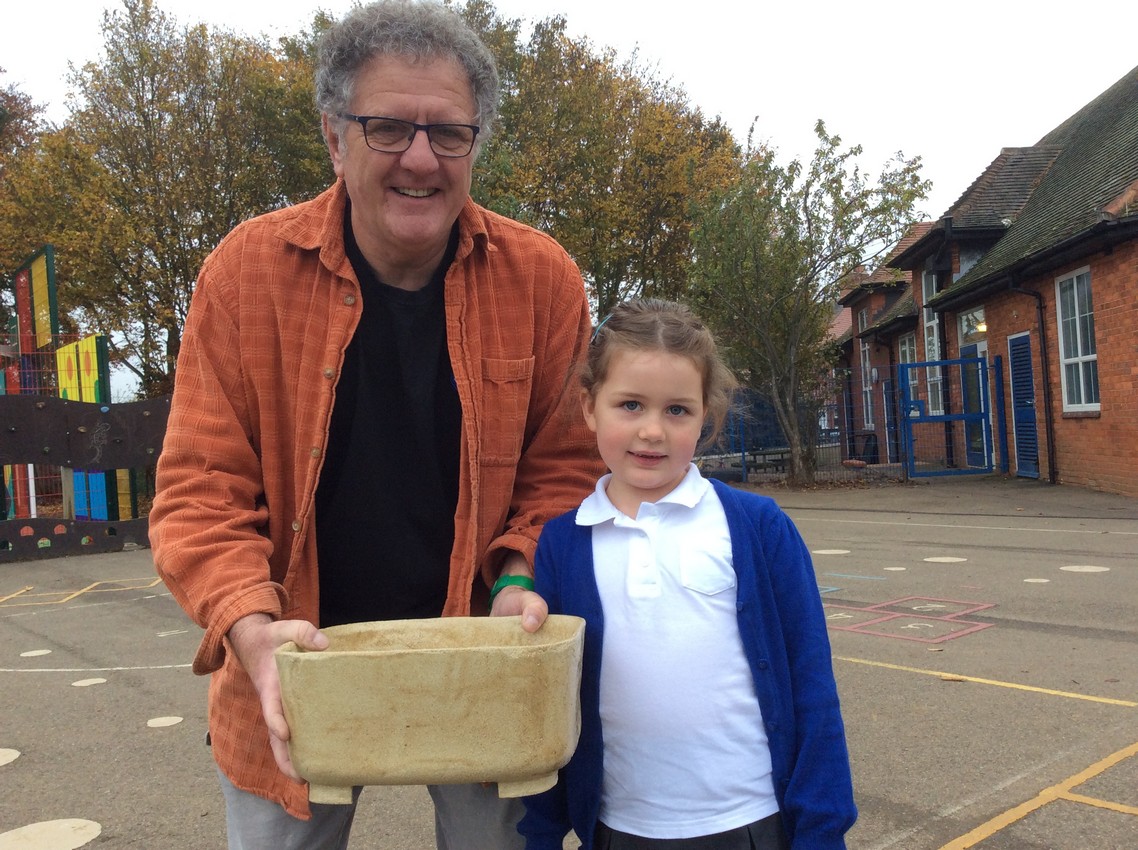 A big thank you to Cameron and Lily's Grandad Tony for making us a fantastic fire pit for us to use for our Forest School lessons. The children can't wait to toast some marshmallows with it! Thanks Tony.