Welcome from Mrs Marshall, Mrs Foster, Mrs Lovell and all of the reception and Year 1 children of Hedgehogs class.
The Mystery Of the Missing Gingerbread Men!
After a week of activities around the story of The Gingerbread Man story, on Thursday the children in the Hedgehog class made their own gingerbread men. However, when we arrived into school on Friday Mrs Marshall was shocked to find 7 Gingerbread men had disappeared! She asked the children from Gardening club if they knew what had happened or had even eaten them! They all said they didn't know anything about it. Upon looking more closely the children found that the icing had been used and the sweets they were going to use had disappeared. Peter and Elodie noticed that there were gingerbread crumbs on the table. Mrs Wilson came in to tell the class that in the evening she had been called out to school as the alarm had gone off. The children thought that a robber must have entered the building and took the gingerbread men. Mrs Lovell wondered why the robbers hadn't taken her chocolate which she had left. Archie thought that the gingerbread men had escaped! We all went looking for clues around school. Thomas was keen to find out where the robbers had gone to. Taylor found a footprint! Grace saw there were crumbs on the floor near to the office.
Mr Clarke came into the classroom to let Mrs Marshall know he had the video from the camera in Hedgehog class. We all sat down to watch what it had filmed. We were amazed to see that the gingerbread men had escaped and ran away! Elodie thought that it was the gingerbread men who had used the icing before they had left.
---
Later, the children wrote about the mystery, below are some extracts from their work.
Jack wrote: On Friday morning seven Gingerbread men ran away and one had a cane, there were crumbs on the table and the icing was open.
Conor wrote: We found crumbs and footprints.
Taylor: One Friday morning we found crumbs on the round table. There were 29 gingerbread men but seven gingerbread men had ran away.
Grace wrote: I was sad and I was angry.
Lucy wrote: I thought that a robber took the gingerbread men. On the film it was actually they had escaped by their self.
Peter wrote: They ran away and might have jumped out of the window.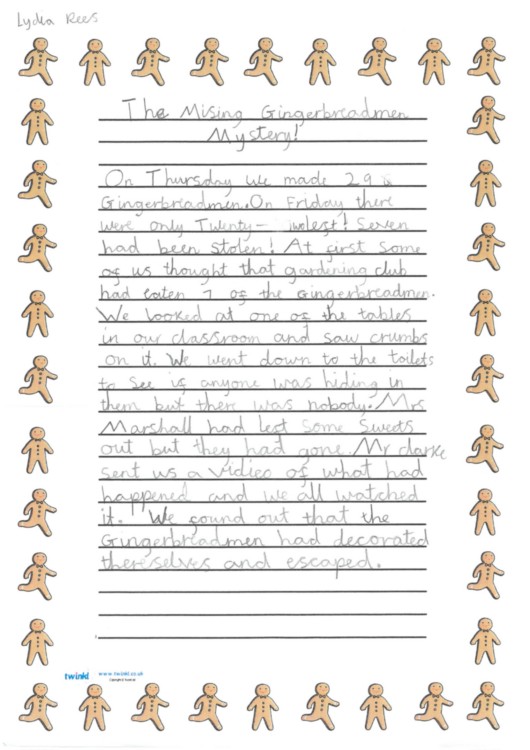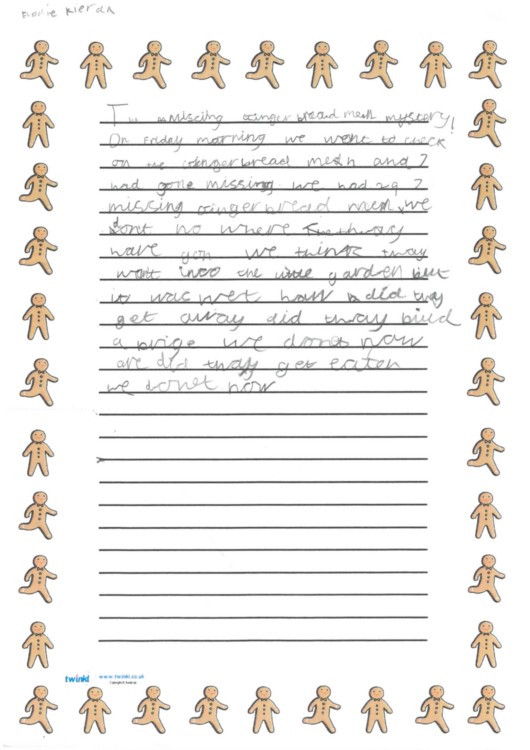 Independent writing from Year 1 children.
The children did finally ice their gingerbread men as luckily there were enough left to have one each! Here is a photo of the reception children showing their yummy gingerbread men.