Welcome from Mr Starr, Mrs Foster, Miss Hill and all of the Reception and Year 1 children of Hedgehogs Class.
This link is for Tapestry, your child's online learning journey. Please logon regularly to see what your child has been up to. Even take some photos and share what you have been doing at home.

Reading Buddies
We decided to have a session of reading buddies and this is where we paired an older child from the school with a younger child to read. Mr Wilkins read with Mr Starr's Class and Mrs Jacks Class read with Mrs Wilsons. The children thoroughly enjoyed this assembly and liked listening to the little children read. Take a look at some of our pictures below.
Minibeast Hunt
As a start to our new topic about minibeasts and our question – Why do ladybirds have spots? We had a minibeast hunt in the Mini Spinney. The children found lots of insects by looking under the rocks, branches and leaves. We were able to find ants, snails, slugs, spiders, woodlouse and centipedes.
Africa Talk by Koleh Rees
We were very lucky to have a parent come in to talk about her time in Africa and share stories about her culture and heritage. The children enjoyed looking at Mrs Rees's belongings that she had brought over from Zambia, she had even brought in some food, ornaments, crockery and clothing. The children listened very carefully to Mrs Rees and responded with great questions. The especially enjoyed the singing and seeing her carry Esther on her back with a blanket.
White Tiger Escapes!
The children came back into the classroom to find that it had been turned upside down with a big mess that had been made. The children guessed that it could have been a tiger from the prints left on the floor. The set off and began taking notes and investigating. The children made wanted posters to hang around school and produced some lovely writing from this.
Skyping the Penguin Sanctuary
While Miss Manvell was here, she arranged to be able to skype with a penguin sanctuary in Africa. The man told us all about the penguins and what they had to do to look after them. He told us the story of one of the penguins and answered the children's questions that they had. He even took us to see them and we could hear them making lots of noise and swimming.
Face Painting by Eleanor Massey
The children were very lucky enough to be able to have their faces painted by Eleanor Massey. As part of the end of our topic on Zoos and Africa we were looking at the question – Why do zebras have stripes? The children also got to have a little go at using some of the face painting materials and saw how to create the different patterns.
Pancakes
The children really enjoyed making pancakes. They first designed their pancakes and what toppings they would put on them from the range w had on offer. The children were able to choose from sugar, banana, lemon, orange and jam.They had great fun mixing all of the ingredients together and weighing them out carefully. Then it was time to cook them before adding the toppings.
Forest Learning with Mr Clarke
Mr Clarke and the Hedgehogs Class had great fun outdoors making some magnificent nature pictures of zoo animals. This was using only natural materials, based on the work of the famous transient artist Andy Goldsworthy. Can you tell what we made?
Dinosaurs
Mr Clarke and the Hedgehogs Class had great fun outdoors making some magnificent nature pictures of a dinosaur landscape, using only natural materials, based on the work of the famous transient artist Andy Goldsworthy. Watch out Lucy I think he's going to bite you
Fun at the Fair
Foxes class made their very own games at home and then hosted a funfair in the school playground. It was a big hit with the Hedgehogs class and everybody had lots of fun.
Hammerton Zoo
We had a fantastic visit to Hammerton Zoo. The children had lots of fun exploring the zoo and seeing all the different types of animals. We started our day with a workshop about some of the animals that the pupils will see in the zoo. There was some different animal furs to pass round to touch. We learnt about the different types of mammals and even got to see live animals from the three groups. There was a snake, an owl and a hedgehog.
After the workshop we made our way for a train journey around the Zoo to see all the different types of animals. The children really enjoyed the train ride. After an exciting morning we had a short break for lunch before exploring the zoo to see all the interesting animals. Take a look at some of our amazing photos. The children even got to feed some goats and stroke some of the animals. We finished our day with a play on the park before getting the bus back to school.
World Book Day
It was World Book Day on Thursday 2nd March and to celebrate this special day, all of the children and staff of Bythams Primary School arrived at school dressed as their favourite book characters. As you can see from the class picture, there was a wide range of characters. In the afternoon, the children were all split into different age groups and they had the chance to share their favourite stories and discuss their favourite characters and why they love reading.
World Book Day at Bythams was a huge success and anything that encourages children to read more is a fantastic idea!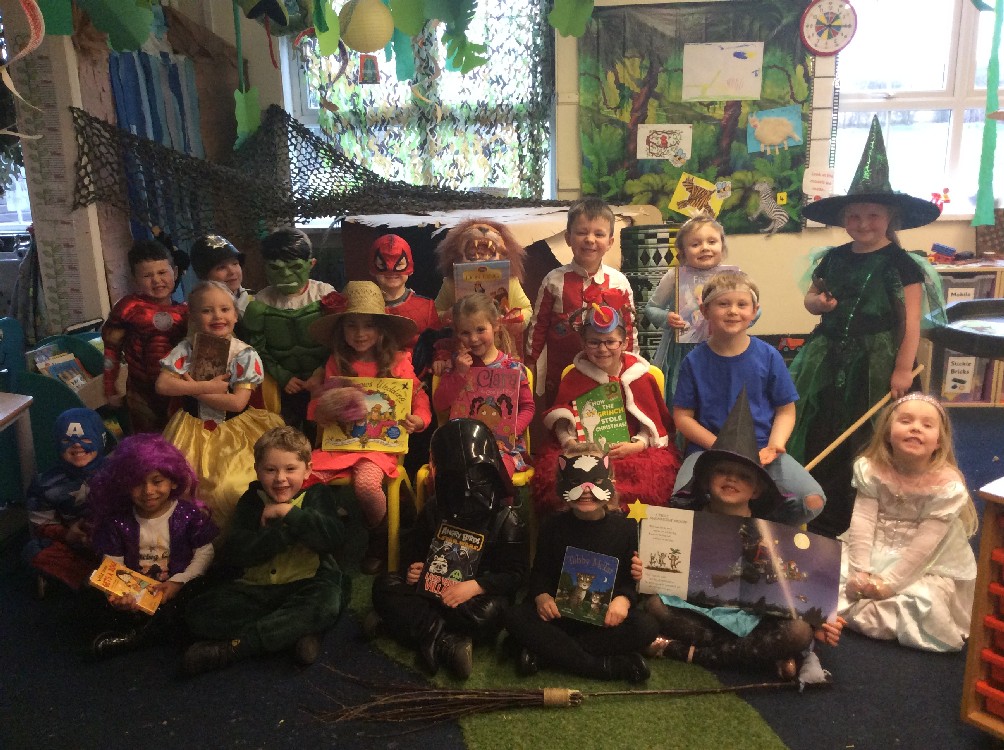 Hedgehogs Dinosaur Exhibition
We had a great turn out for the dinosaur exhibition, with lots of parents, carers and grandparents coming to see what the children had been up to over this half term.
Mannequin challenge
We had a go at our very own mannequin challenge. The children did really well at standing still for a minute and half.  Well done, we hope you like it!
Tyrannosaurus Rex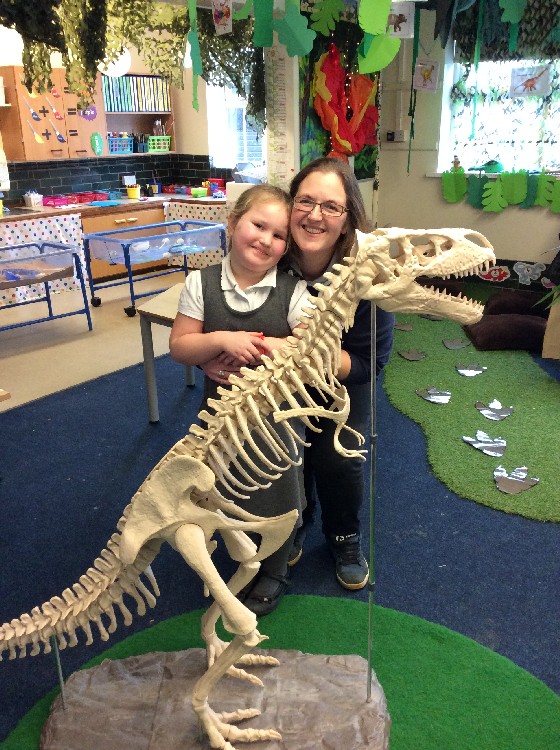 A big thank you to Indra and especially to Mum for allowing her to bring in the T-Rex model. The children have seen pictures of fossils but it was great for them to see the fantastic 3D model. 
Dinosaurs
We started out our topic with a message from Mr Clarke, he told us that there had been some suspicious noises heard the previous evening. Despite a brief walk around the school by Mr Clarke and Mr Spires to see what it could be, nothing was found. So we set out on an expedition to see what it could be. We went armed with notepads, cameras and of course magnifying glasses! Our expedition took us to all sorts of different areas in and outside of school. After finding some really odd things such as an old boot, pizza boxes, feeding dishes and a glove we eventually came across a very large egg that was nestled in the bushes. The children took a while to explore the area and inspect the egg. Some children thought it could be a dinosaur and others thought it could be a small animal. What could it be? The children then came back to the classroom to uncover that the whole classroom had been turned into Jurassic park. Our topic is 'What was the biggest dinosaur?' The children have been busy writing up their findings from the expedition, making a newspaper article, making fossils and dinosaur sculptures. The children will then write some invitations to invite parents and carers to a museum of all of the work they have created.
Christmas
We had a fantastic time leading up to Christmas. We had a Christmas party and played pass the parcel, musical statues, dancing and then we had some party food.  Just before the party was over we had a visit from Santa that came to bring the children a present and ask them what they would like for Christmas.  The children were very appreciative of Mrs Wilson and Miss Wilson that had brought all of the children a little present.
Nativity – Angel Express
The children all had a part in the nativity performance called – Angel Express. They were absolutely amazing and put 100% into the performance. We are very proud of them. I hope you enjoyed the performance!
Forest Learning
We had lots of fun in forest learning playing the leaves and making S'mores. S'mores consists of a toasted marshmallow in a cream cracker and chocolate sandwich- yummy! After we had our tasty snack we put the fire out with some water and the children used the charcoal to mark make on the trees in the mini spinney.
Diwali
The children have thoroughly enjoyed our Diwali topic. We have been looking at the story of Rama and Sita. We made rangoli patterns outside with powder paint and got a little messy, although we had lots of fun! We were lucky enough to have a parent come in that did some henna patterns on the children's hands.
Owl Babies
Our most recent topic has been nocturnal animals. We looked at the story called Owl Babies and then the children acted out the story with puppets, masks and soft toys. They were really good at remembering their parts and spoke with very articulate voices.
Witham Hall
The children have been going for weekly sessions at Witham Hall this autumn half term. They have been working on their balancing skills, both fine motor and gross motor.  The children have played different games and activities. They have really enjoyed their time at Witham Hall using the great facilities and working with the wonderful staff. Thank you for having us!
Bread Making
We have been reading the book 'The Little Red Hen' and this story follows Little Red Hen as she makes some bread. The children really enjoyed this story and were interested about how we make bread. So we made some of our own and the children worked very well as a team. We decided to make hedgehog shaped rolls and we even made some butter from cream to have on them too.
Forest Learning
The children have had a wonderful time exploring the Mini Spinney this week. They were able to access a wide range of resources to use in their active learning time. They made some fantastic dens and showed great team work skills. Some children were using the baskets to collect autumn objects, making animals houses, and even tying some knots.
Welcome Back
We have had an exciting start to the school year with lots on new faces in Hedgehogs Class. Take a look at our first day photos.
Welcome back to everyone! It's been great getting to work with your child and getting to know them (Some I know already from last year). However, it has been great getting to work with them again.
A fantastic website that has lots of great maths games to help your child with numbers and shape, space and measure. Topmarks
A great website with free phonics games to help your child with all phases of their phonics. Phonics Play
This is an amazing website that offers learning experiences in all areas such as problem solving, reading, number and generally all round fun games that will engage them. The Big Bus
I can write my numbers
Phonics
Phonics song
Articulation Phonemes
Useful websites
Our Useful Websites page has links to some great games and information which will help some of the work we are doing in class, such as Letters and Sounds - A great website that has free phonics games and resources to help your child with all phases of their phonics.
The eSafety page has links to some websites that will give you help and advice on staying safe when you are online.
Growth Mind Set
At the Bythams Primary School we believe in a creative curriculum to engage the children. As part of this we are encouraging the children to develop a 'Growth Mind set'. This is when children keep on trying to develop and improve, learning how they learn best and thinking about what they need to do next.
This website link to CBeebies explains the idea of a growth mind set really clearly have a look at how this really encourages children to think and learn. Growth Mind set link.