Welcome from Mrs Wilson, Mrs Foster, Mrs Blewett, Miss Massey and all the Year 2 and Year 3 children of Squirrels Class.
Welcome to Prehistoric Man
Our topic this term is 'Tribal Tales' where we are learning all about the Stone Age, Bronze Age and the Iron Age. To start it all off we had a dressing up day where we came as prehistoric humans. We learned all about how humans spread from Africa around the world and how they managed to survive the Ice Age. We then looked at cave paintings and created some of our own.
In the afternoon we went down to the Spinney to learn all about how to survive in prehistoric Britain. We looked at camouflage and the importance of it, having a great game of hide and seek. We looked for things we could transform into tools (for later use in forest school) and finally each group had to seek out a suitable site for an overnight camp, explaining why they chose it and how they would use it. We are all looking forward to an exciting term.
Gods and Mortals
Well what a wonderful topic the Greeks was!  We started with a WOW day, dressing up as ancient Greeks.  During the day we had a Greek feast, designed Greek pots, wrote our names in Greek and did some Greek drama activities. 
During the term we made our own Greek pots by using yoghurt pots, balloons and paper mache.  Although very time consuming they came out extremely well. 
We looked at lots of Greek myths and legends then felt we were ready to write our own version of one.  We picked 'Odysseus and the Cyclops' and decided on writing a play.  We split into groups and each group wrote one scene.  Once written the children needed to decide upon and find costumes, props, masks and backgrounds.  We decided to film the whole thing wearing masks like they used to do in Ancient Greek theatres.  We then filmed each scene on the iPad, using a green scene to get suitable backgrounds where necessary.  Each role was played by the children who wrote that scene, the masks allowing the audience to still realise that it was the same character, despite the actors changing.  We then completed to film by adding titles, music and sound effects.  Click here to view the film. 
To celebrate all that we had learned in PE over the topic we had an Olympic afternoon on Tuesday 28th.  The children competed in a number of Olympic sports including distance and short running, javelin, discuss, hurdles and the relay.  There were winners of each event but each child received a medal for their amazing efforts. All in all a wonderful topic!
Finally I would like to say a big thank you to Mrs Blewitt and Miss Hough (our student teacher) for their support and hard work throughout this term.
Jo Wilson
An Alien Has Landed…….
We had an extremely exciting and surprisingly start to the year.  When we came to school on Wednesday morning, Mr Spires, our caretaker, had cordoned off an area of our mini-spinney and warned everyone to stay away because it was dangerous.  We then had a visit from Miss Massey who told us that she had seen some strange lights in the sky the night before and heard some weird noises, including a crash!  We wondered whether this had anything to do with the mini-spinney and decided to go out and investigate.  What all the evidence pointed to was that an alien spaceship had crashed in our spinney the night before.  We then got an email from our school administrator Mrs King who had received word from local farmers who were concerned about strange marking in their fields.  We concluded that the spaceship had only partially crashed and had landed in a local field.  What we didn't know was what happened to the alien (lots of green slime and alien footprints were found at the crash site). 
We spent the day investigating what had happened and writing newspaper reports.  Mr Clarke even said we could miss maths because it was so important!  Since then we have written letters from the alien to Mr Clarke to explain what happened and why he is here, designed what we thought the alien would look like and created wanted posters to try to find him!  All in all a wonderful first week back. 
Muck Mess and Mixtures
We had a great fun, but very messy start to this term with our WOW day.  The whole day was art based, looking at the different ways artistic effects can be created. 
We began by talking about different artists through the ages and looking at their work and the techniques some used.  We then created bubble pictures by watering down paint and adding fairy liquid then blowing through a straw to create coloured bubbles.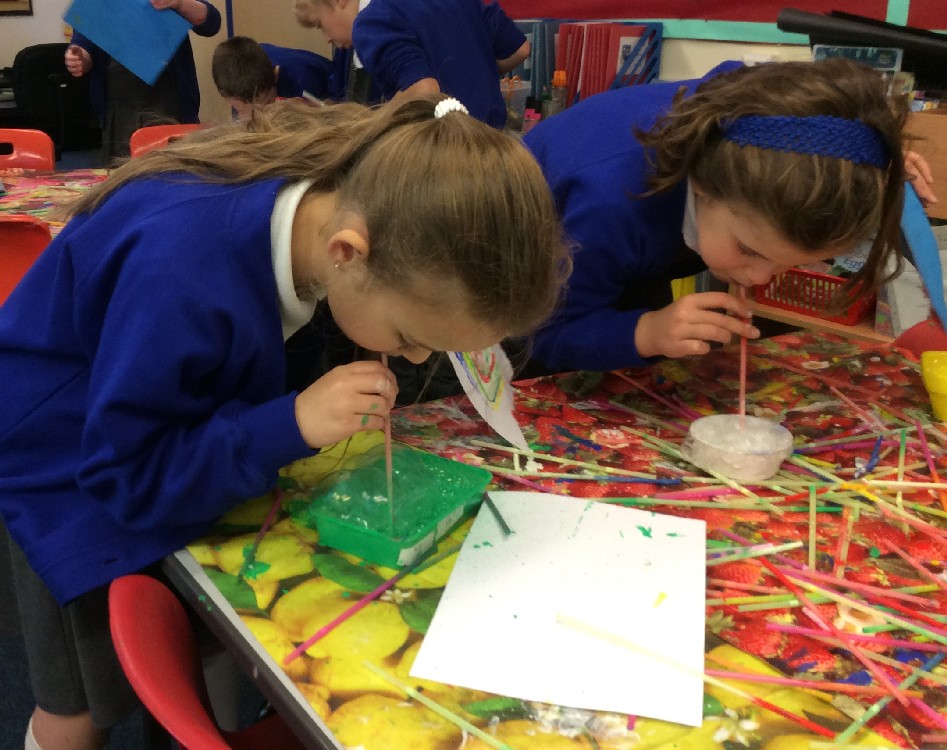 We also created an autumnal picture by blending yellows, oranges and reds to form a sky, then adding silhouettes in front by cutting out black paper.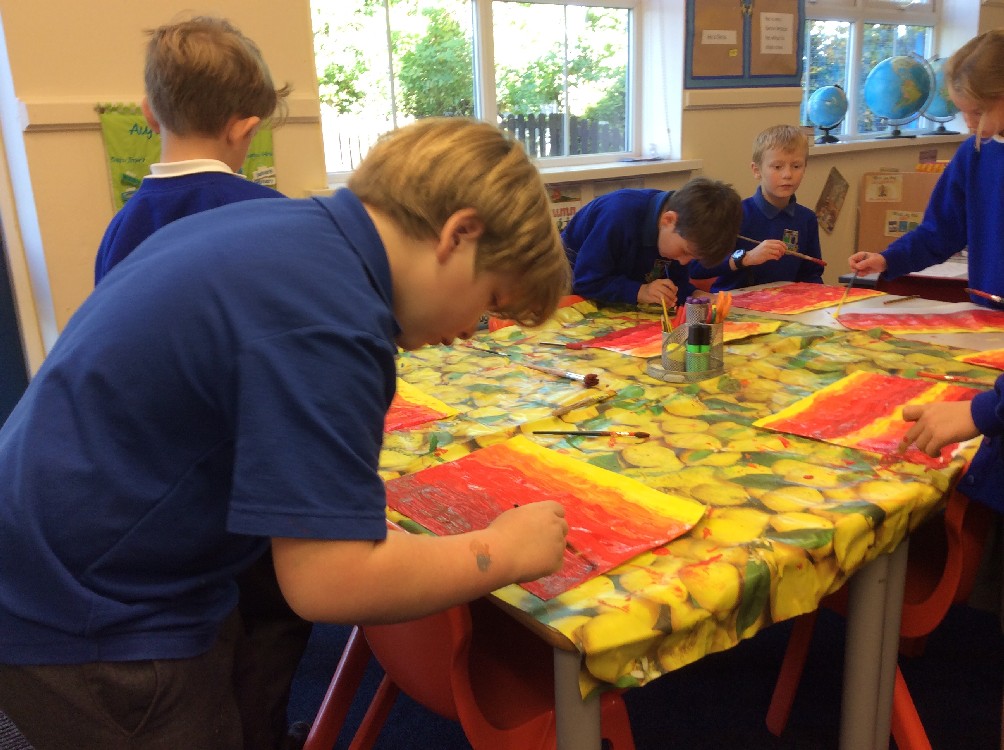 The messiest part of the day (I believe) was the splatter painting outside in the playground.  We created our own backdrop for our display boards as well as individual firework pictures.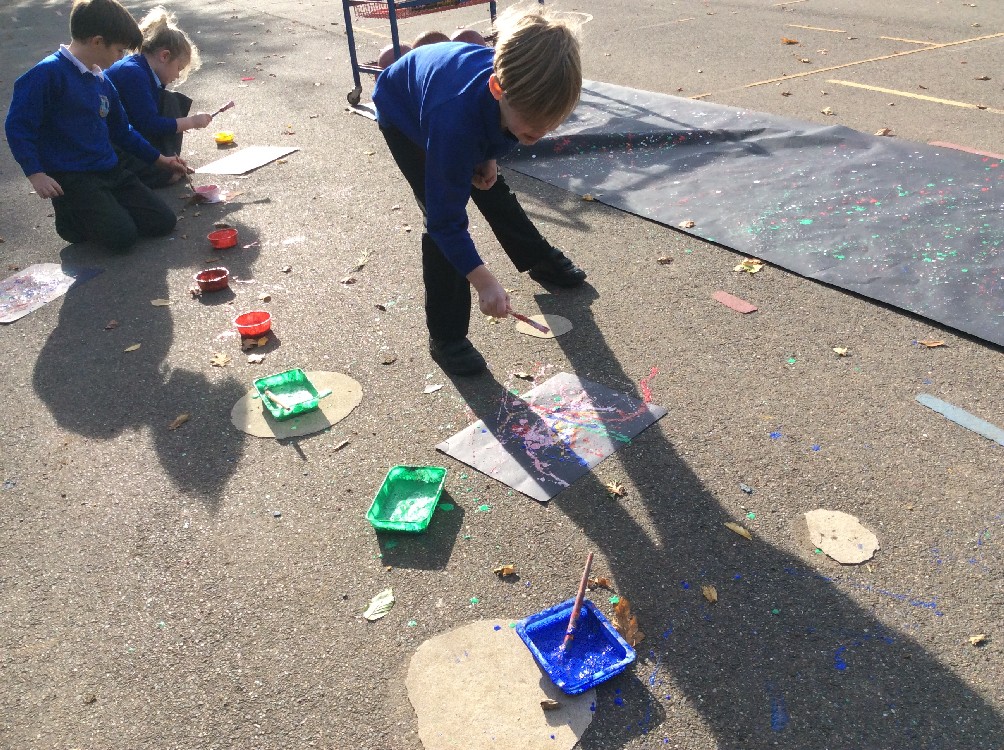 The afternoon was all about collage, where we gather different materials (cloth, tissue paper, feathers etc) to make bonfire pictures.  We stuck the materials onto black paper which was very effective.  All in all a messy but thoroughly enjoyable day.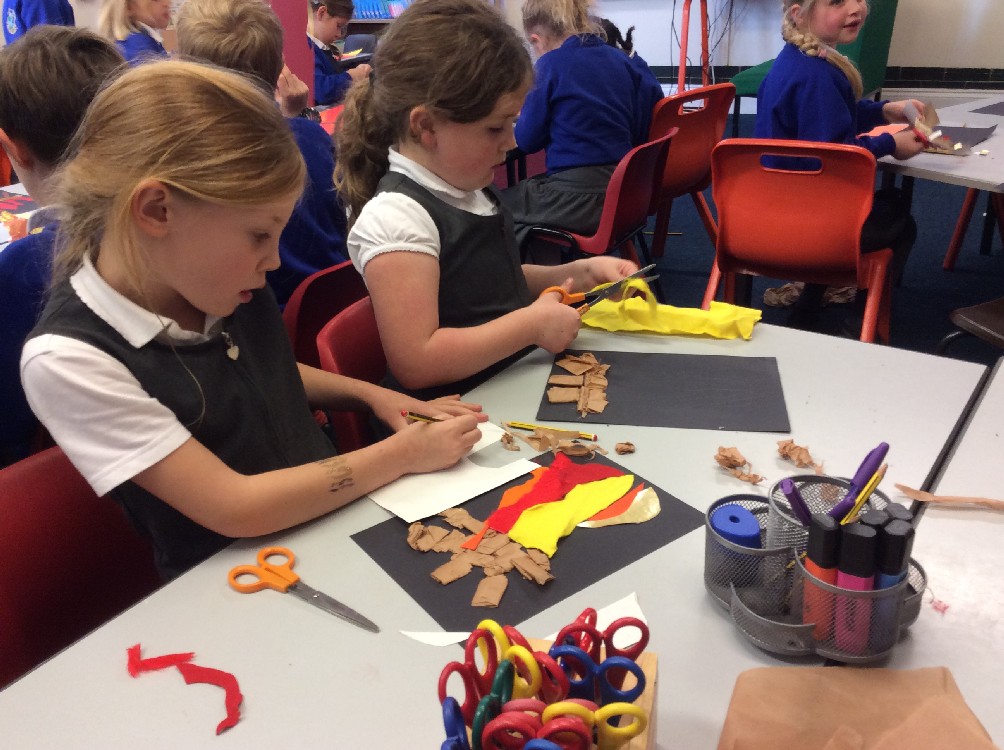 Squirrels' Harvest Assembly
Rain unfortunately led to our church assembly being cancelled but you have an opportunity to watch what we would have performed on the website.
We performed a class poem, which the children made up themselves in their literacy groups.  We then added a chorus to chant, actions and some instruments.  I'm sure you will agree that the end result was rather impressive!
Enjoy!
Transient Art
In Forest School we had a wonderful session where we made some transient art.  First we went around the school grounds and outside the grounds up to the railway track to collect some natural materials for the artwork to be made of. 
The children were then split into groups to decide what pirate related picture they would make.  They then used all the natural materials around to make their picture.  They even finished them with borders of stones!
Pirate Day!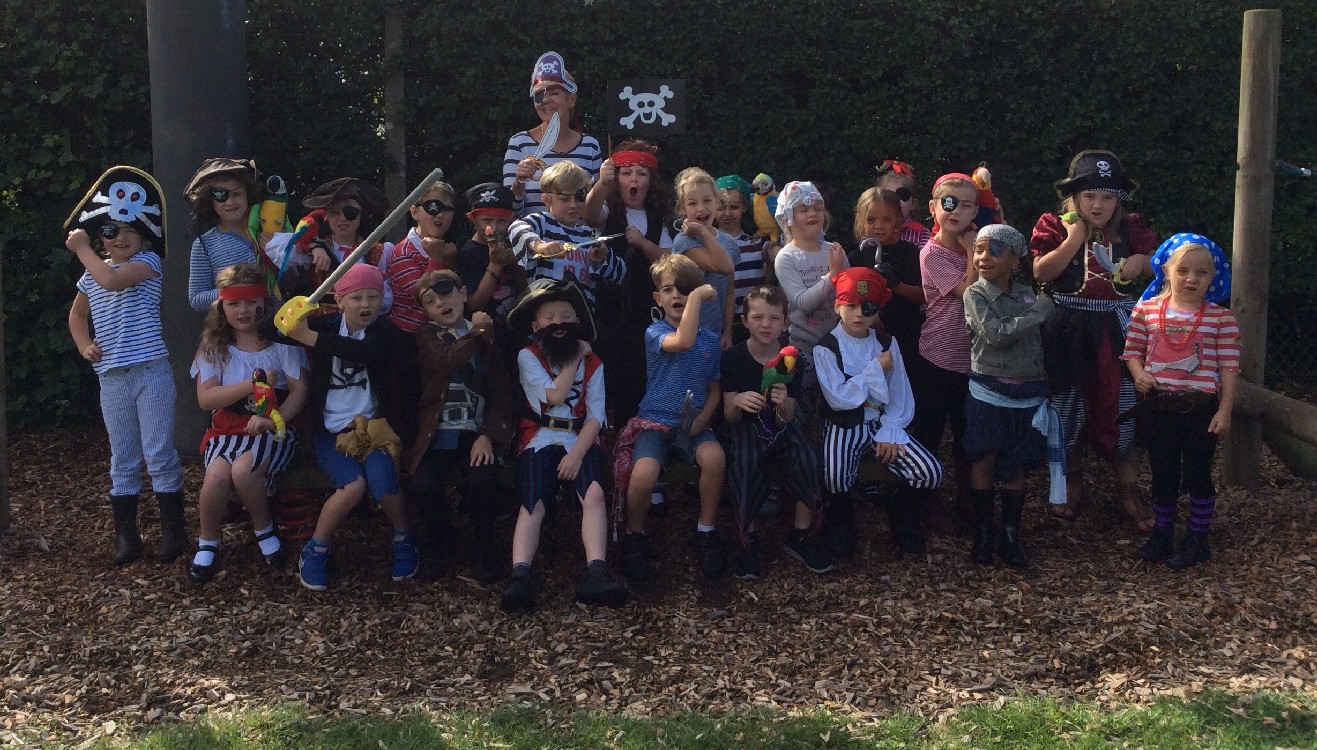 On Monday 12th September we had a very exciting Pirate Day in Squirrels' class.  All children (and staff) came dressed as a pirate and spent the day in pirate related activities. 
Firstly we played a team game where the children had a number of pirate-related objects and a pile of pirate names.  They took it is turns to describe the objects with adjectives, what they would do with it, verbs and how they would do it, adverbs.  They then combined all elements to come up with some amazing pirate sentences (see below).
Perfect Pirate sentences!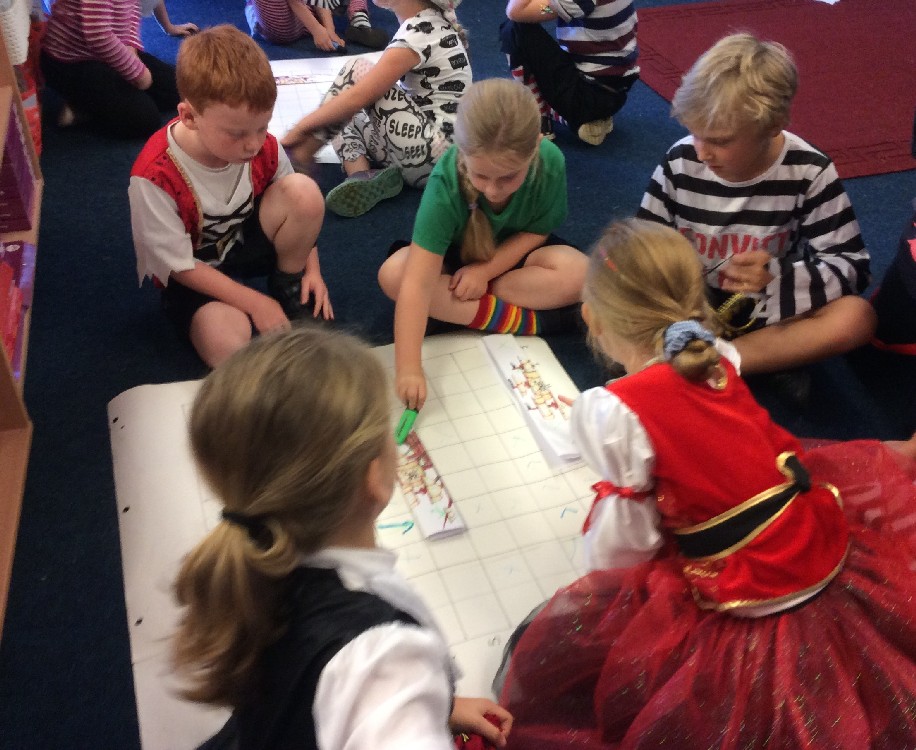 One night by the sea, cabin boy Faith looked curiously through the ebony telescope in the thunder and lightning. (Ella, Matilda, Bella, Lily)
Captain Jacob waved the skull and crossbones flag at the stormy sea, he waved it to the English navy and said "I'm good."  (Finlay, Talitha, Alice, Maizie)
Seaman Georgia is looking for the gold treasure steering the pirate ship around the black and white lighthouse.  (Georgia, Jess, Faith, Lydia)
Captain Jayda carefully followed the golden-lit treasure map to find the glorious treasure.  (Noah, Kuba, Alfie, Harrison, Tallulah)
In the morning, in the middle of nowhere, Captain Ella was quickly retreating from the English navy.  (Oscar, Callum, Jacob, Harry)
Black Bella had a squawking parrot on her shoulder while steering her colourful ship.  (Jayda, Ava, Leigha, Jack)
After break we split into 4 teams and played Battleships.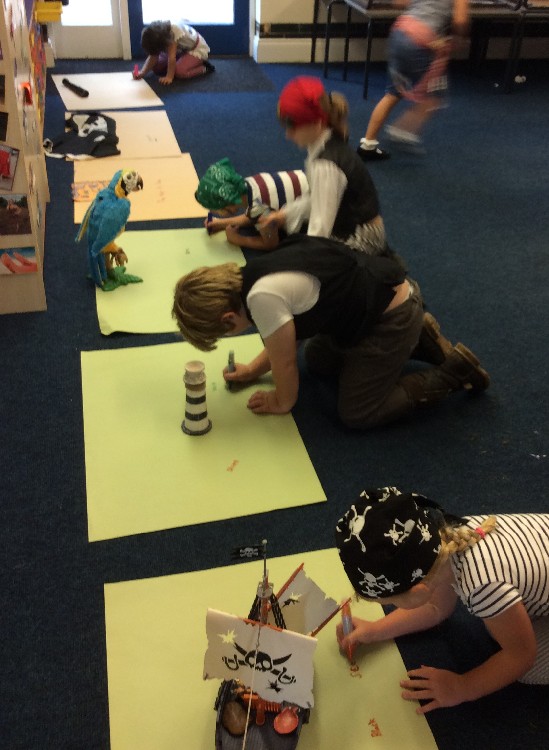 In the afternoon we play team games such as get the hoop around the circle without letting go of their hands and dodge the canon balls.  We also had a treasure hunt where all children earned a pirate certificate.  We finished the day off with walking the plank (trim trail!).   All in all a perfect pirate day!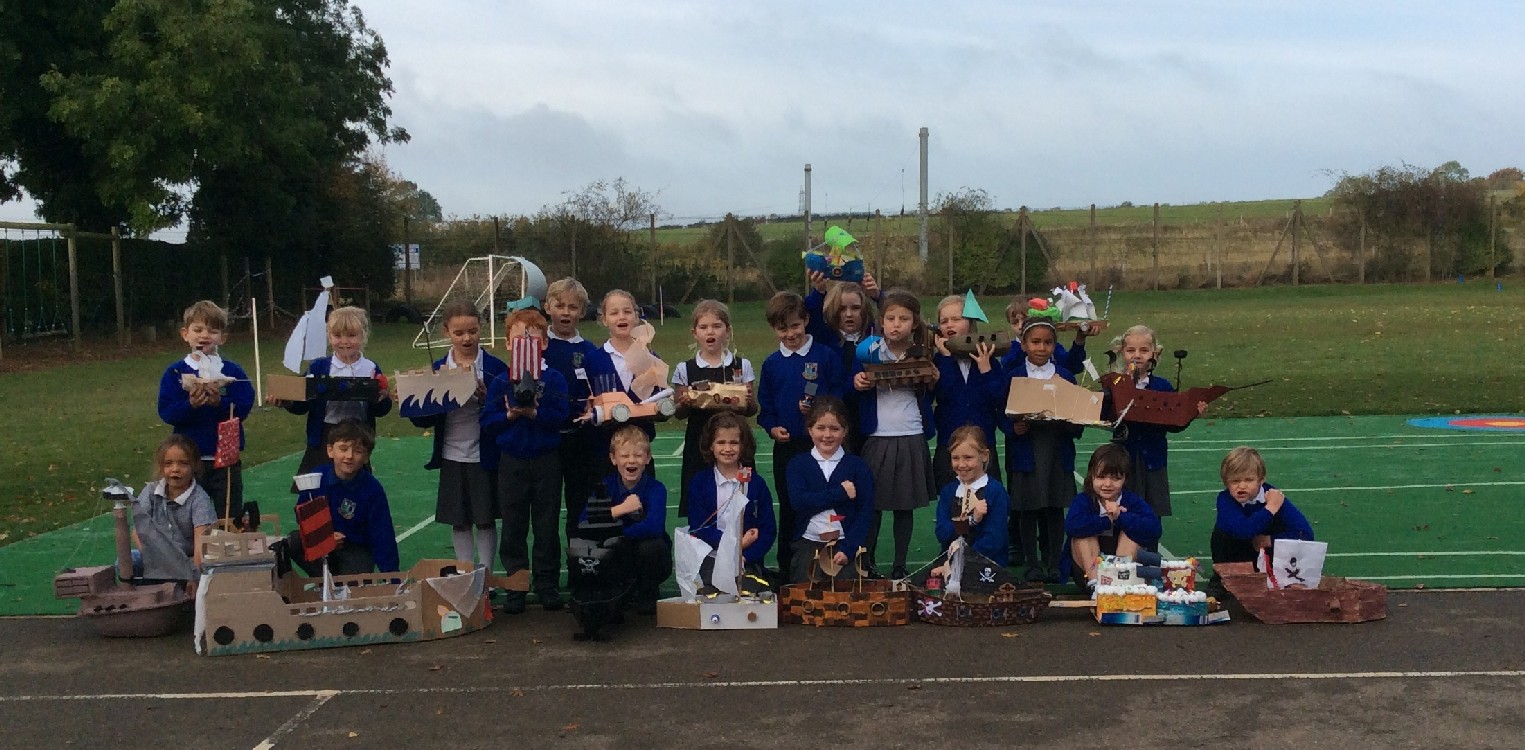 Growth Mind Set
At the Bythams Primary School we believe in a creative curriculum to engage the children. As part of this we are encouraging the children to develop a 'Growth Mind set'. This is when children keep on trying to develop and improve, learning how they learn best and thinking about what they need to do next.
This website link to CBeebies explains the idea of a growth mind set really clearly have a look at how this really encourages children to think and learn. Growth Mind set link.