Children at the Bythams Primary School are encouraged and given the opportunity to participate to the best of their ability in a wide variety of sports, games and physical activities. It is recognised that children are naturally enthusiastic about movement and we aim to develop this to enable them to become both skilful and creative.
Foundation Stage
In Foundation the children follow the Development Matters and Foundation Stage Profile frameworks when delivering PE. The PE at this stage includes fundamental multi-skills, dance and gymnastics.
Key Stage 1
In Key Stage 1, a programme of games, athletics, dance and gymnastic activities is planned.
Year 1 children focus on fundamental skills such as throwing, catching, running, jumping and hitting in their games and athletics lessons. Their gymnastics and dance lessons develop their fundamental movement and balance skills.
Year 2 follow a similar programme to Year 1 but during the spring and summer terms they start to focus more on transferring their fundamental skills in to specific sports activities including tag rugby, basketball, cricket, tennis and more. This allows for a smooth transition into Key Stage 2.
Key Stage 2
In Key Stage 2, the above programme is extended and arranged with the addition of indoor athletics, outdoor and adventurous activities and a course of swimming for Years 3 - 6. The games unit is split into individual sport covering all the areas of invasion games, net/wall games and striking and fielding games.
Swimming is taught, using a qualified swimming instructor, and covers areas such as water skills, stroke development and enjoyment.
A competitive sports day is organized yearly for both key stages. This is the final competition of the House Championships.
We are very proud of the sporting successes the children have achieved in recent years and in order to maintain this success, we have many after school sports clubs for children to attend. These after school clubs cover all the sports we compete in including tag rugby, basketball, cricket, football, netball and more. As a school we take part in many different sporting competitions and festivals throughout the year allowing many children to experience playing against children from other schools.
Fitness Club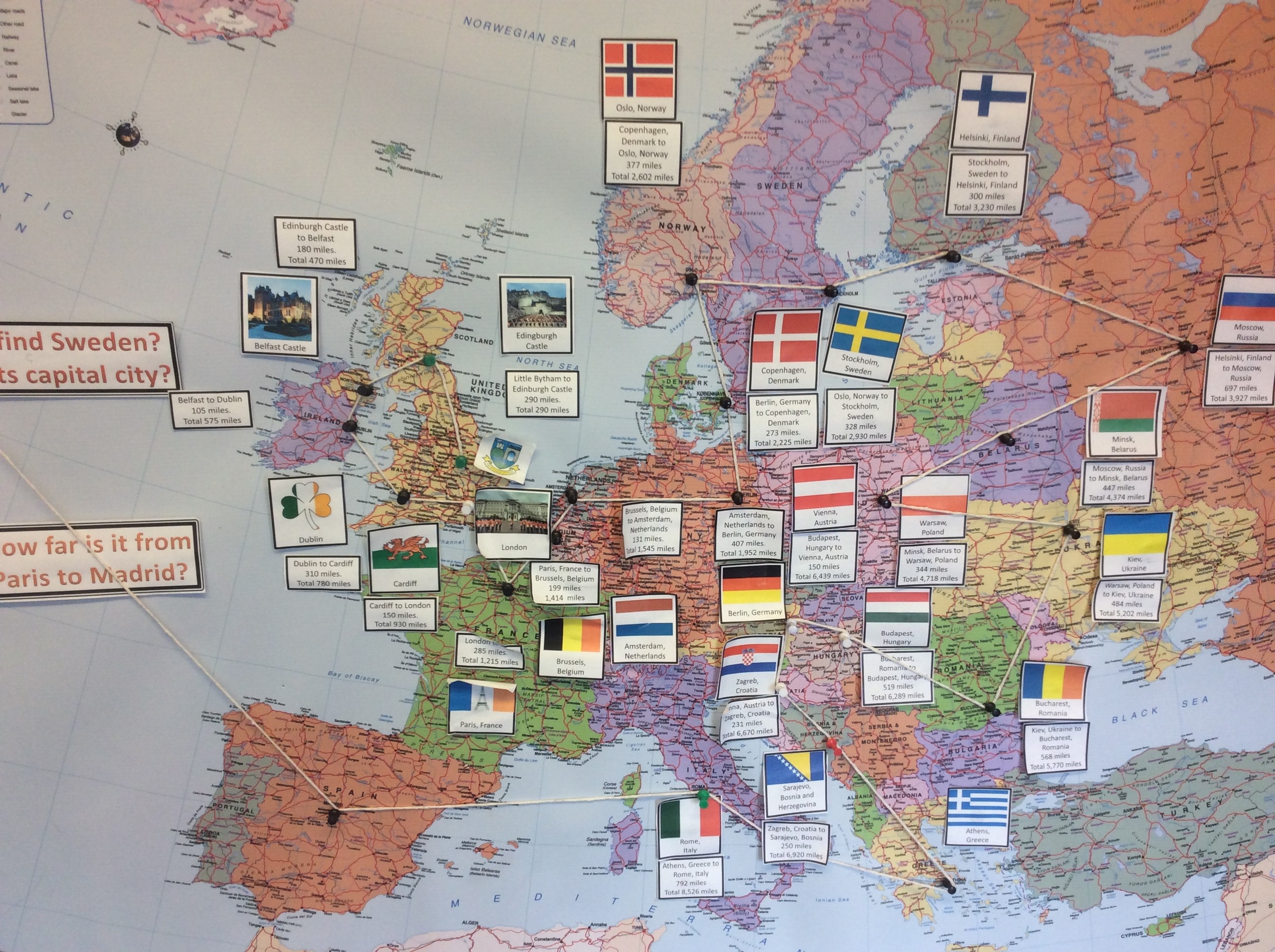 Following the launch of the Bythams Fitness Club, we have decided to keep track of how far the children run. The aim is to see how far round the world the children could get and which countries, capital cities and landmarks they might see along the way.
So far we have been to:
Bythams to Edinburgh
Edinburgh to Belfast
Belfast to Dublin
Dublin to Cardiff
Cardiff to London
London to Paris
Paris to The Hague
The Hague to Hamburg
Hamburg to Copenhagen
Copenhagen to Oslo
Oslo towards Stockholm
Stockholm to Helsinki
Helsinki to Moscow
Moscow to Minsk
Minsk to Warsaw
Warsaw to Kiev
Kiev to Budapest
Budapest to Vienna
Vienna to Zagreb
Zagreb to Sarajevo
Sarajevo to Athens
Athens to Rome
Rome to Madrid
We are now on our way to Portugal!
Bythams Fitness Club Route From Vienna
Bythams Fitness Club Route From Copenhagen
Bythams run to Copenhagen
Bythams children pass the 2,000 mile barrier and run to Copenhagen in Denmark!
As part of the Bythams Fitness Club, the children and teachers of Bythams Primary School run around the school field every day as part of their campaign to improve fitness for all.  Since the club started over 12 weeks ago, the children have run over 2,000 miles. The children are plotting these miles on a map running through all of the capital cities around the world so not only are the children keeping fit, they are also learning about the different countries of the world and their capital cities. The children also have to track how many kilometres they have run as a class and also as a school (then the older children convert it to miles), so there are all sorts of real life learning opportunities in maths as well.
On Friday 12th February at 8.45 am in order to celebrate this fantastic landmark of running over 2,000 miles and reaching Copenhagen in Denmark, the children ran with parents and staff.  After the run as a special treat, the children and parents celebrated this achievement by enjoying a delicious Danish pastry.  Head Teacher Mr Clarke said "The Bythams Fitness Club has been a huge success. All of the children enjoy their daily run and a lot of the older children are now running over a mile a day. Our running journey is displayed in school and also on the school website and the children are really excited about it and it is great to be able to ask the parents to join us!"
One of our parents, Emma Jones said "I really enjoyed the run this morning, it was inspirational to see the fun and enthusiasm of the children, staff and parents were having.  I'm looking forward to hearing which "city" they have reached in the world next.  Keep on running the Bythams! "