Hedgehogs Class
We are a Reception class. Mrs Morris and Mrs Jack are our class teachers and our teaching assistant is Mrs Foster.
If you wish to contact us, please email Hedgehogs@bythams.lincs.sch.uk
Summer Term 1
Animals, Insects and Growing Tall
Following on from the children's interests last term when we learnt about animals and seeds we are continuing this and developing on what we have learnt. The plants we have grown are growing taller and we are still observing them and looking at life cycles of frogs and butterflies. We will be finishing the term off looking at Queen Elizabeth II in preparation for a Jubilee celebration at the end of term. We will be looking at how all animals and plants grow tall, including ourselves and how Queen Elizabeth II has grown throughout her reign. Please read the attached curriculum information to explain what we are learning in all of the areas.
Parent Curriculum infomation - Animals, Insects and Growing Tall
Week 5 – Sunflowers
We are continuing to look at growing tall and this week we are looking at sunflowers. We have looked at the life cycle of a sunflowers and how they grow. We have investigated a range of sensory mediums such as: making sunflowers with playdough; exploring sunflower coloured rice and numbers with scoops and containers and modelling soap and 3D shapes. As it was so hot we worked out how to transport water into our sandpit.
While we were outside the children created their own flower shop role play and have been selling coffee and flowers all week. We painted sunflowers and measured ourselves on bamboo canes to see if the sunflowers we painted grow as tall as us! The next stage of our caterpillars also happened and we move the chrysalis into their home to watch them turn into butterflies.
Week 3 – Oi Frog!
This week we have been looking at the story Oi Frog. Look at the below photos to see the adventures we are getting up to!
Week 2
We have continued to look at our class book, The Very Hungry Caterpillar, this week.  We have our own caterpillars which we are observing daily, we cannot believe how much they have grown in just a week.  Our book has helped us understand the lifecycle of the caterpillar, and also helped us with remembering the days of the week.  We practise this daily in our class, and now we are also focusing on which month it is too.
In our investigation area, we have been looking at the fruits the caterpillar ate in the story, the strawberry was fascinating under the magnifying glass.
We have enjoyed being in the allotment again this week, we have sown pumpkin plants ready for harvesting in October.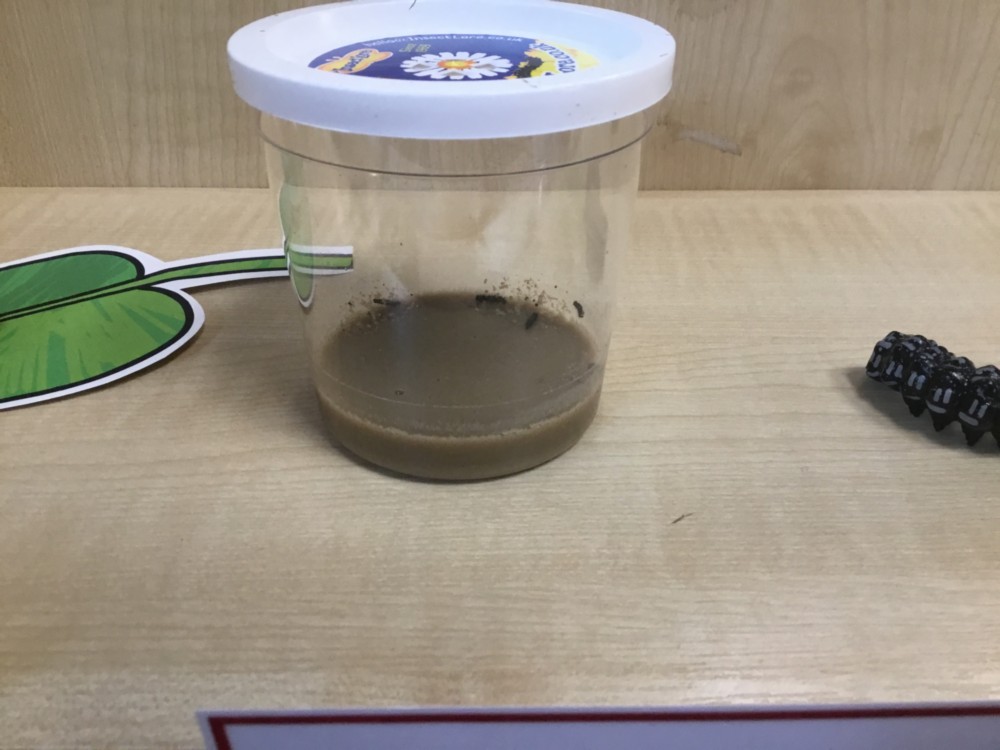 Week 1
We have had a busy few days back.  We went to the allotment to check on our wheat, which we planted last Autumn.  We were astounded by its growth, it has even begun to grow its feathery 'ears'.  We will be visiting the allotment weekly on a Thursday, growing lots of vegetables and fruit, then enjoying cooking some over the summer.  We will be spending much more time outside this term, we have lots of construction materials out, and this week we started to build a castle.  We have changed our role play shed into a builders yard, and looked at why some parts of the castle were not stable and how we could fix them.
Supertato
Our class book this week has been Supertato.  We made a story map at the start of the week to learn the story.  The children have loved all the characters, and by the end of the week they can join in at key moments when it is read.  They can also retell the story using their own 'Supertatos', which they have made.  We have planted some evil peas and chitted our own Supertato plants ready to plant out next week as we continue to enjoy our garden.
Trip to the farm
Hedgehogs spent Tuesday morning at Great Wood Farm learning about lambing time. When we arrived they excitedly went to visit the first of two barns, where there were sheep who were waiting to give birth,  and one or two day old lambs in pens. We were then told all about the lambing process and how Farmer Brian has to look after them. They were so interested and listened so well, they learnt all about the different numbers on the sheep and how the sheep and lambs recognise each other. Back in the second barn we sat on straw bales to bottle feed two cade lambs. Everyone then made their own sheep using real wool and straw. They were then lucky enough to go on a tractor and trailer ride through the woods and have a run around in the woods ... there was even some time to jump in some large puddles!
March
It has been such a busy week in Hedgehogs. Firstly, we celebrated pancake day and the start of lent by making our own pancakes. They were delicious.
For world book day, we read 'Peppa's Gym''. We made edible Peppa Pigs.  We also made our own obstacle course in the garden and had great fun racing around.  Throughout the day, we shared our favourite books from home.
Ready Steal Grow
Our new topic is called Ready, Steady, Grow! We are learning all about Spring and life on a farm. To begin this week, we looked at the story Farmer Duck and have been observing our bean plants growing. We went on a hunt for signs of Spring and observe if our Friendly Trees had grown. After the wind had stopped, we were able to get out and explore in our garden and the children loved being outside again. Our topic in PE is all about balls this term, and on Thursday we had to use all parts of our bodies to control the balls.
Chinese New Year
In Hedgehogs class we have been looking at Chinese New Year. Firstly, we explored atlases, globes and pictures from China to learn a little bit more about the country. We have had lots of bamboo outside in our garden which we have used for measuring, den building and pretend eating when we were pandas! We have locked away our weekly book and the children have had to produce work to unlock the basket and read the next part of the story. The book is called The Great Race and it explains how the Chinese zodiac was decided. The home corner was turned into a Chinese Restaurant with pretend Chinese food to eat, but on Wednesday they got to taste real food. They tried prawn crackers with dipping sauces, spring rolls and egg fried rice. They have even learnt how their name is written in Chinese and have been wearing these as name tags.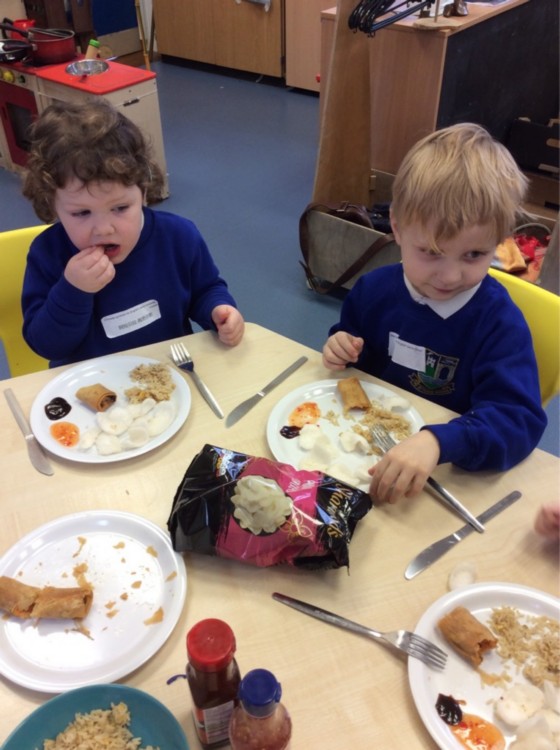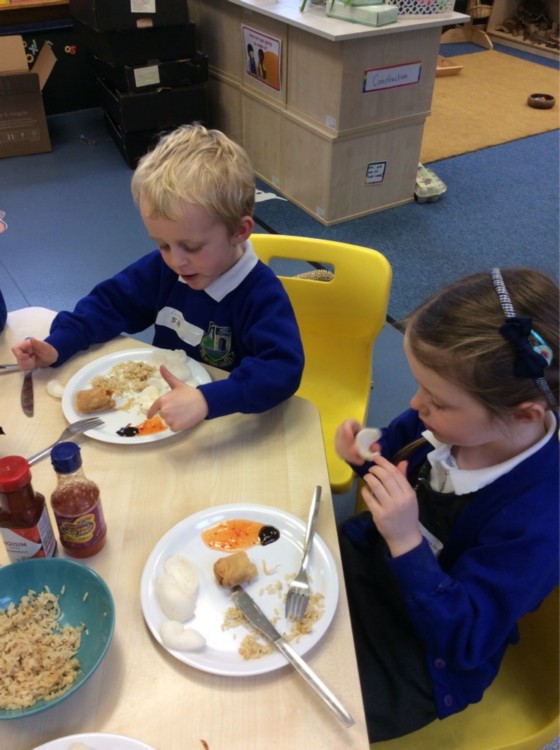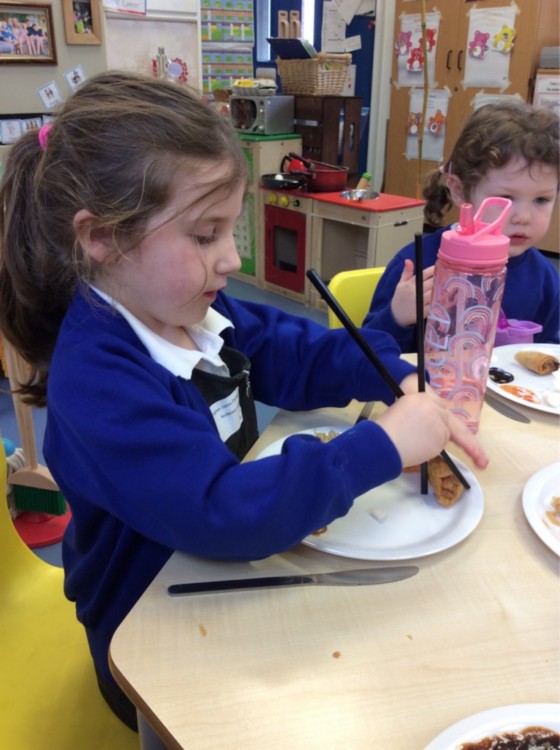 January
Hedgehogs have been spending time in the Mini Spinney this term as part of their Forest School sessions. We begin each session by checking how safe the site is, identifying hazards and how to explore the site safely. Each week we looking at creating or mending areas. The first week we got a pallet and placed boxes of books, paper and baskets so the children can access these at anytime during the session. This week, we built dens. One was made from a tarpaulin, and the other is a permanent one made out of sticks. During these sessions we are continually looking for signs of Winter and the changing seasons.
EYFS Garden
We have been very lucky to have had some major garden works carried over the summer holidays. The EYFS garden has been transformed into an area which will enable the children to learn through play and exploration in an exciting and stimulating environment. The work was carried out by Tarry's Landscape Gardening and Maintenance. These are the before and after photos so you can see clearly the transformation of the area.