Welcome to Hedgehogs Class. This is our Reception and Year 1 class. Mrs Marshall is our class teacher. Our teaching assistants are Mrs Foster, who is in all week, and Mrs Pearce, who is in on a Monday and Friday afternoons.
Covid 19 Home Learning
Week 9
Reception Timetable Yr1 Group A Timetable Yr1 Group B Timetable The Life Cycle of a Butterfly
Wk 1
Week 2
Week 3
Week 4
Week 5
Week 6
Week 7
Week 8
Learning Links
Hedgehogs At Home and School!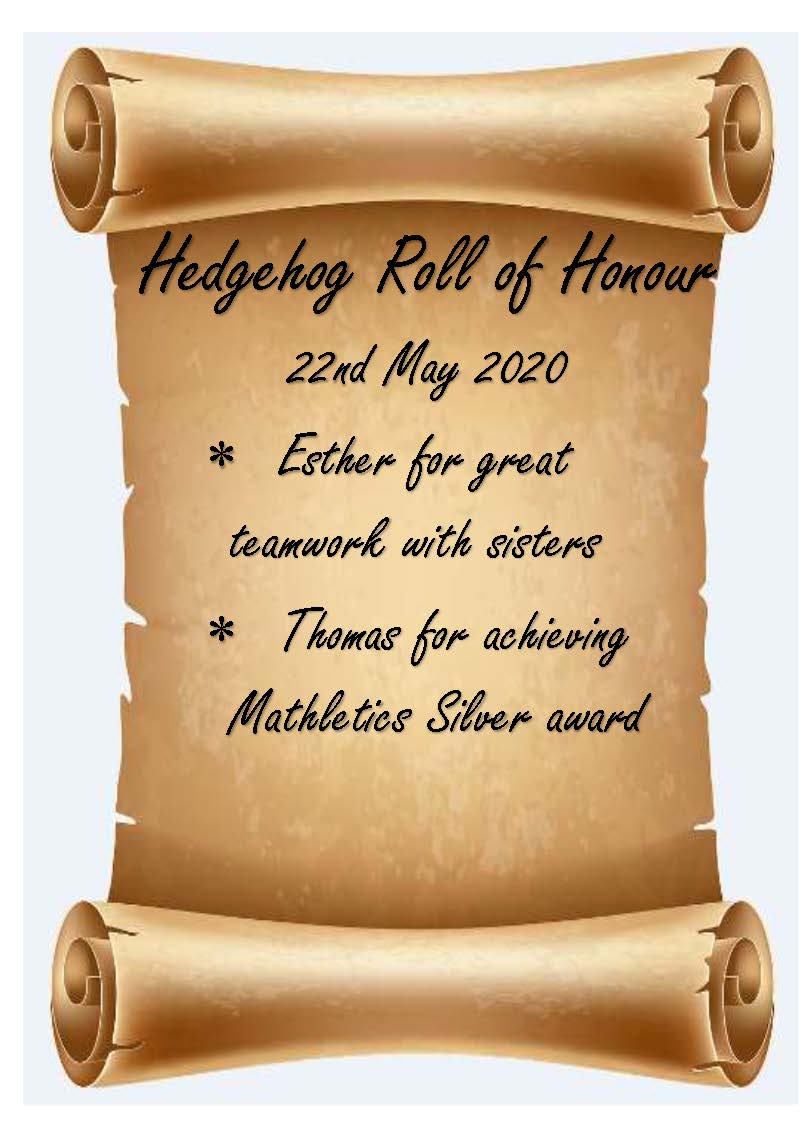 We are all trying to work at home and have fun at the same time; here are some pictures and videos of what some of the children have been up to in their weeks at home and in school: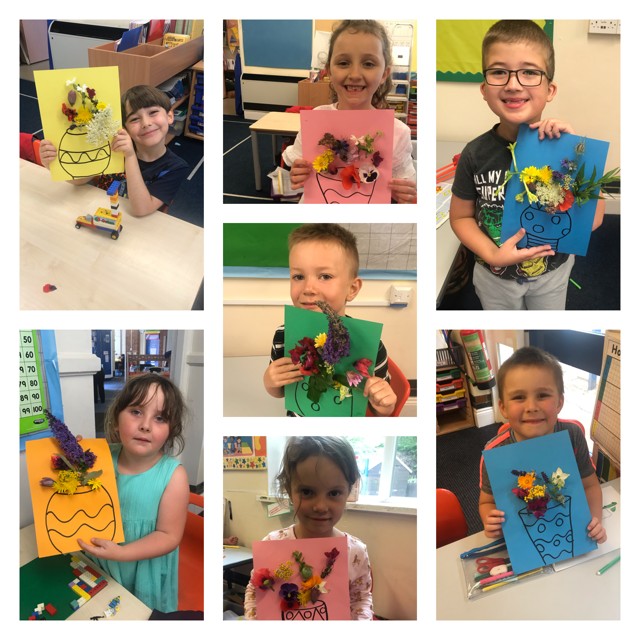 We went out on a nature walk and picked flowers, there were no butterflies out today as it was rather dull.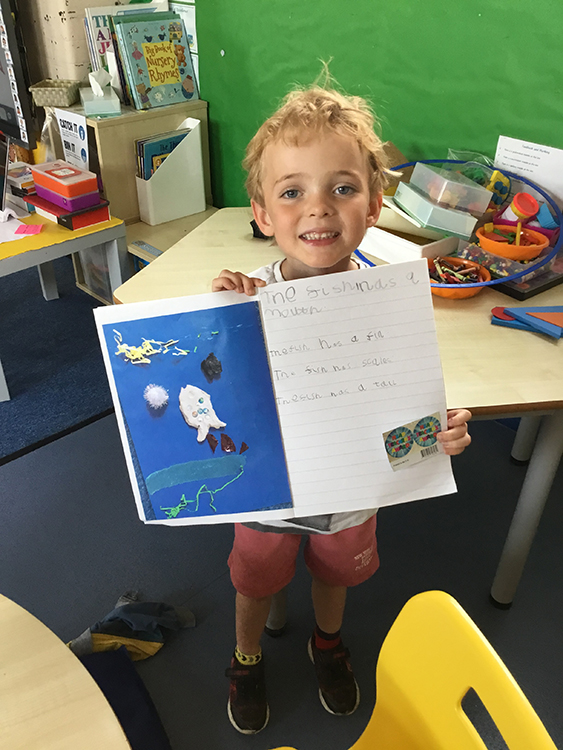 Reception fun at school
Today Thomas got a head teacher award for his amazing writing.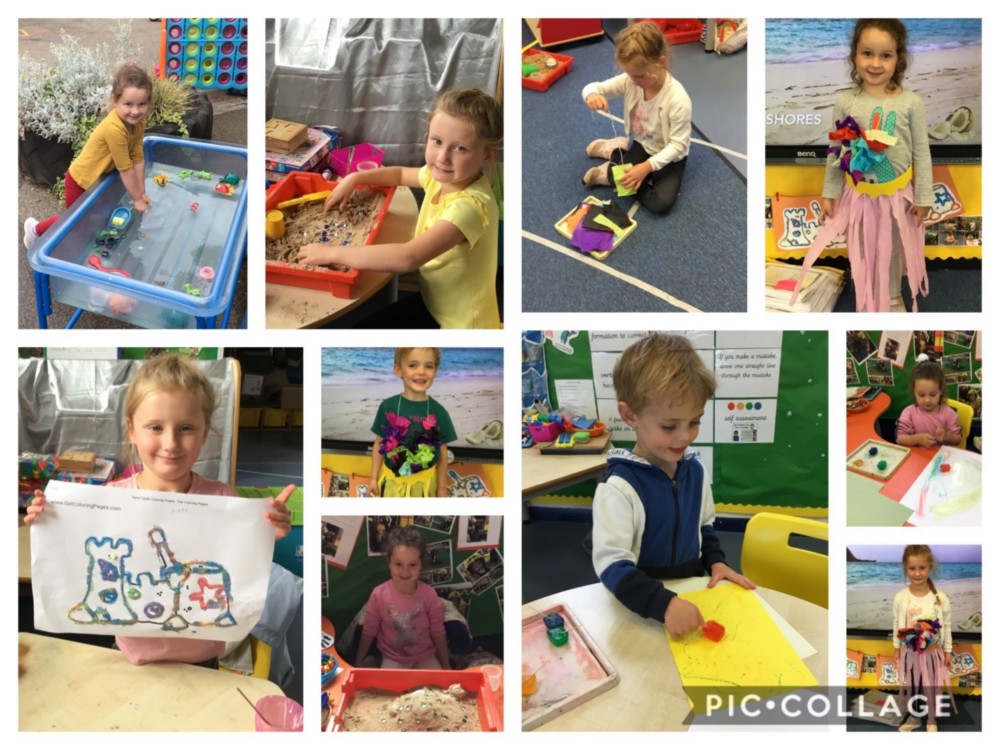 Reception fun at school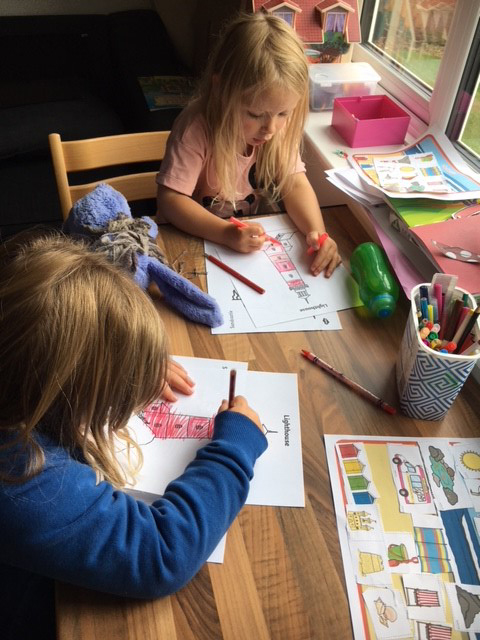 Jessica's art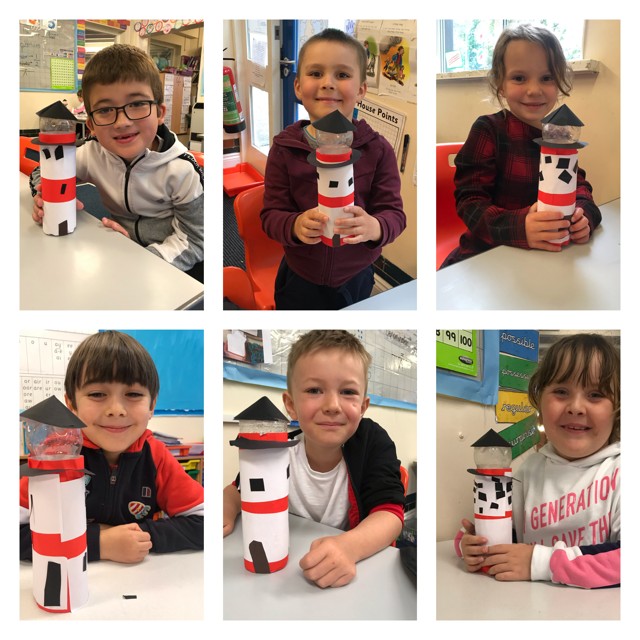 Making Lighthouses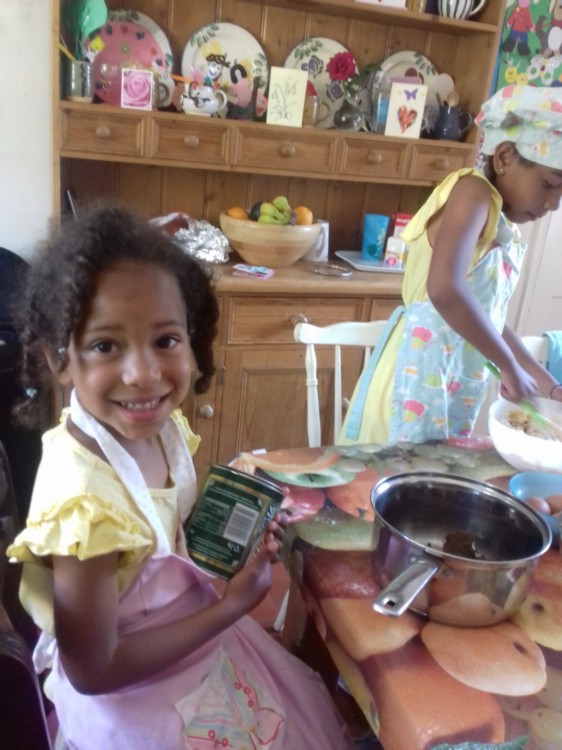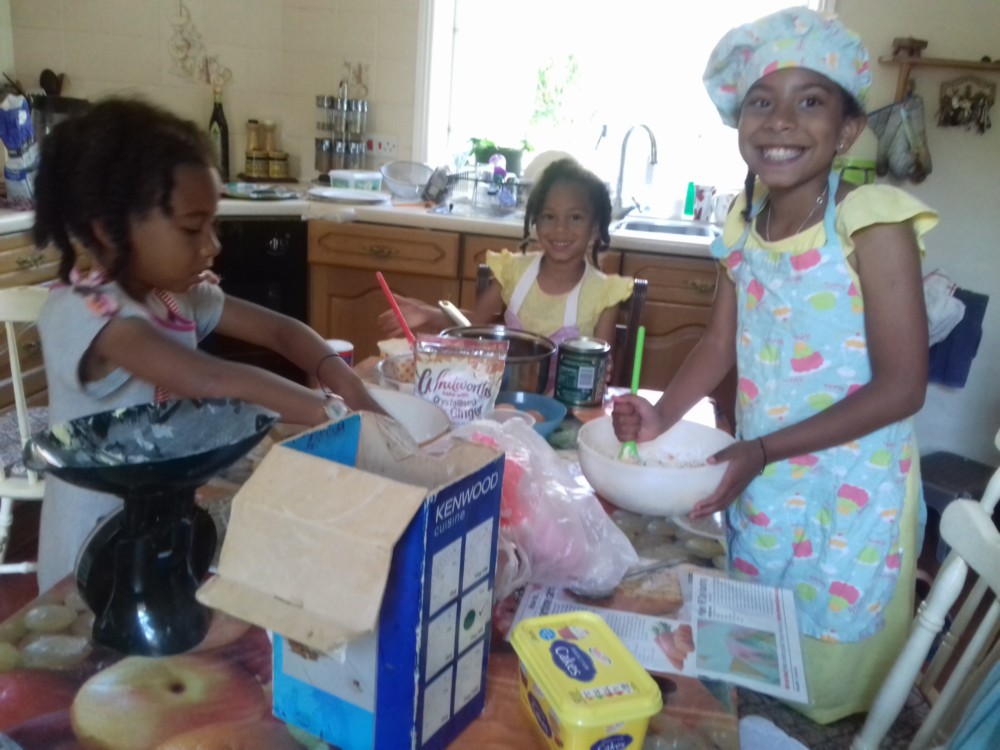 Rees bake-off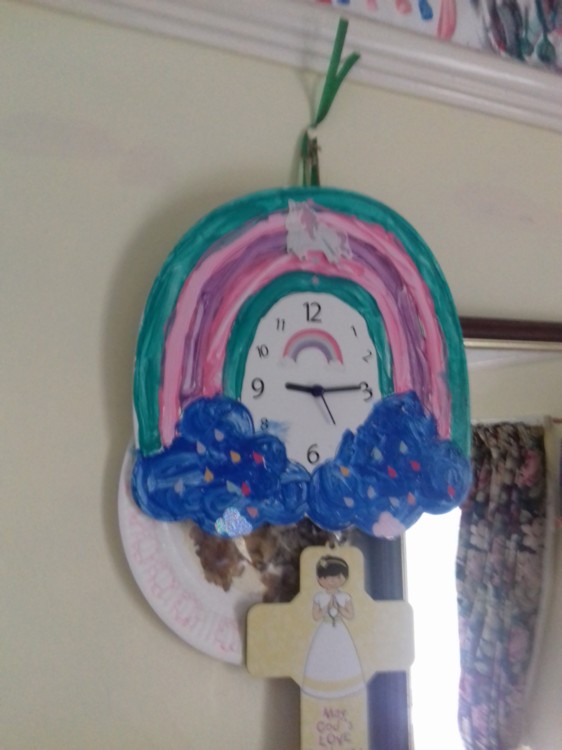 Esther painted a clock to help learn time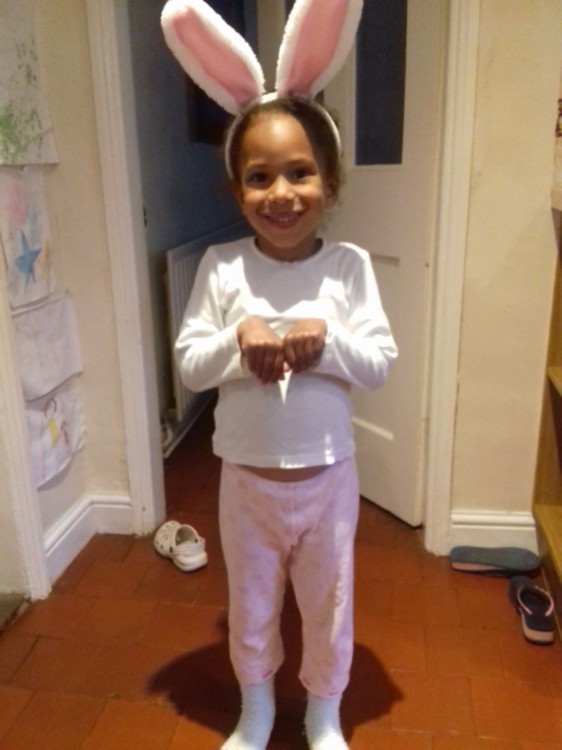 Esther as a bunny rabbit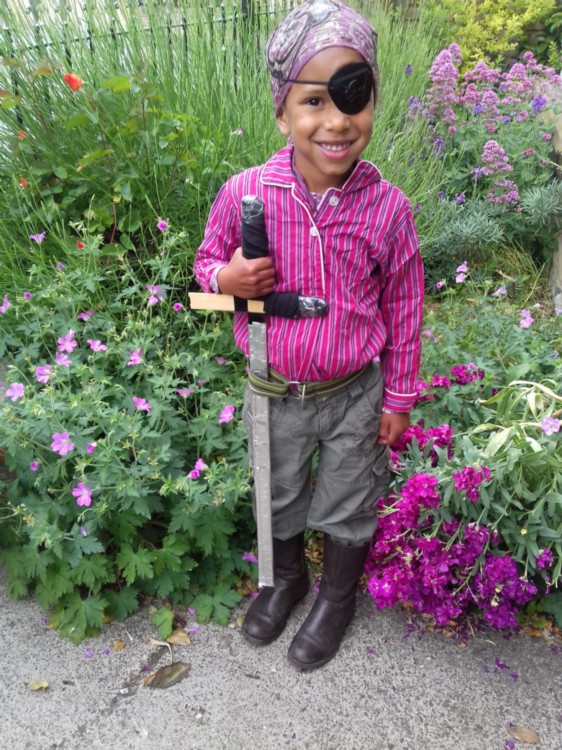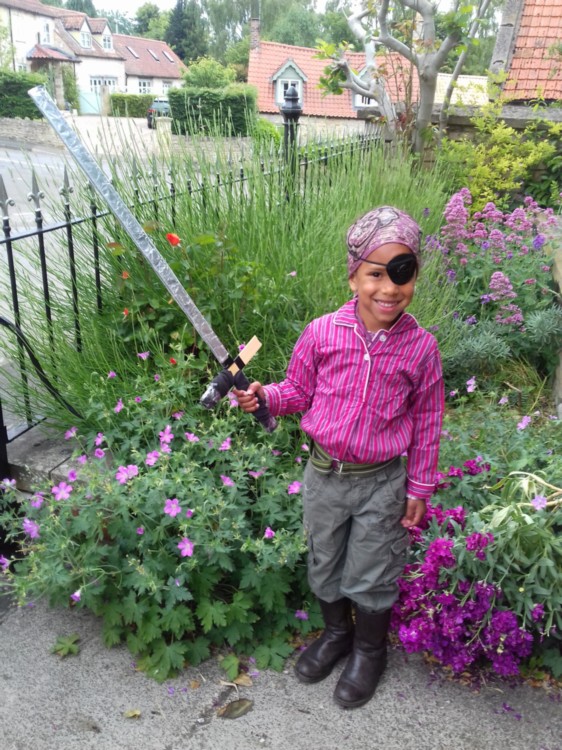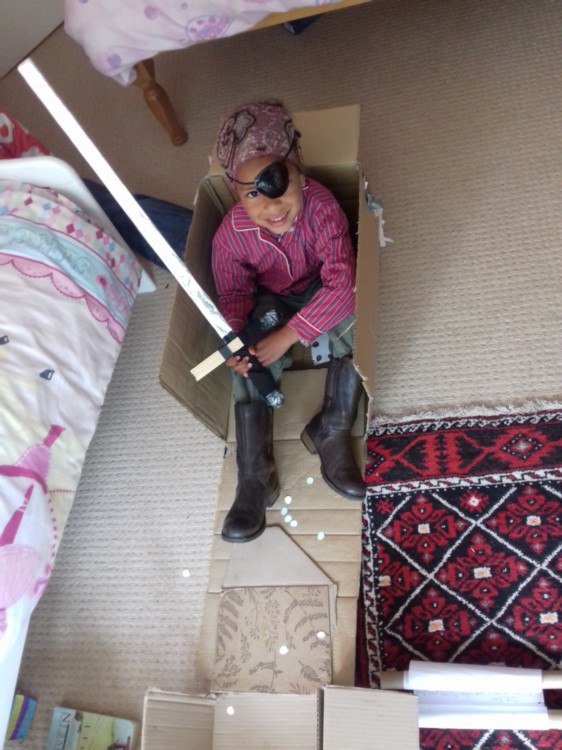 Esther as a pirate and in her ship
Pirate Day!
---
Click on the pictures below to see some of our Pirates.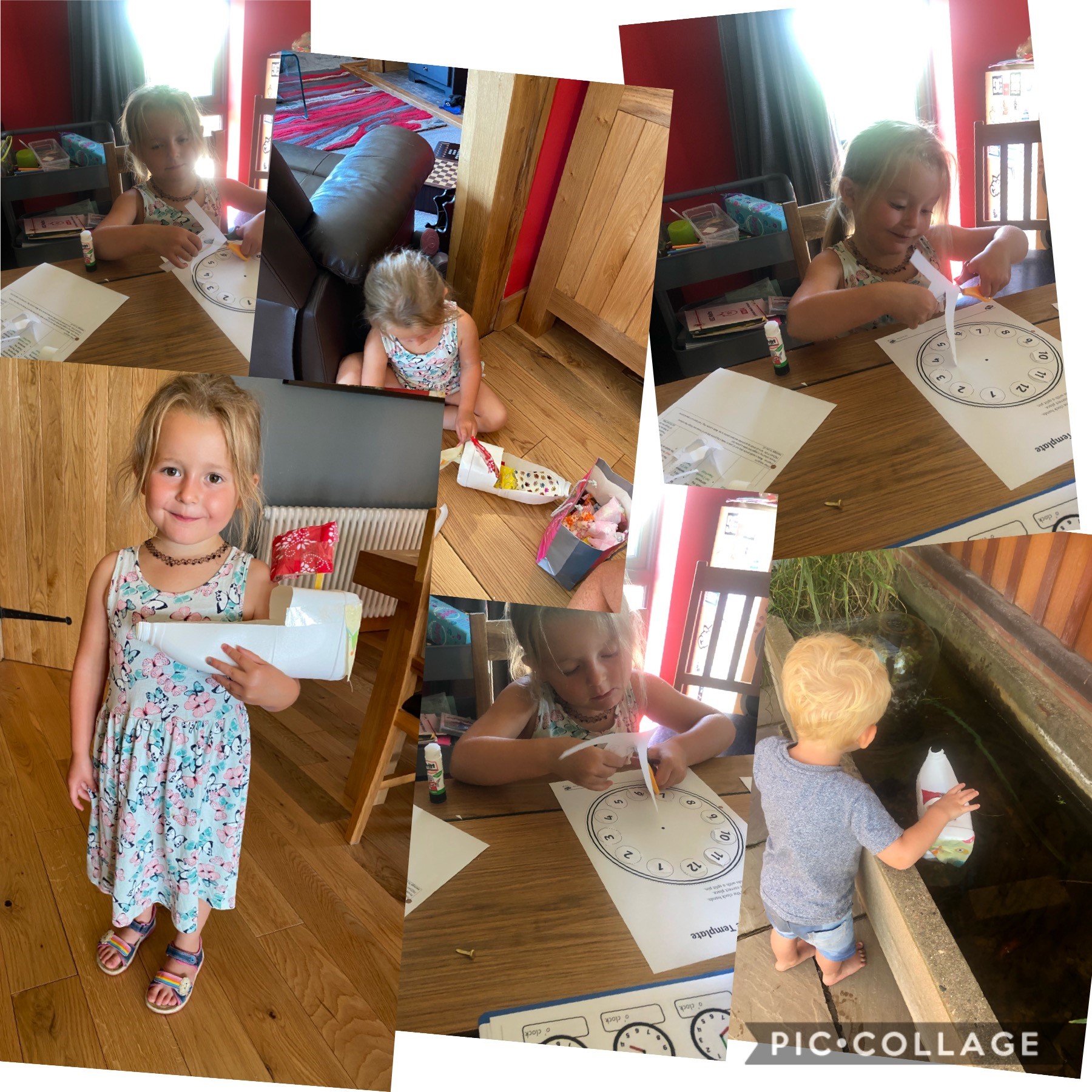 Amelia's busy Monday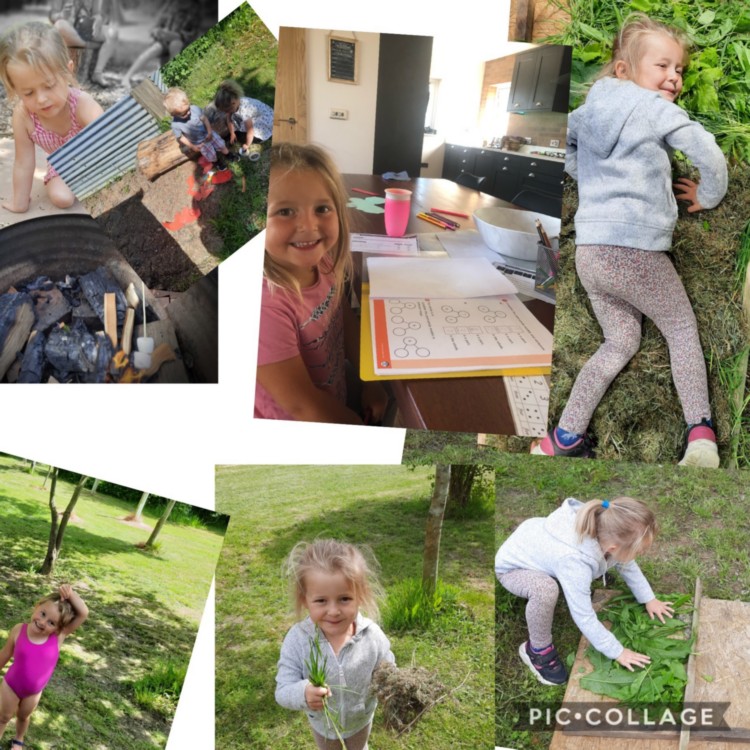 Amelia's busy week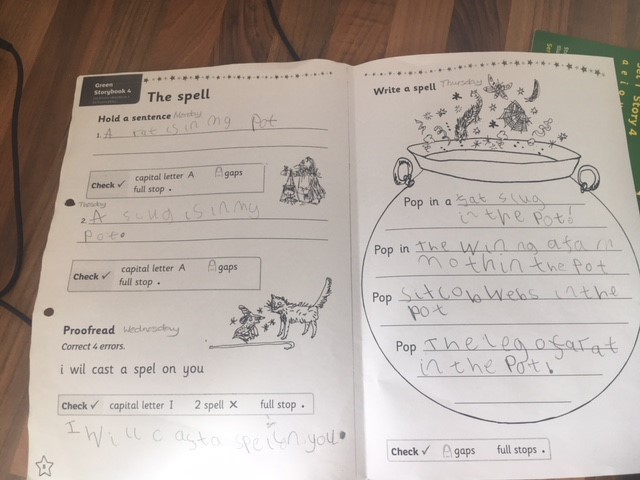 Jessica's spell writing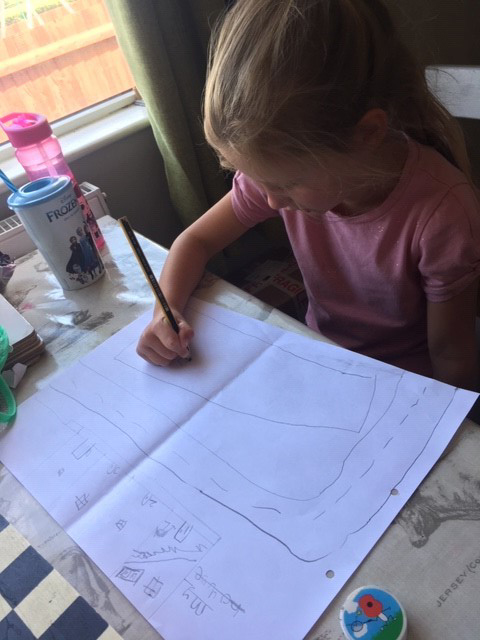 Poppy's map
---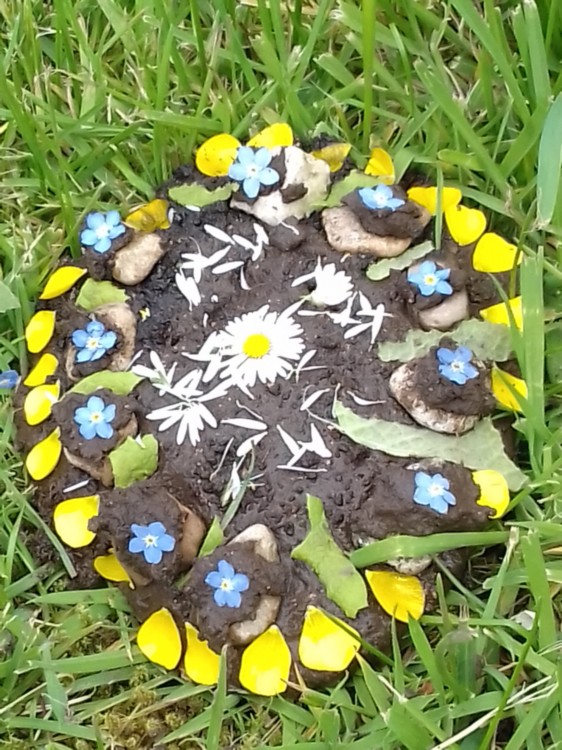 Esther and sister's nature art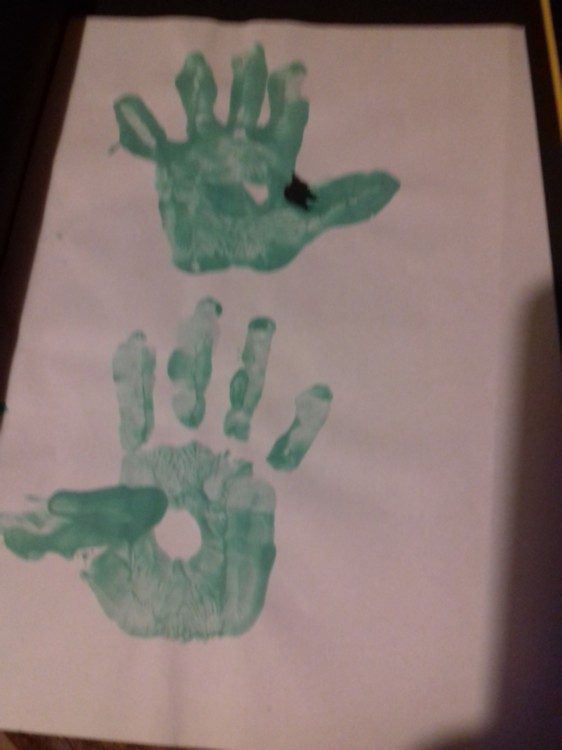 Esther colour mixing and printing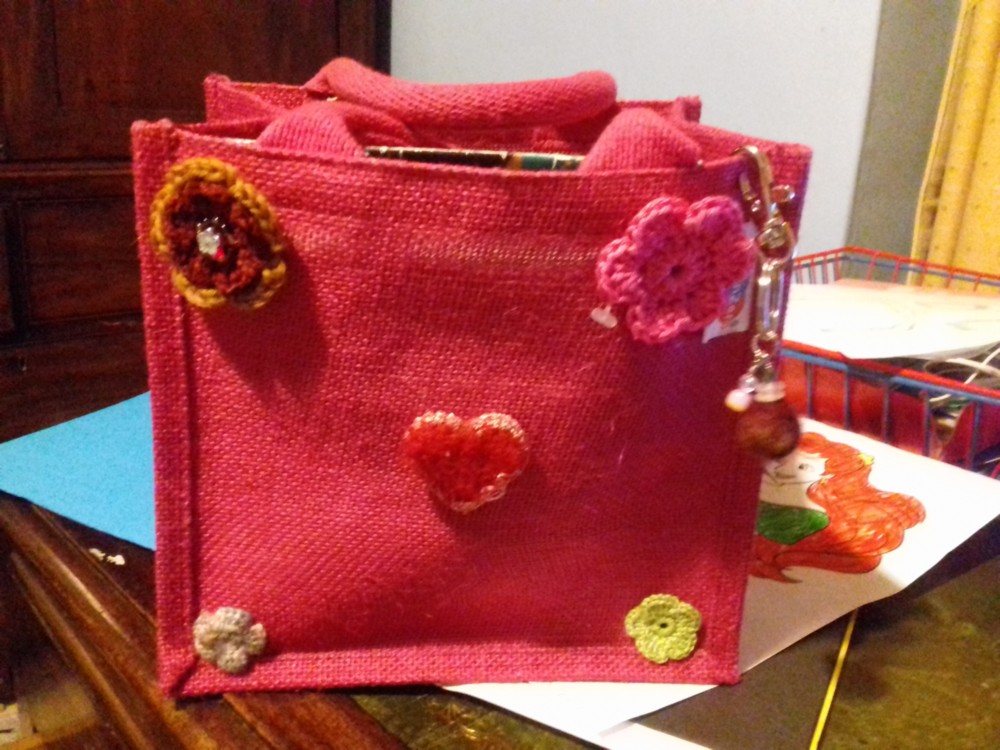 Esther decorated a bag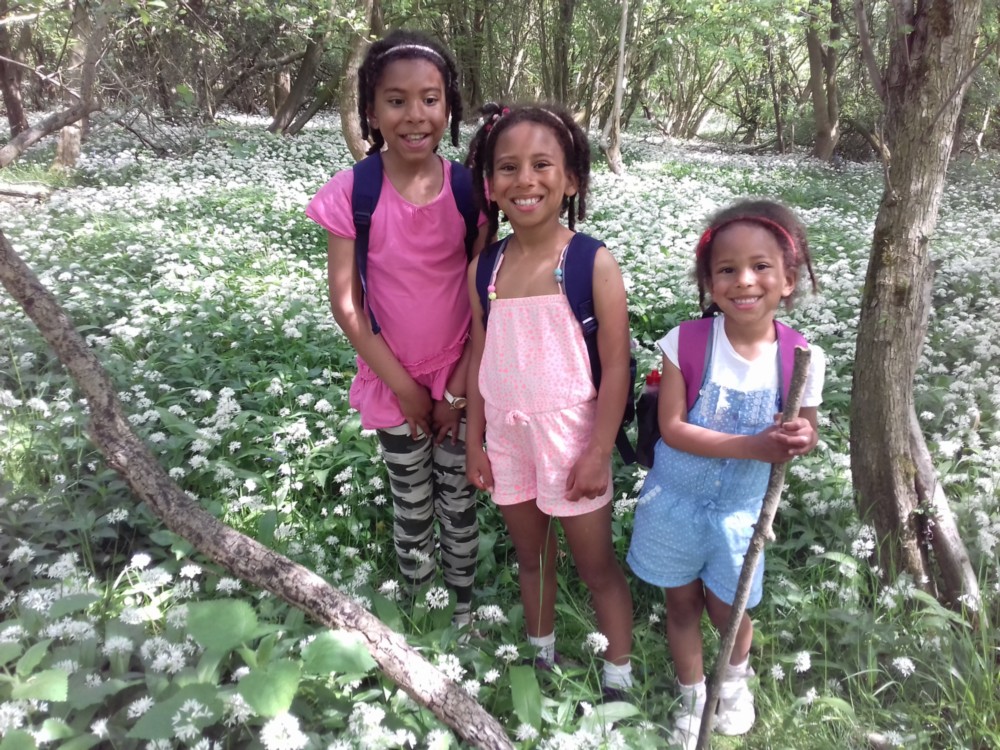 Esther, Lydia and Thalia on a woodland walk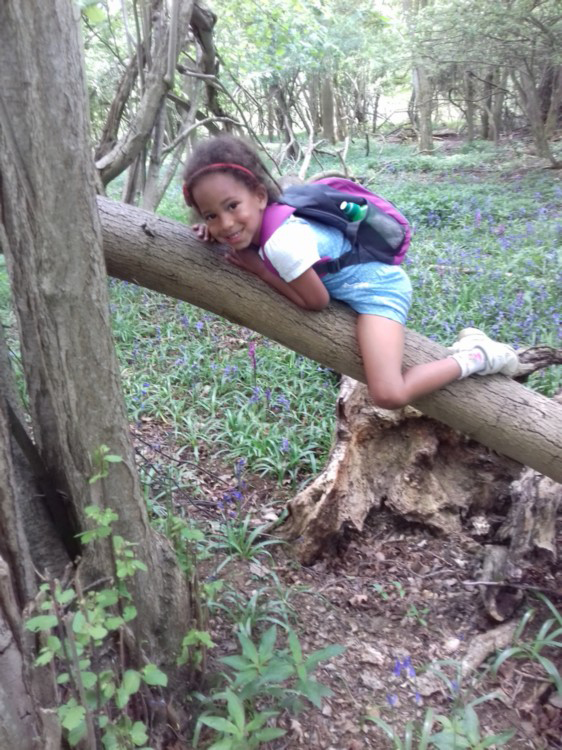 Esther in Bluebell Woods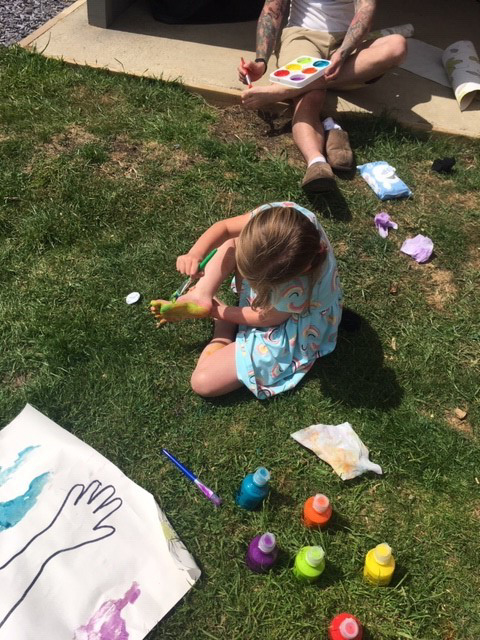 Poppy foot painting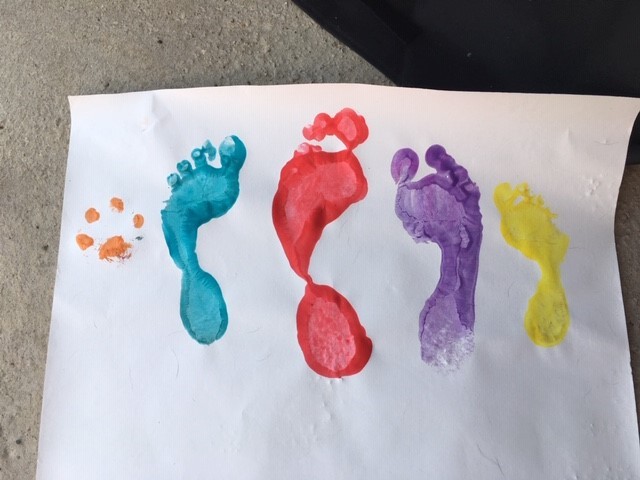 Poppy's family footprints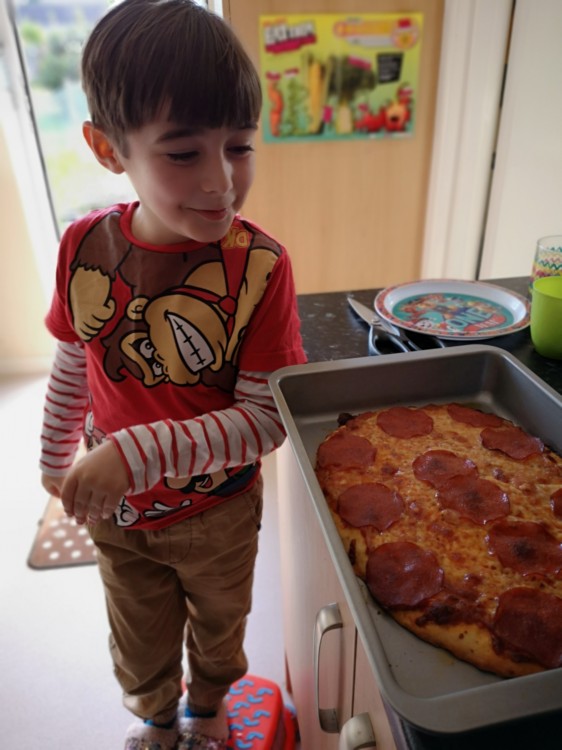 Ewan's pizza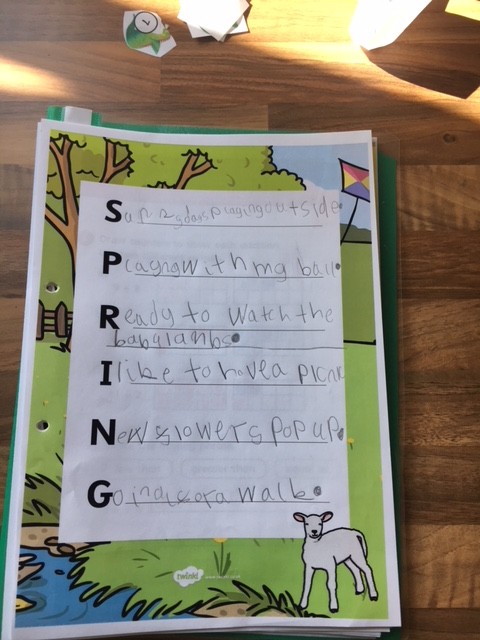 Jessica's poem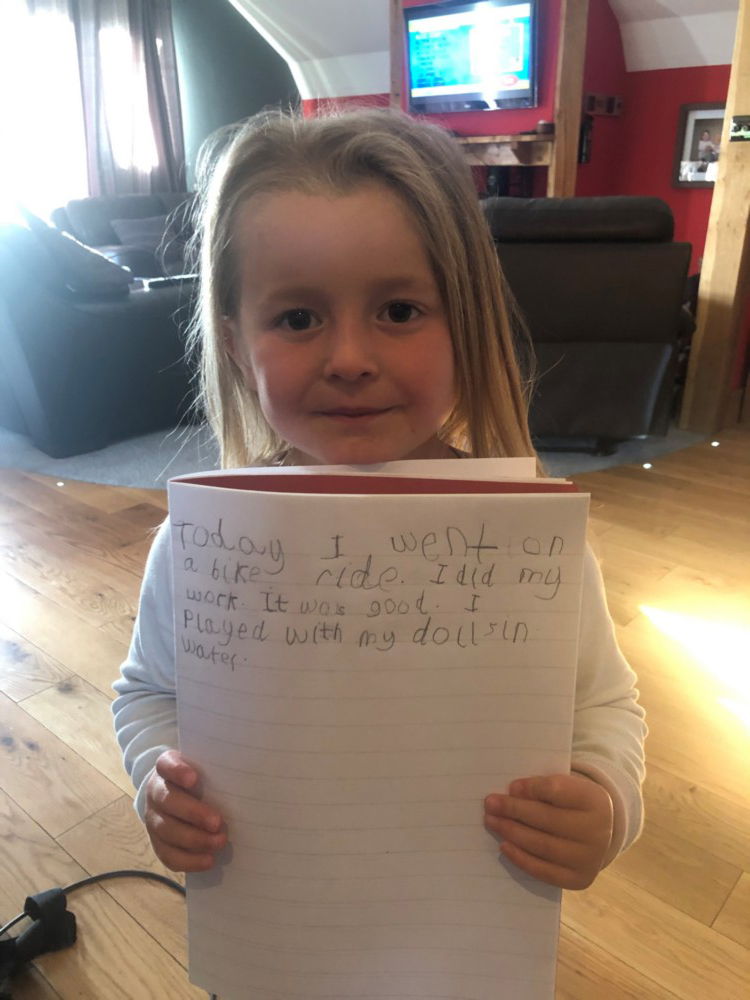 Amelia's diary writing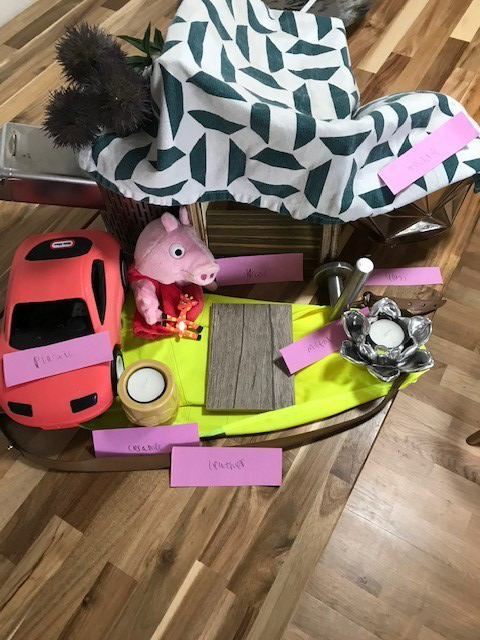 Sam's pig house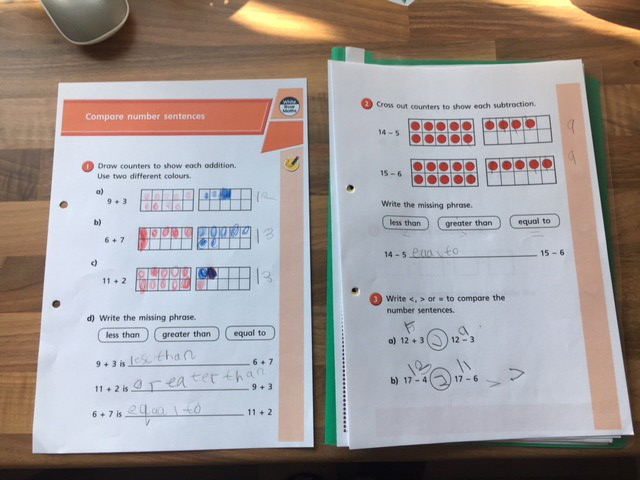 Jessica's maths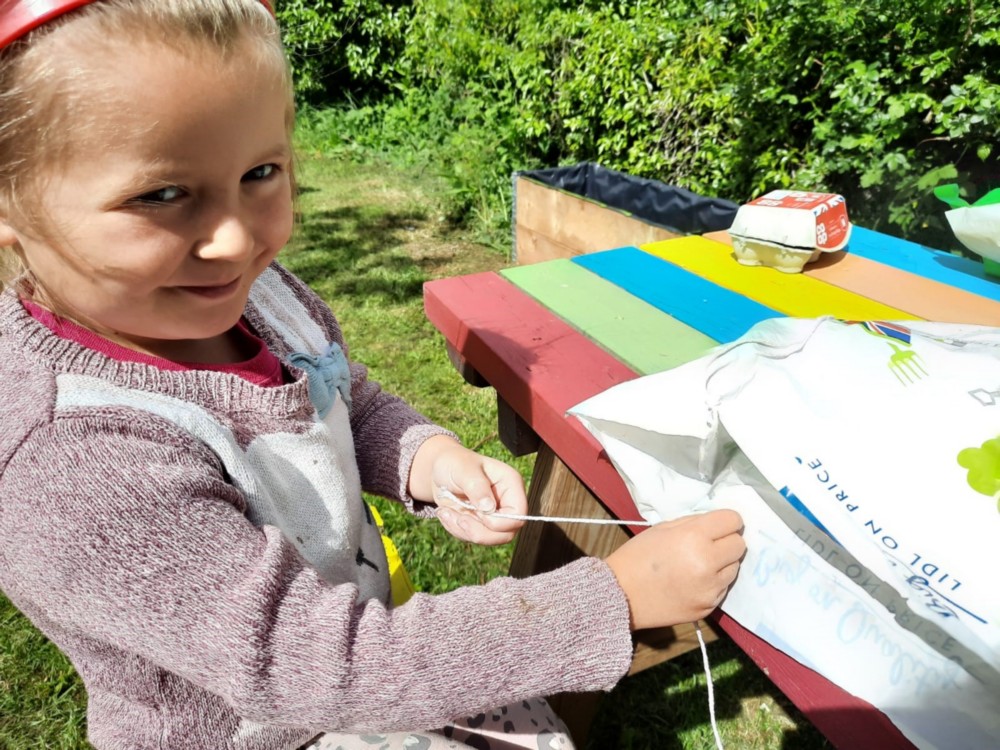 Amelia at work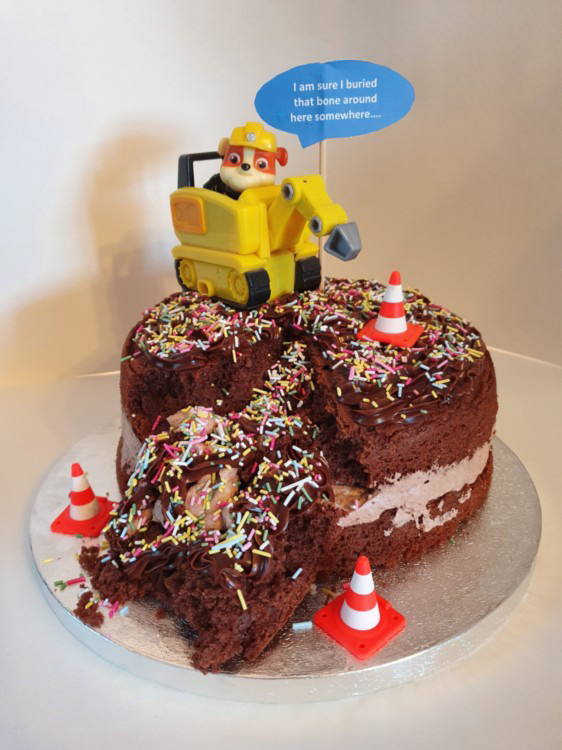 Thomas' amazing cake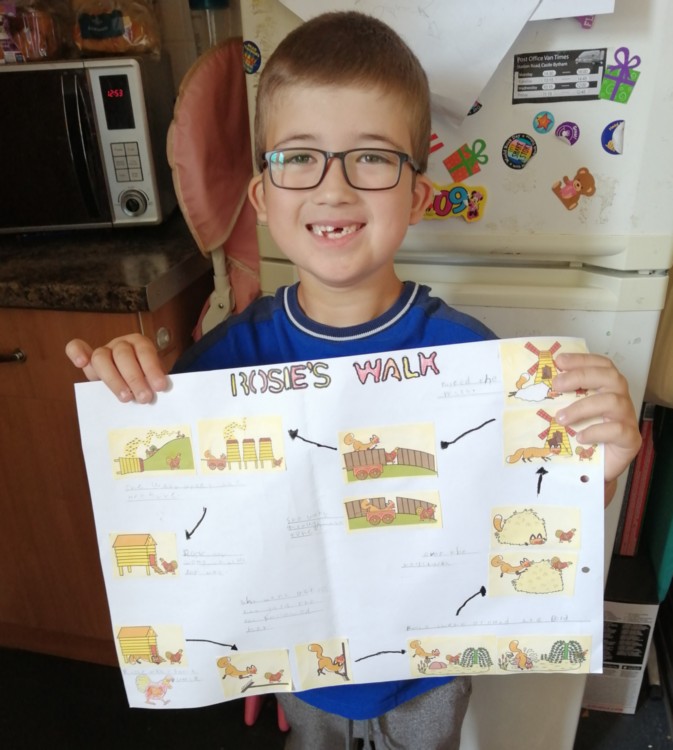 Harry's Rosie's Walk Map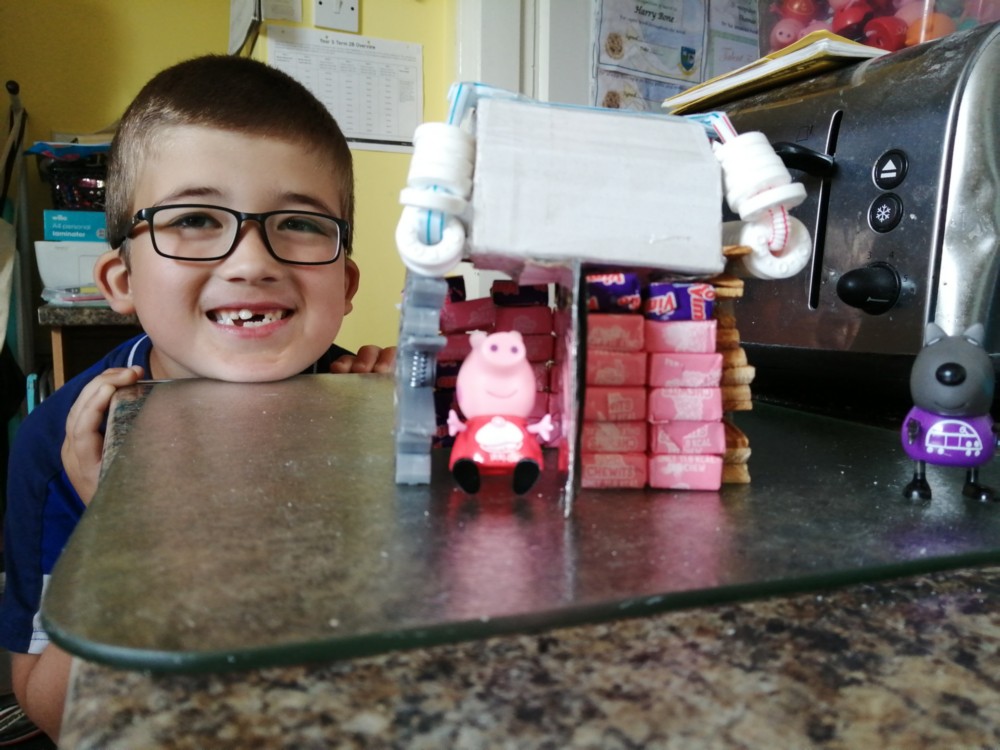 Harry's 3 little pigs house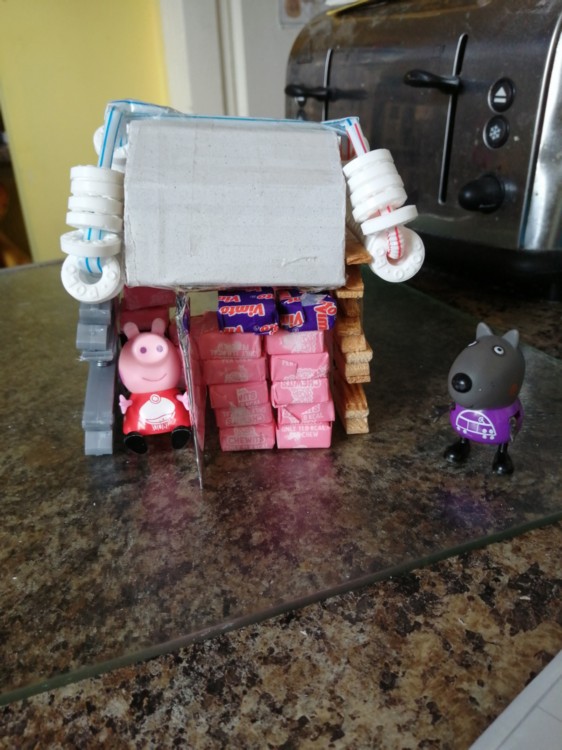 Peppa Pig likes Harry's house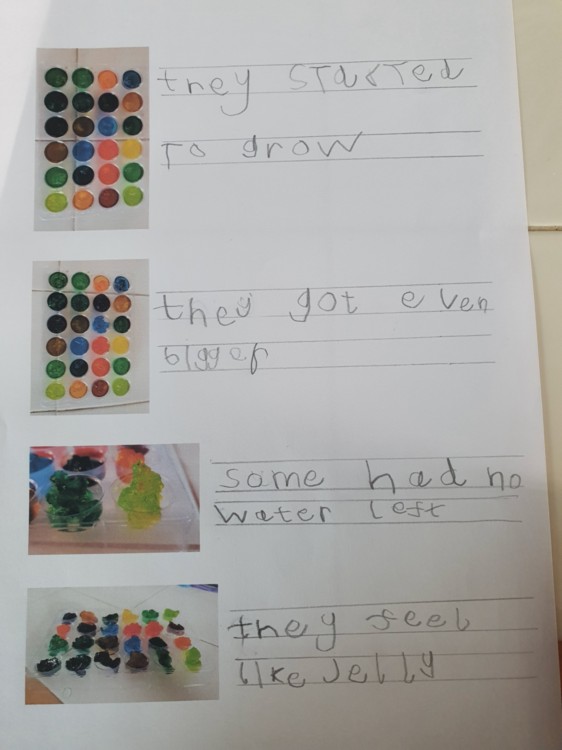 Thomas' crystal investigation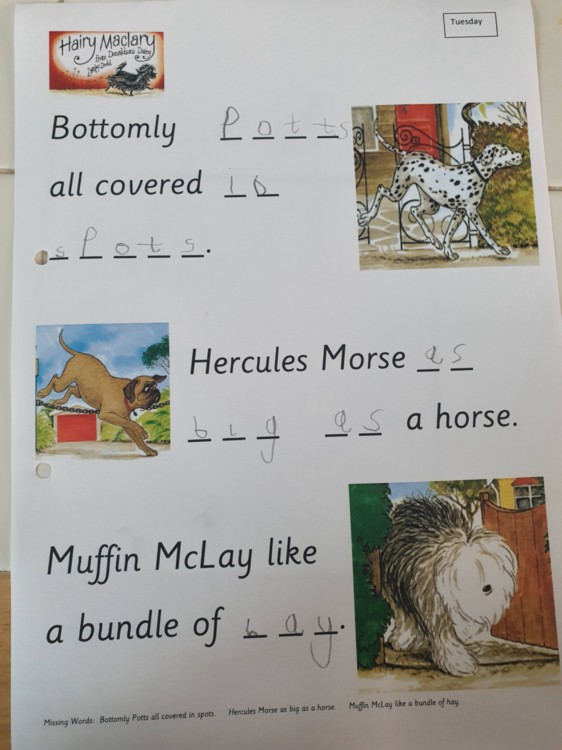 Hairy MacLary by Thomas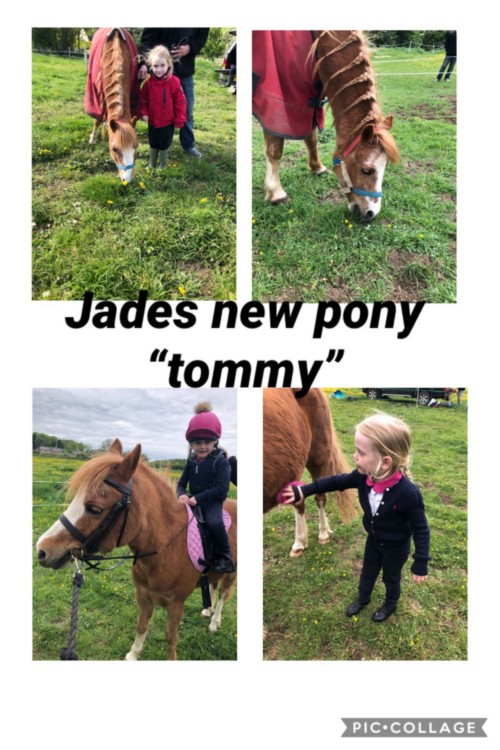 Jade's new pony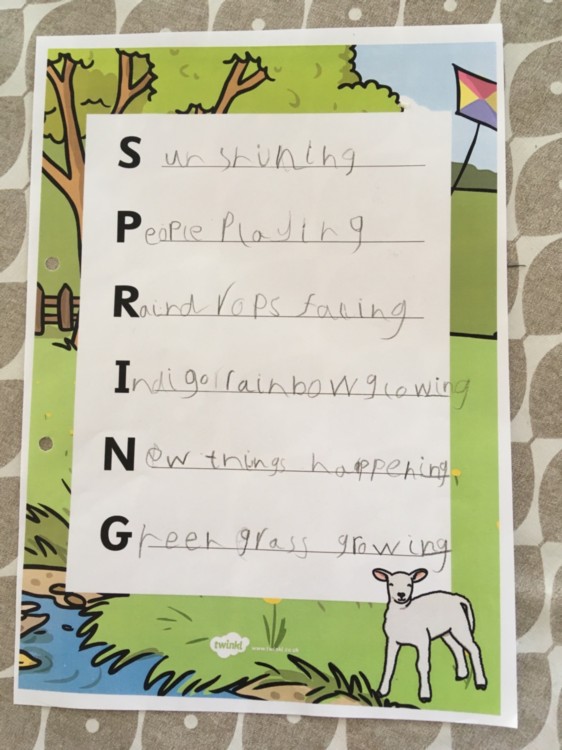 Teddy's acrostic poem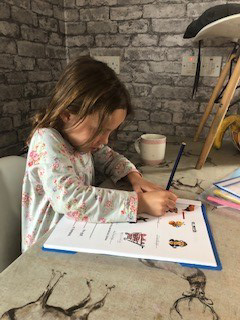 Poppi working on sounds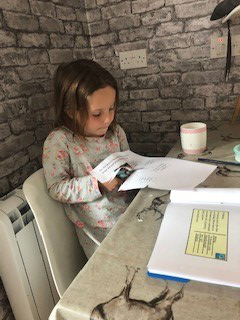 Poppi arranging a letter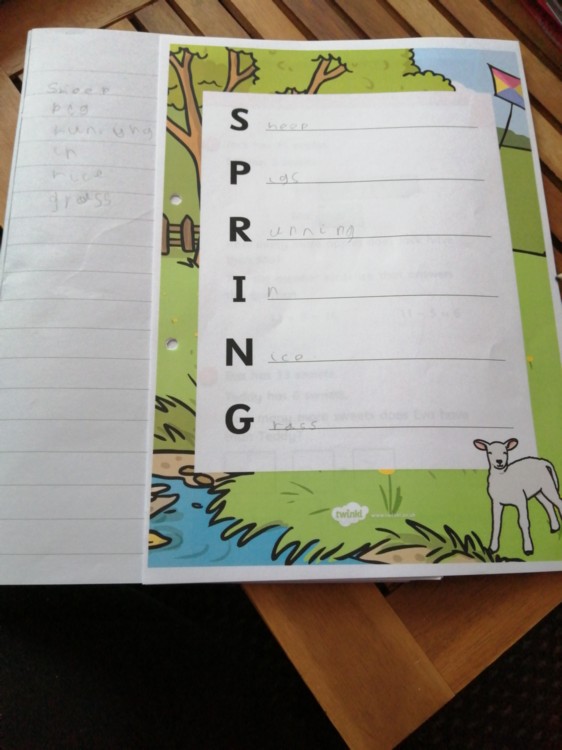 Harry's Spring poem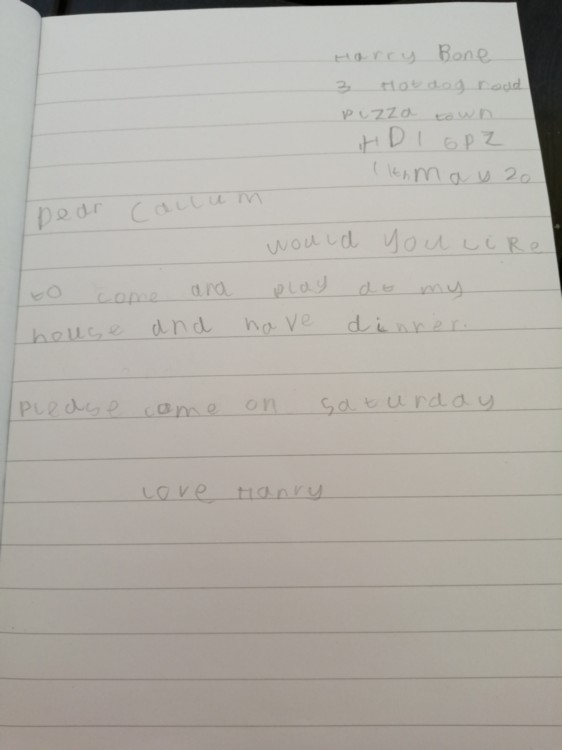 Harry's letter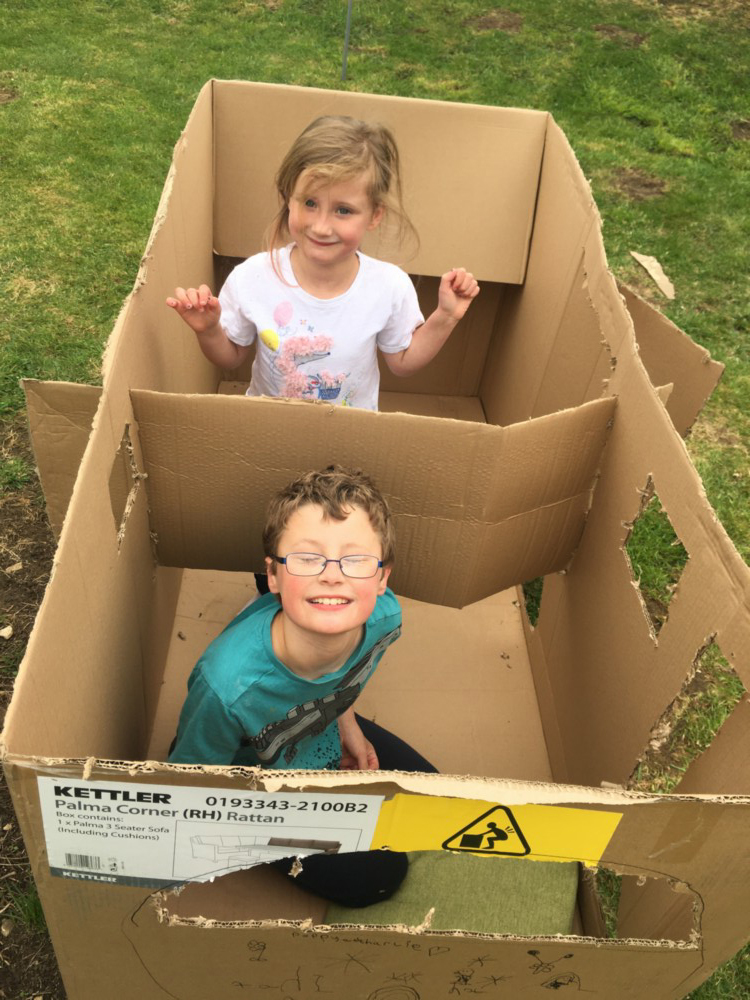 Poppy's van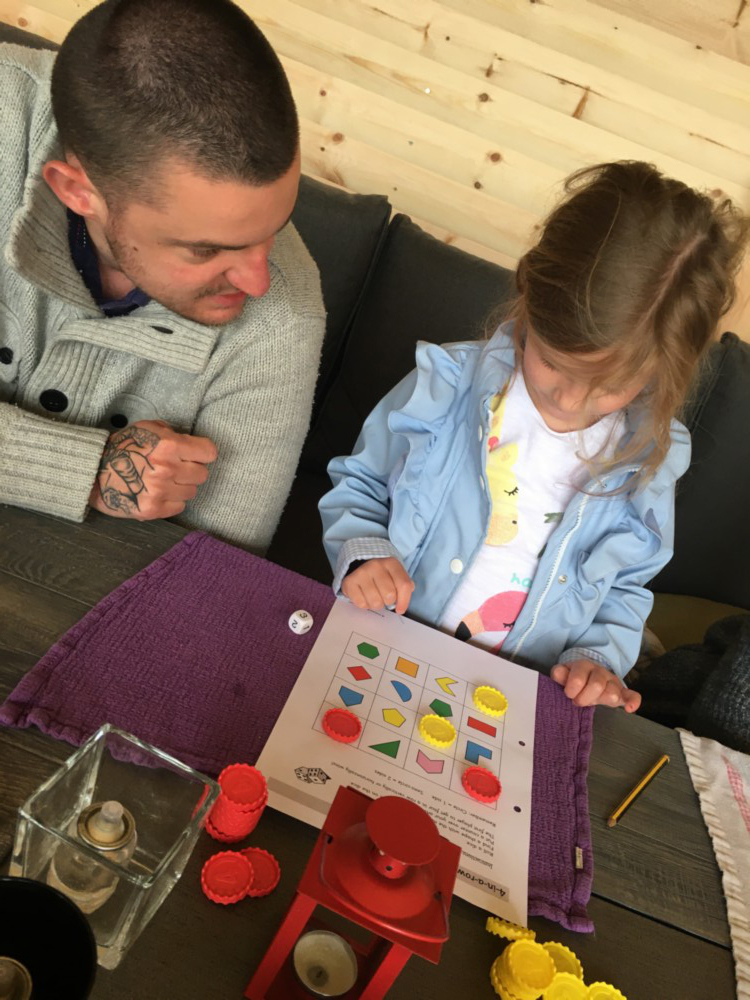 Poppy playing the shape game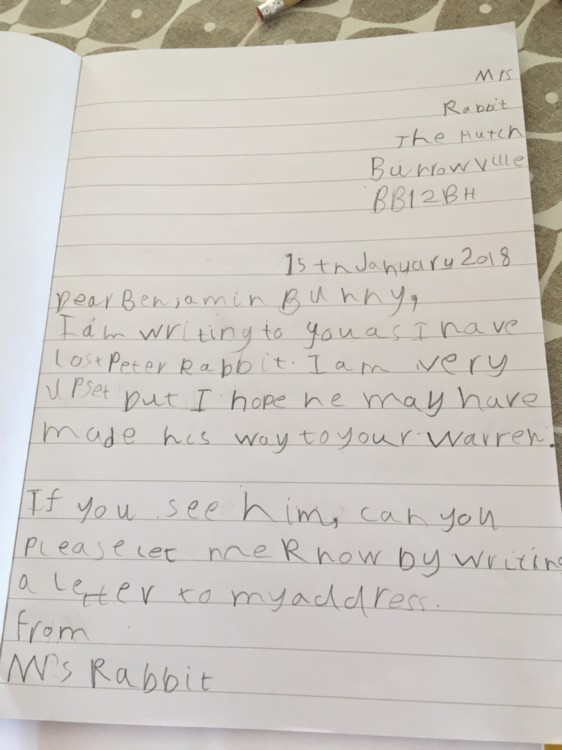 Teddy's letter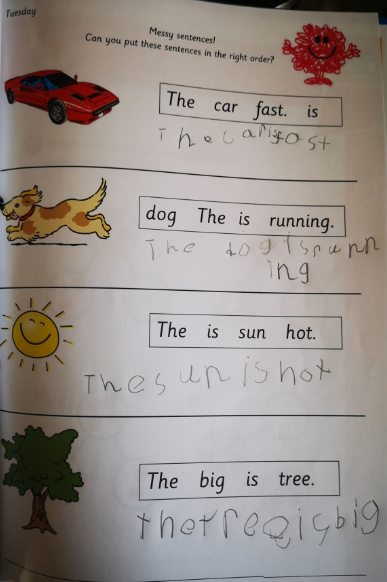 Connor's writing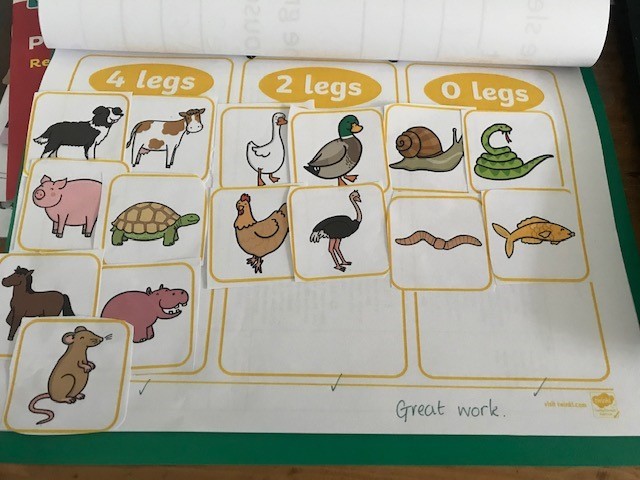 Aaron's sorting animals work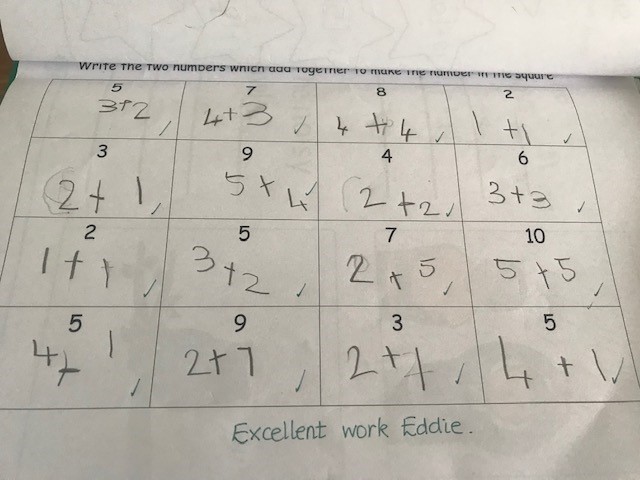 Eddie's number bonds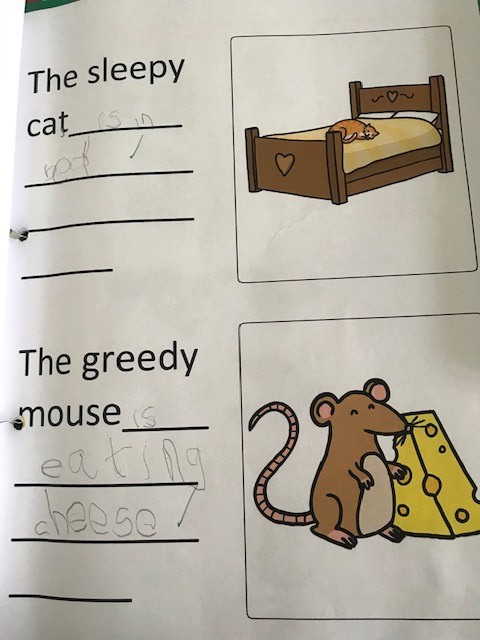 Aaron's writing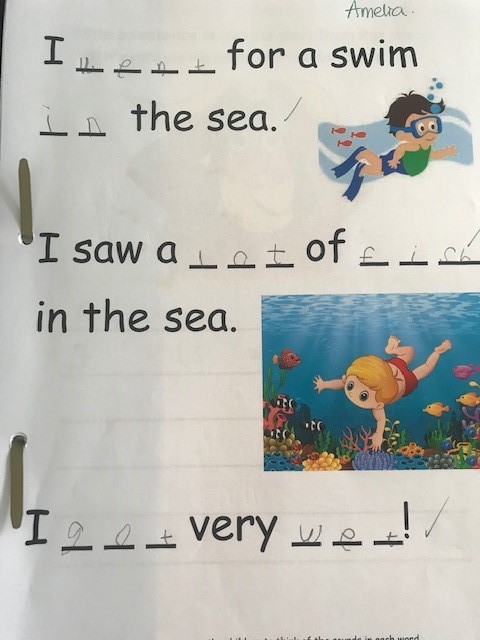 Amelia's writing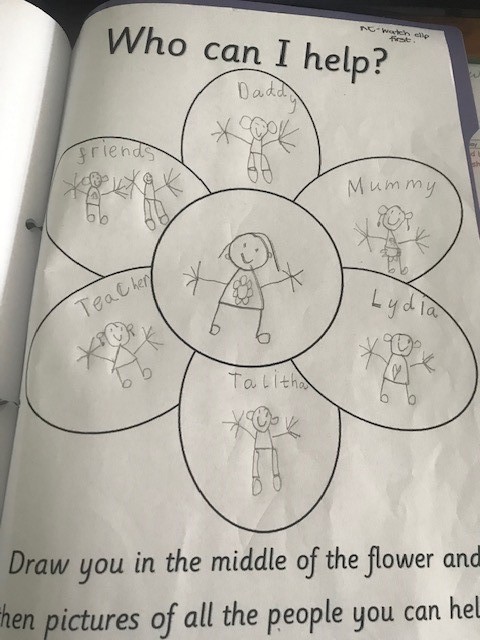 Esther's work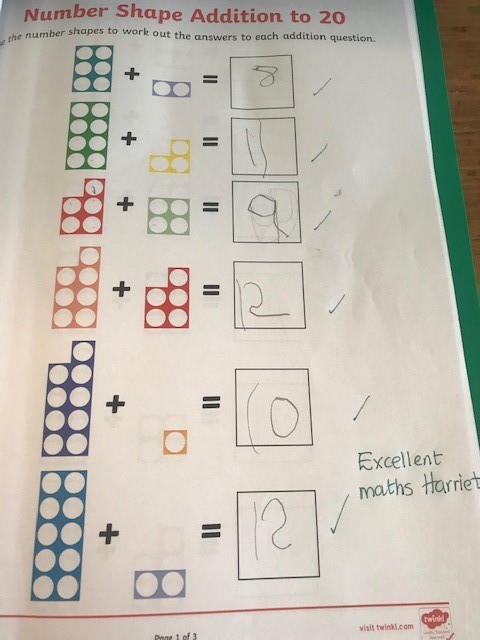 Harriet's maths

Harriet's number bonds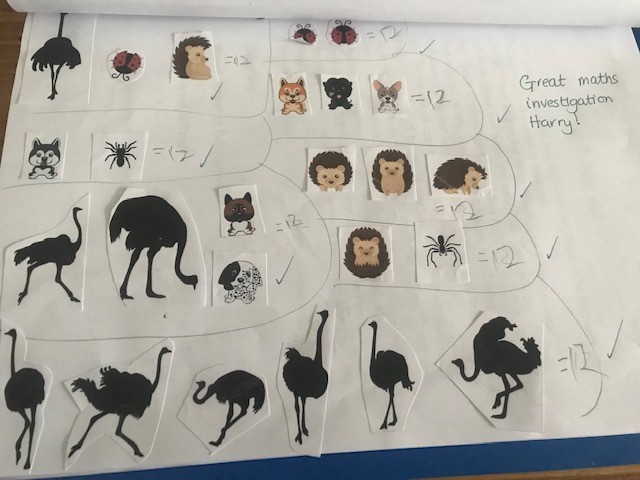 Harry's number investigation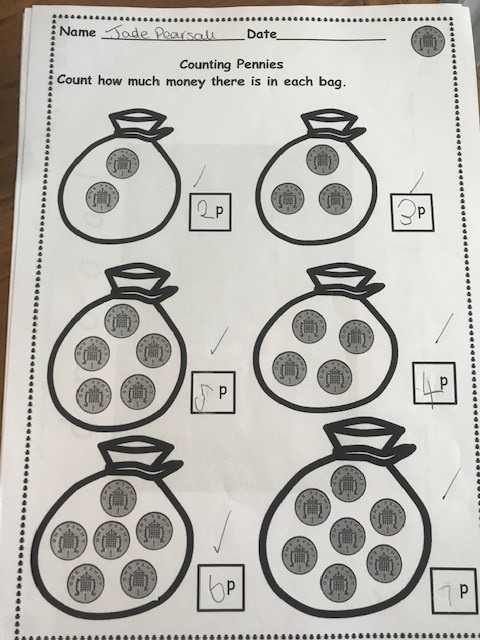 Jade's money work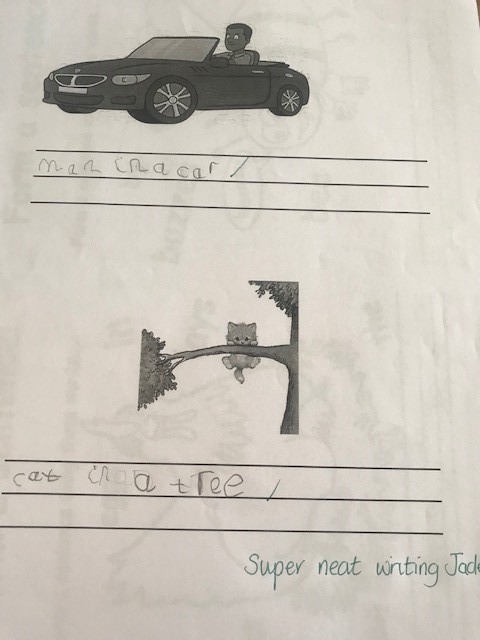 Jade's writing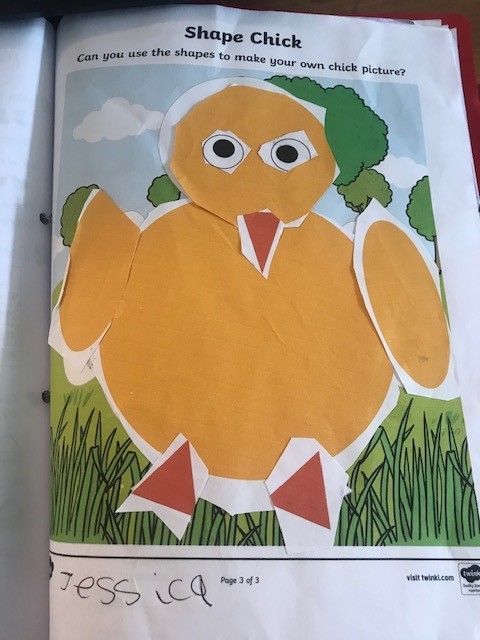 Jessica's shape picture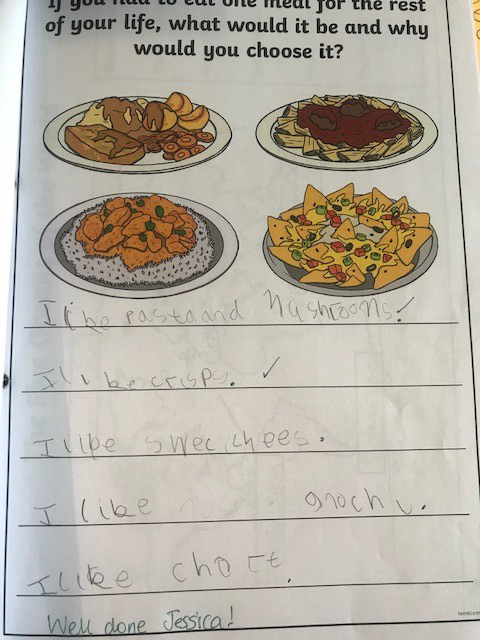 Jessica's writing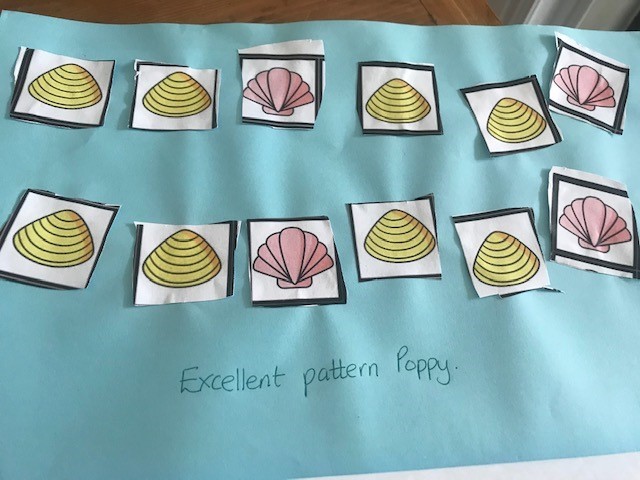 Shell pattern by Poppy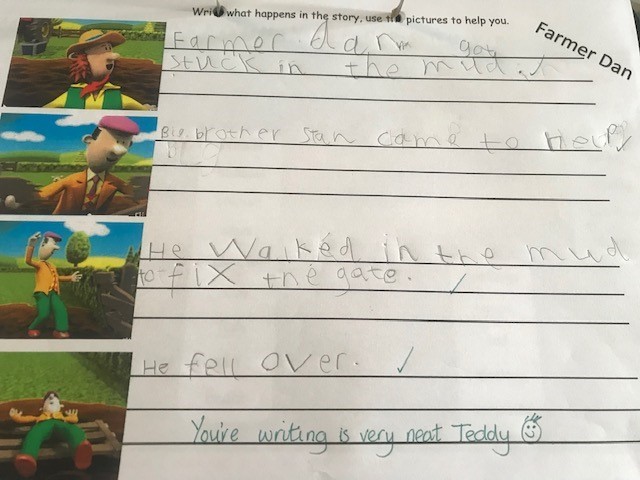 Teddy's writing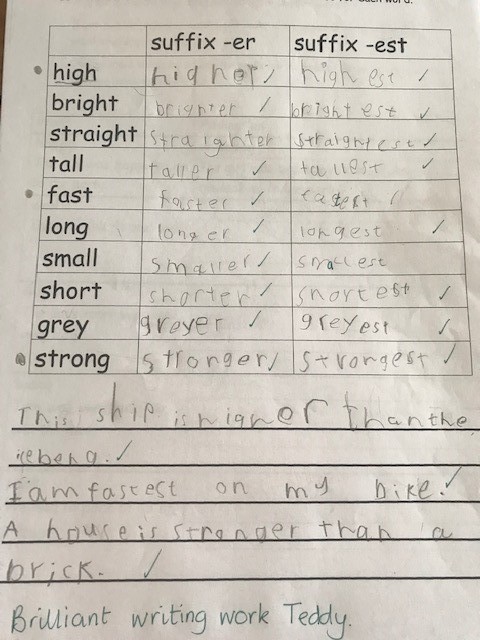 Suffix writing by Teddy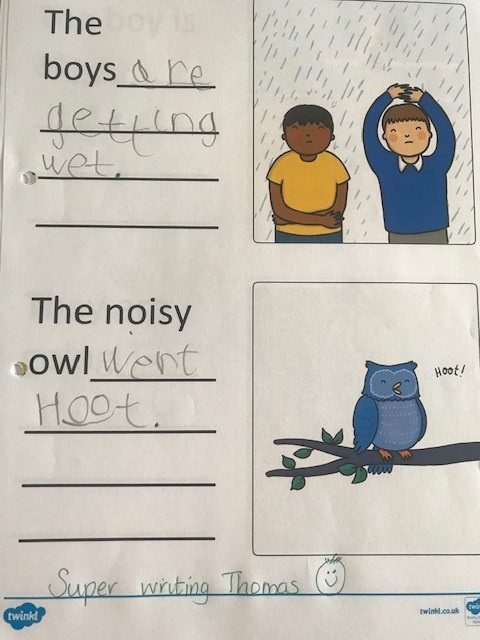 Thomas' caption writing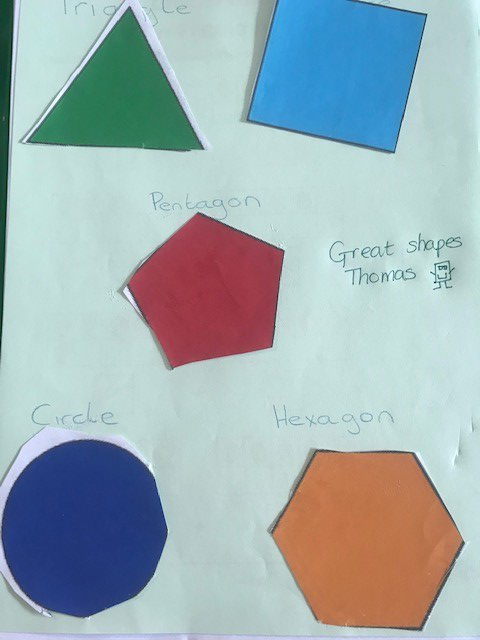 Thomas' shape work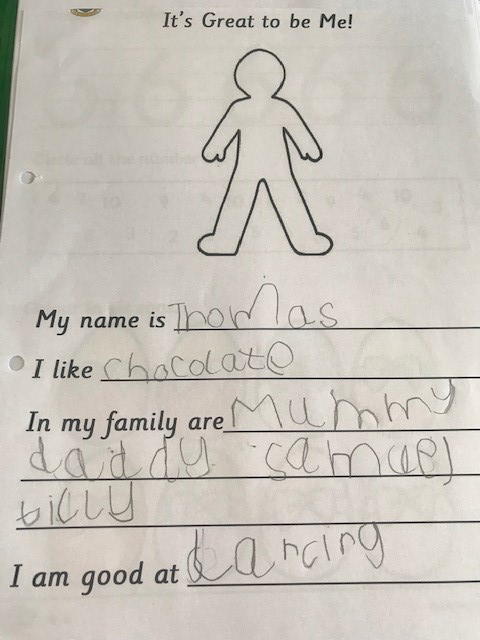 Thomas' writing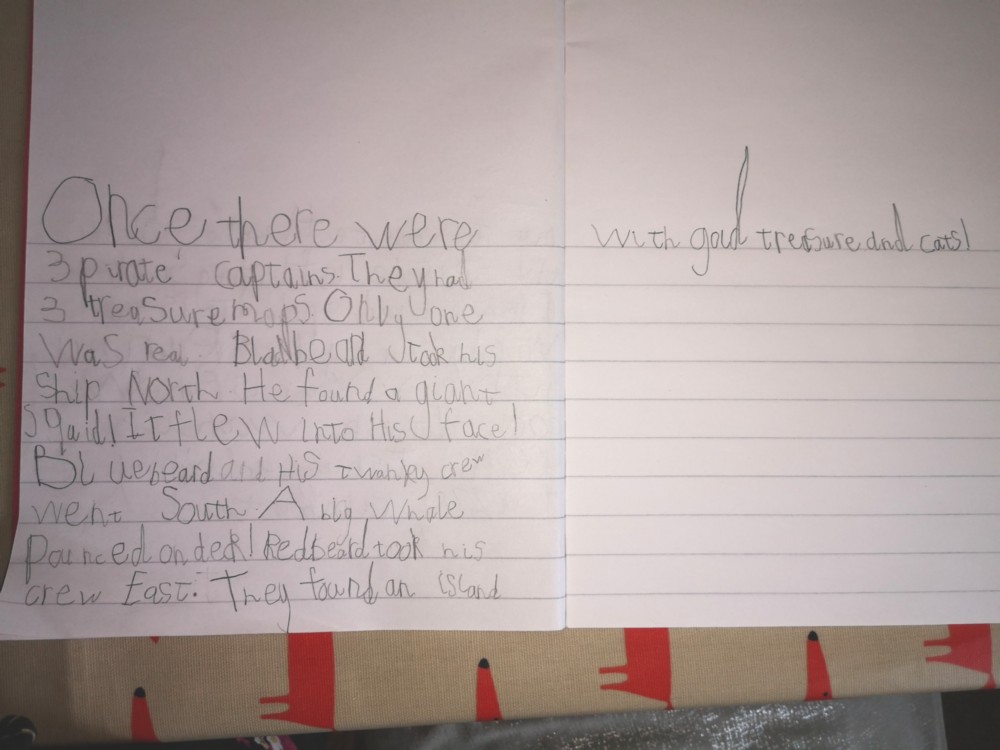 Ewan's pirate writing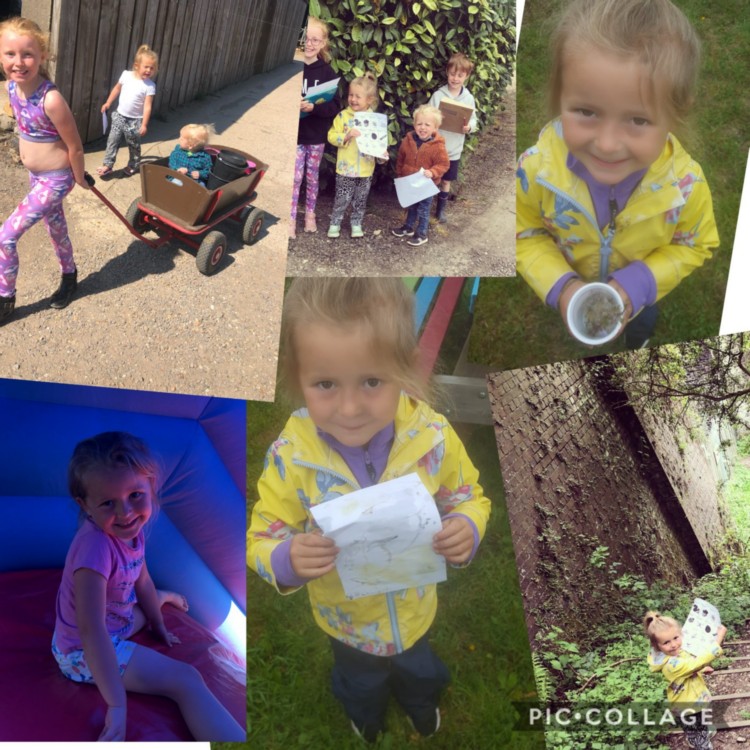 Amelia's busy week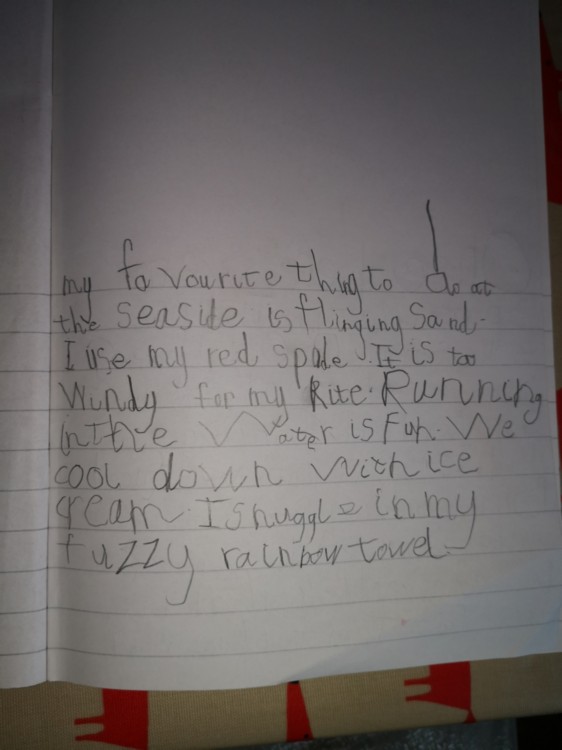 Ewan's seaside writing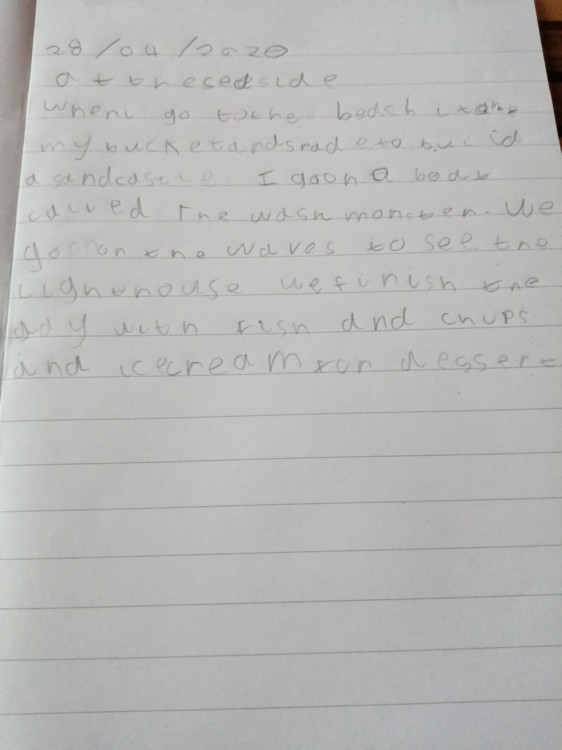 Harry's seaside writing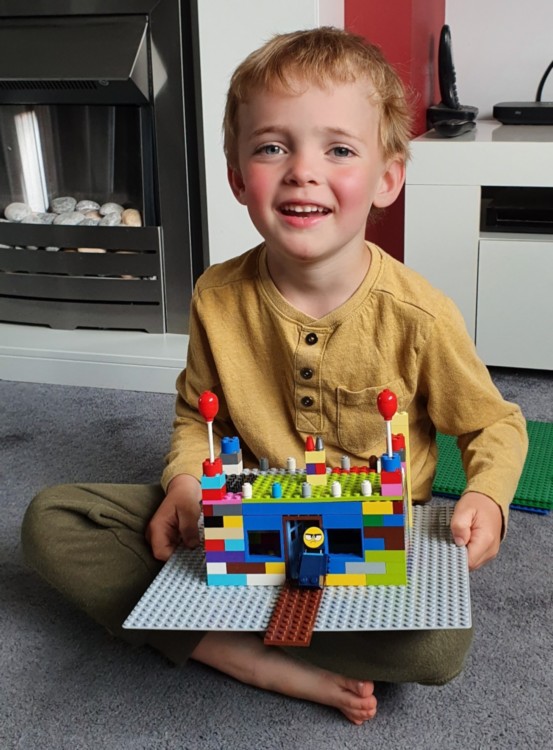 Thomas' lego castle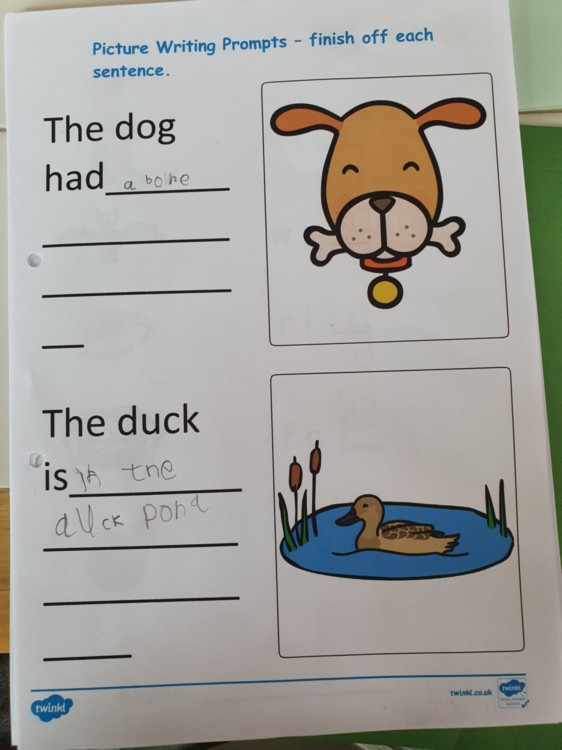 Thomas' captions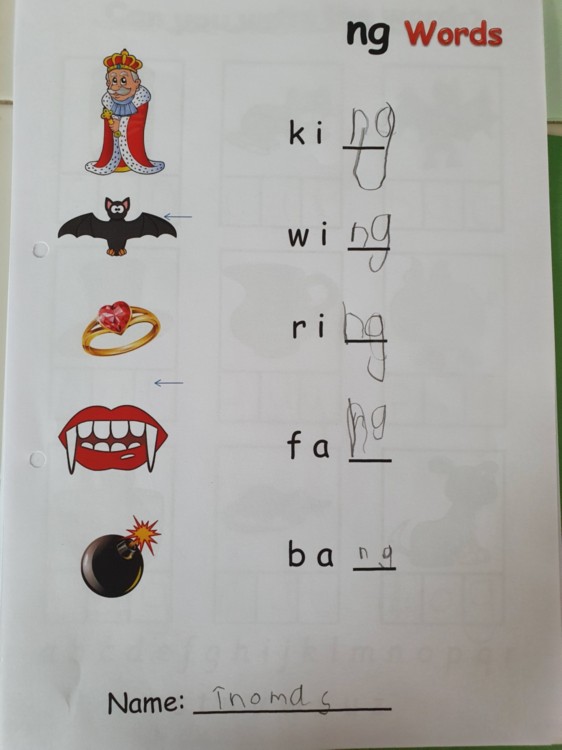 Thomas' ng words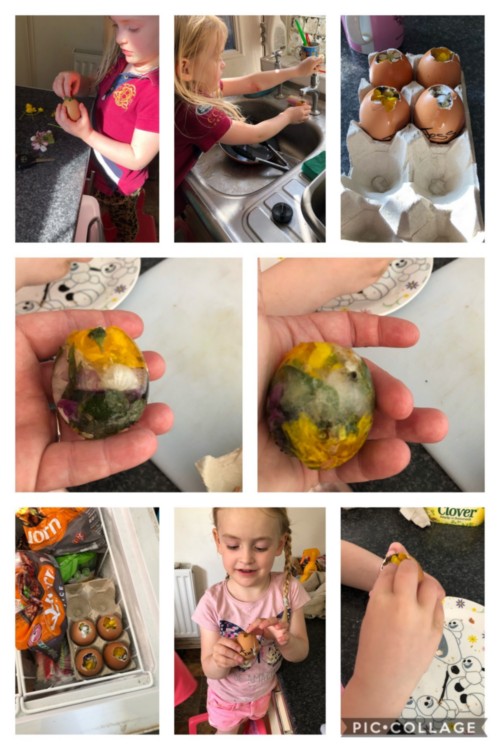 Jade has been busy!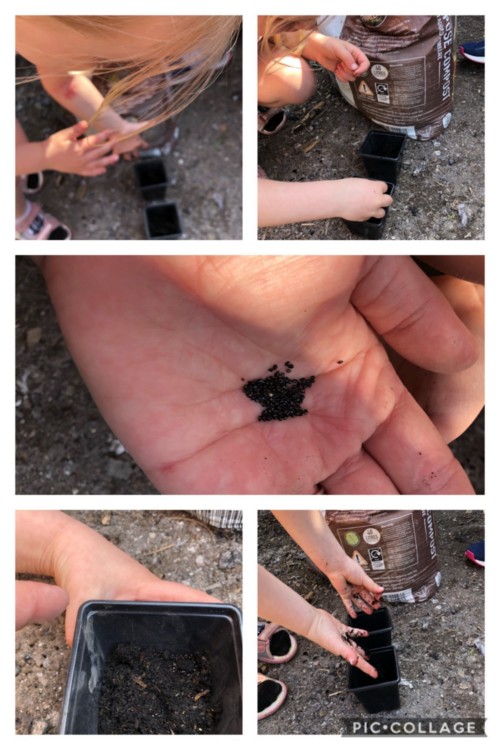 Jade planting seeds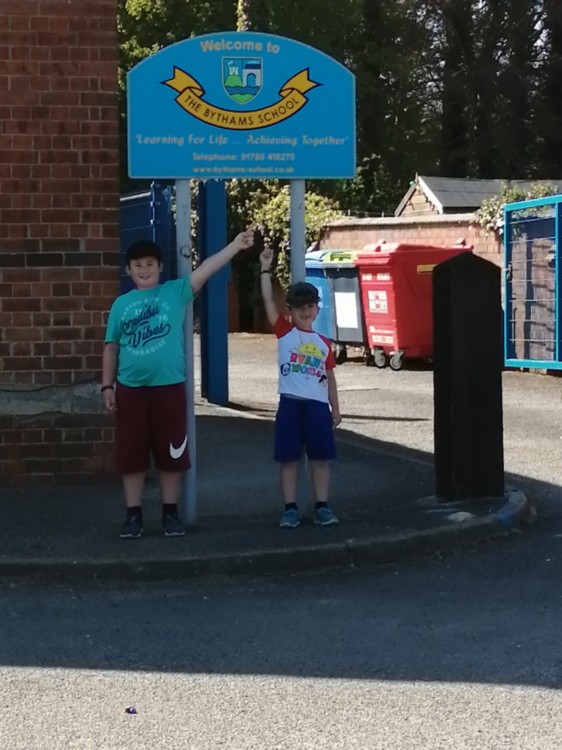 Harry's Long Walk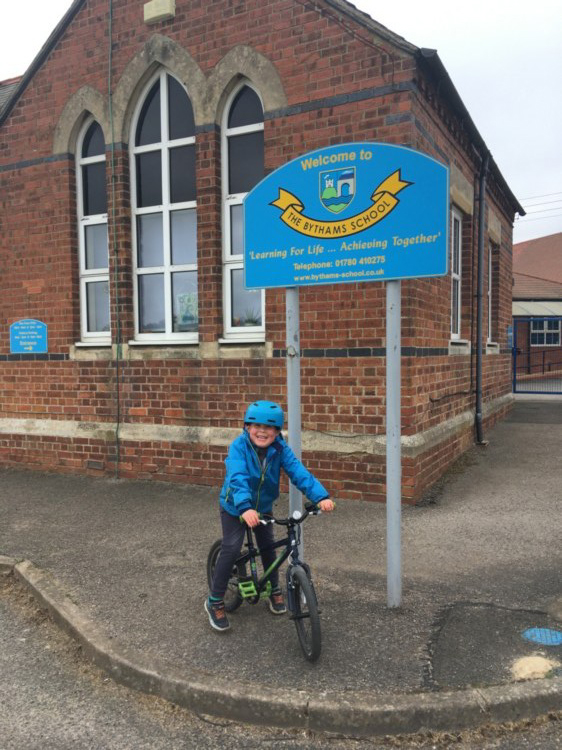 Teddy's mammoth bike ride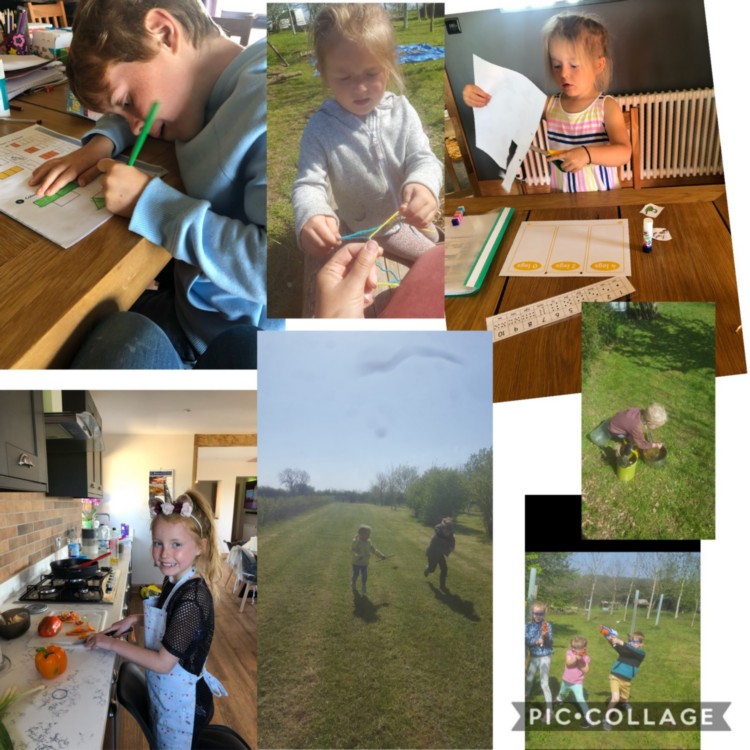 Amelia's Week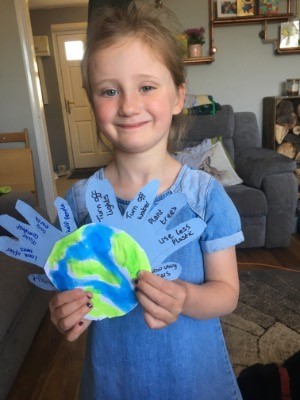 Poppy's ideas on how to save the planet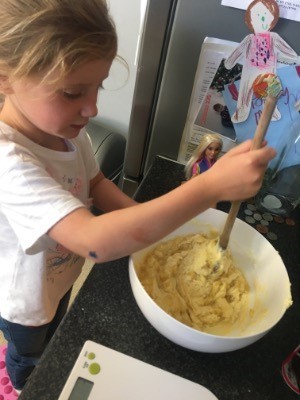 Poppy cooking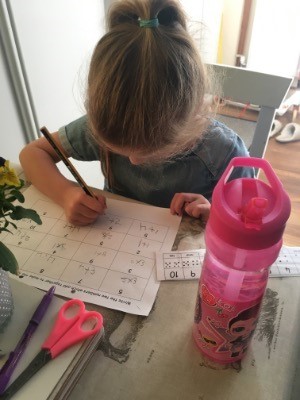 Poppy working on maths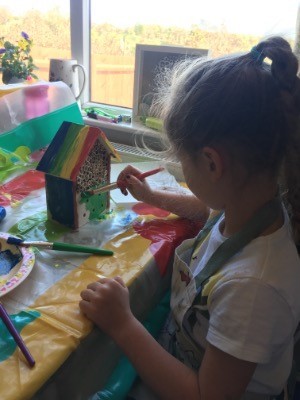 Poppy making a bug hotel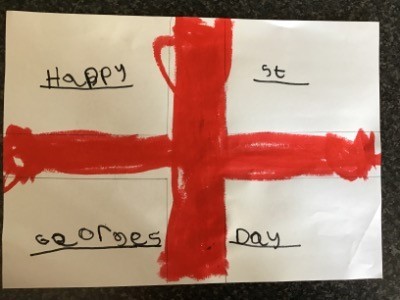 Poppy's Flag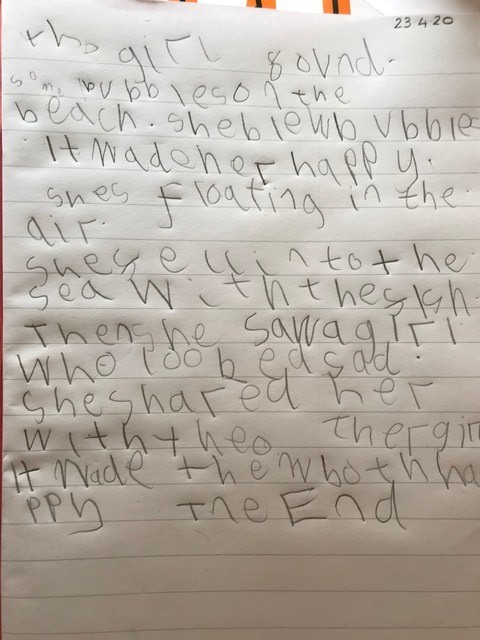 Jessica's writing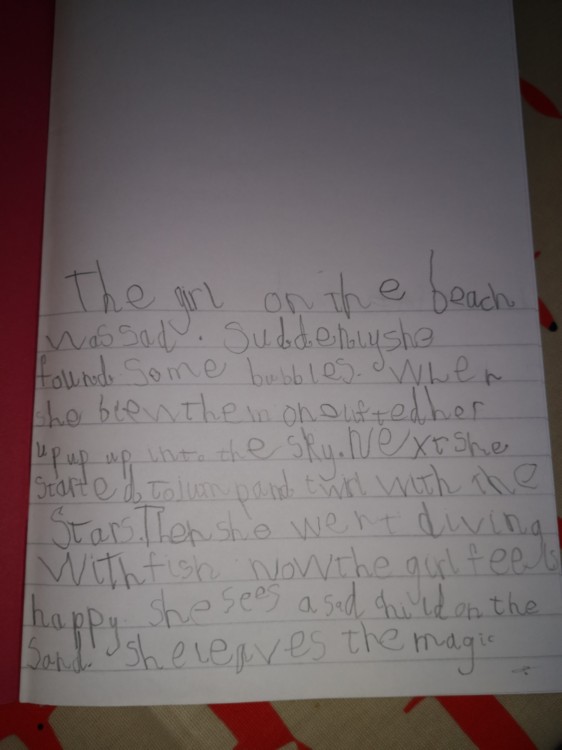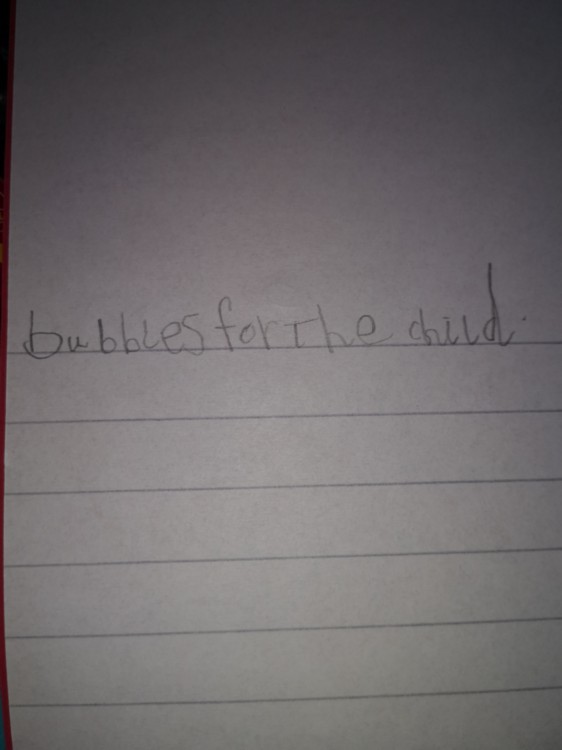 Ewan's writing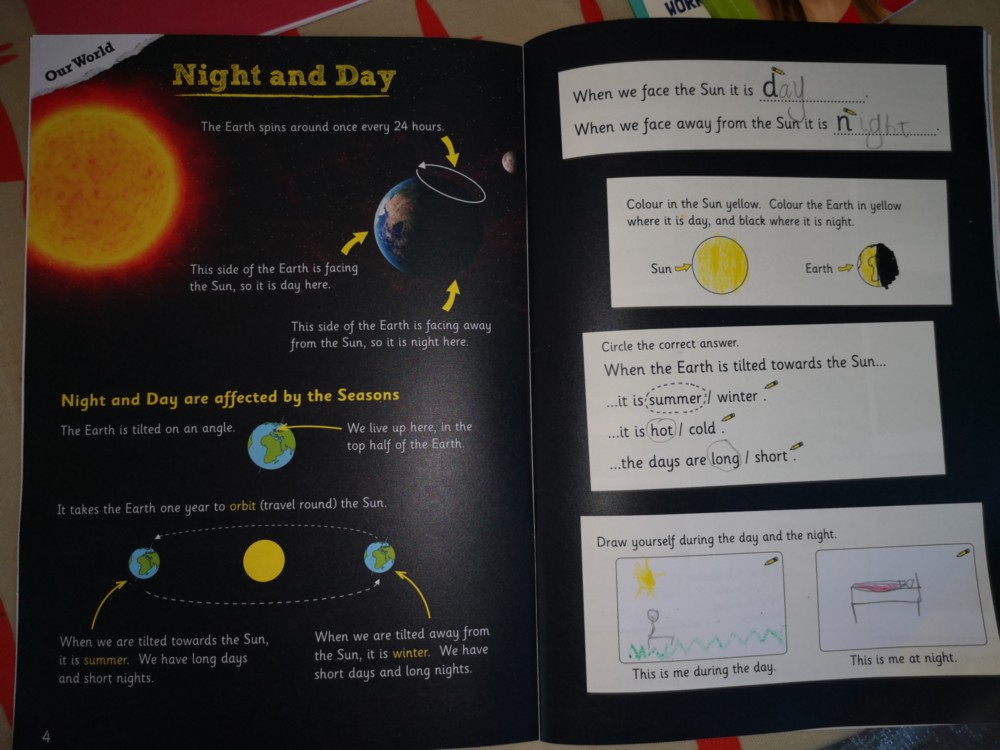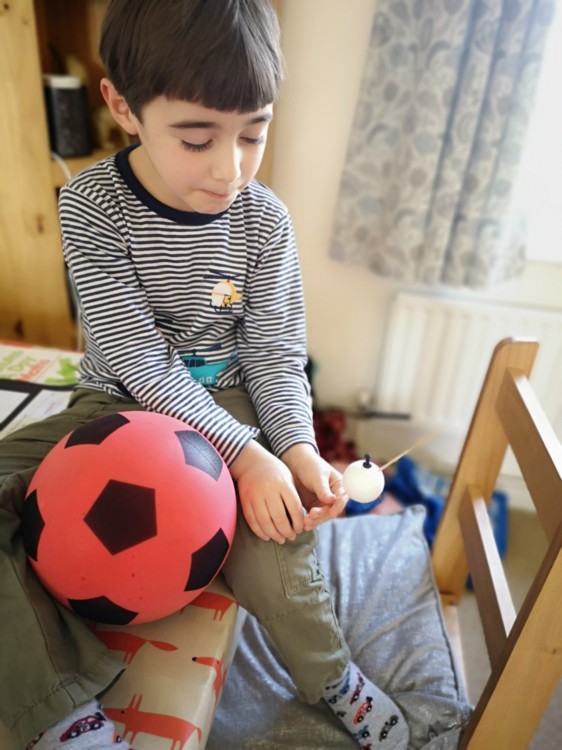 Ewan's Science investigation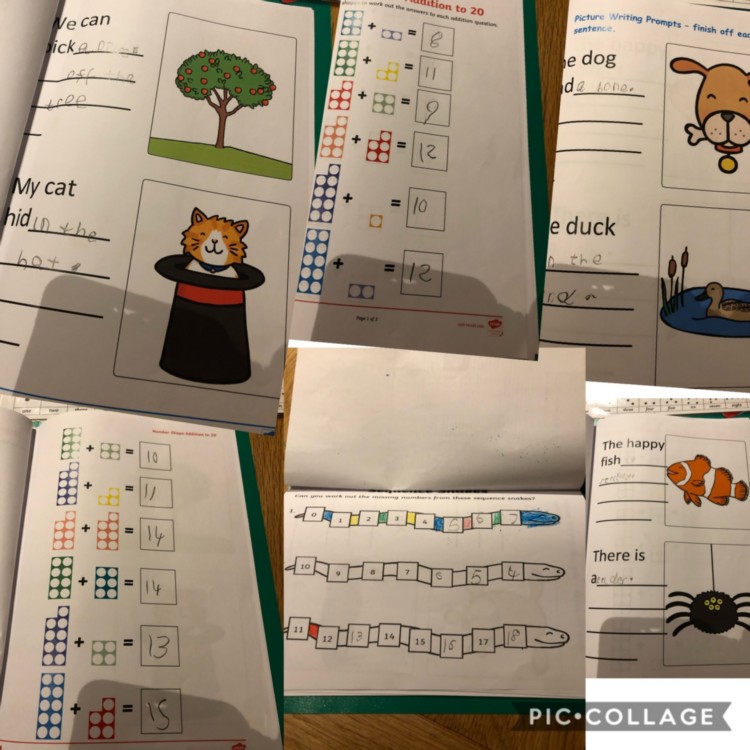 Amelia's work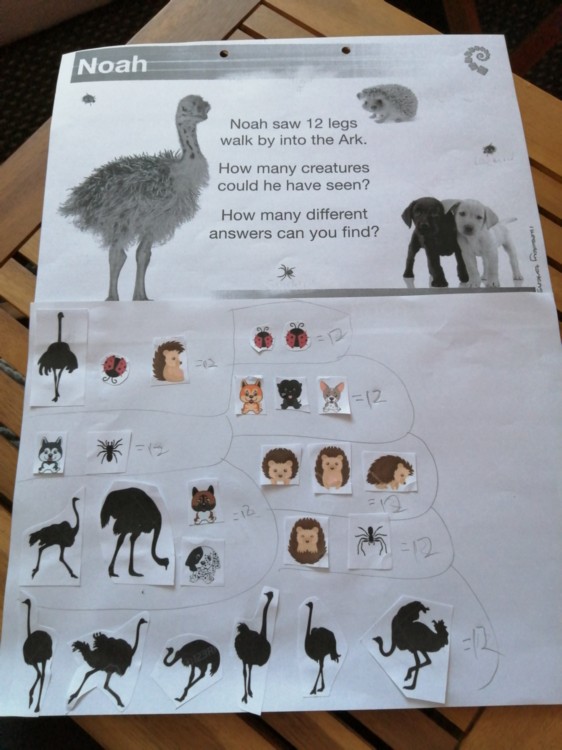 Harry's Maths Investigation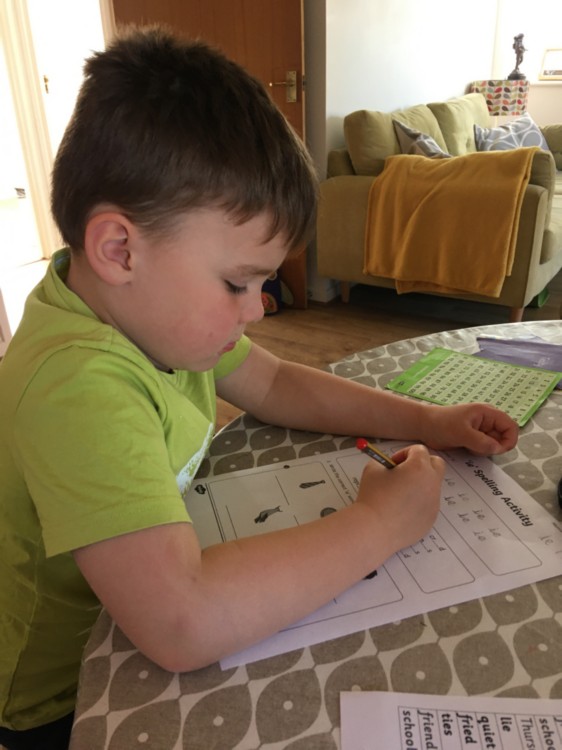 Teddy learning ie sound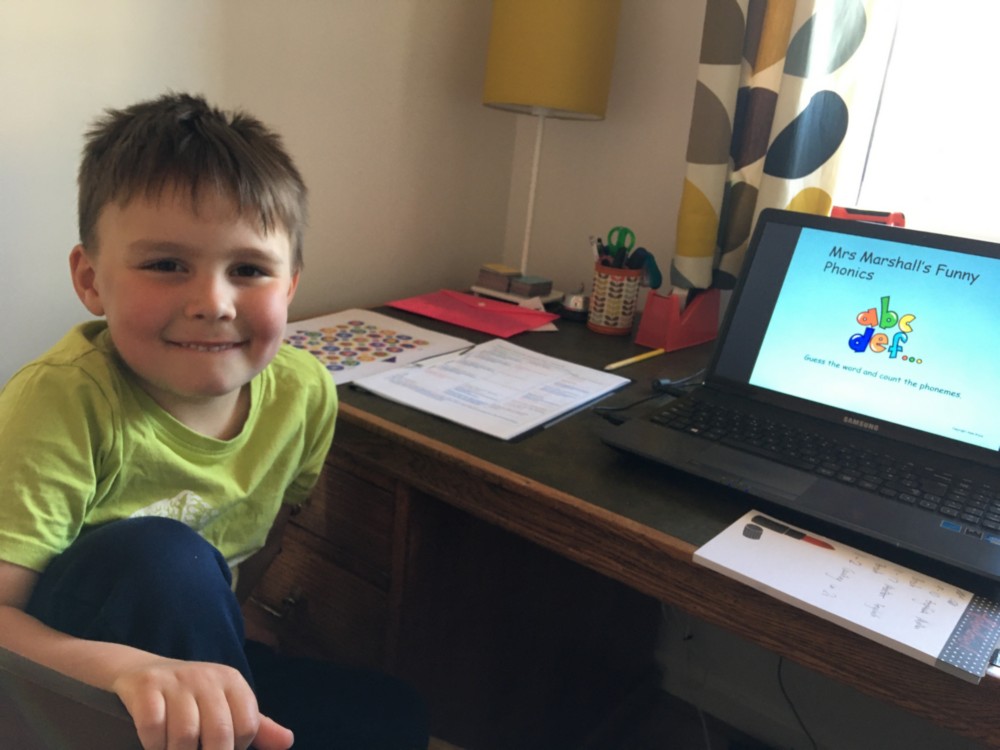 Teddy working hard.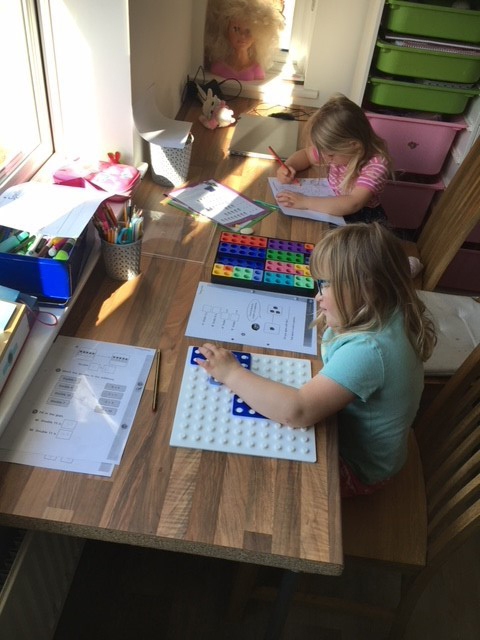 Jessica working with Numicon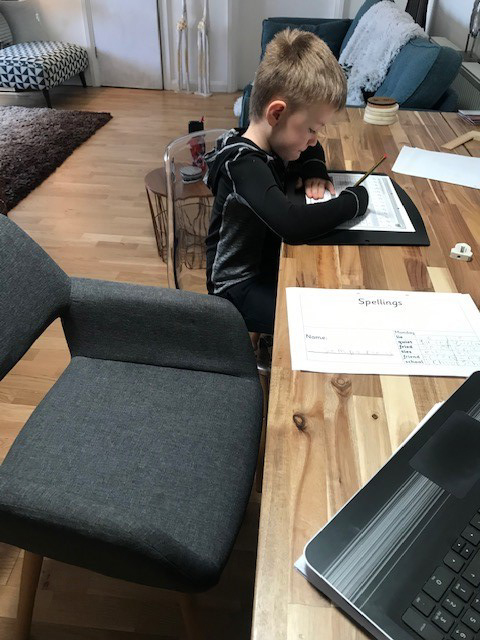 Sam working hard.
---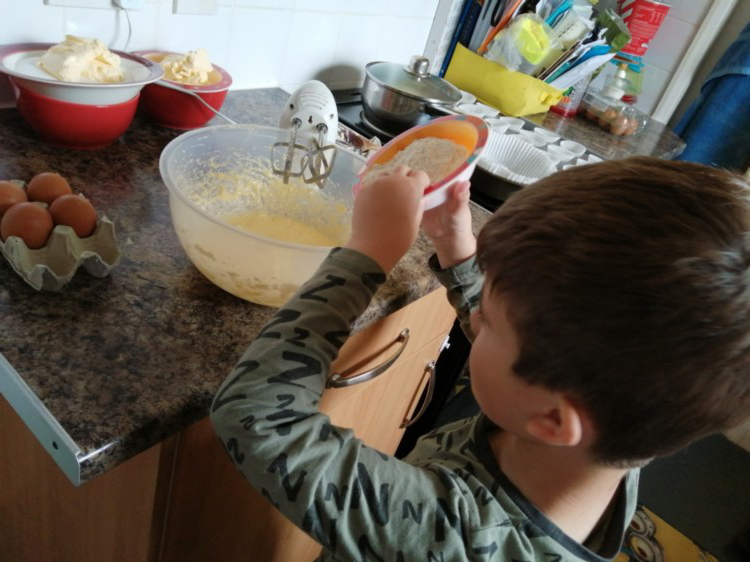 Harry Cooking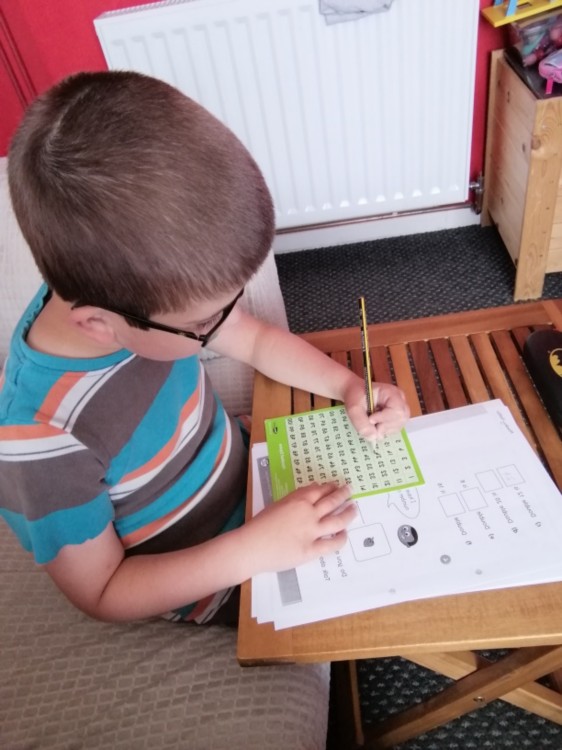 Harry Working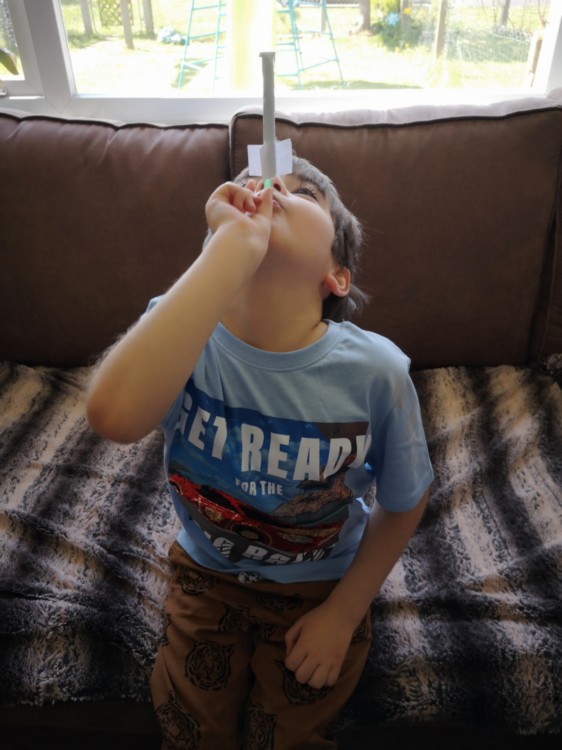 Ewan's Puff Rocket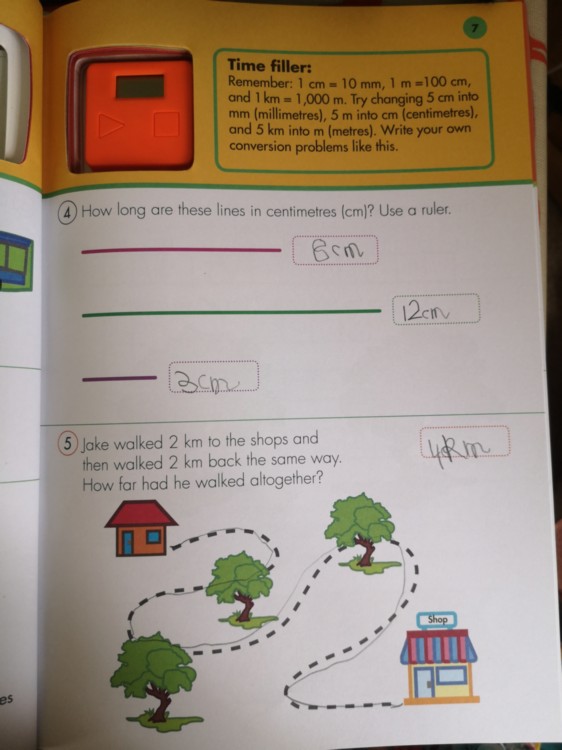 Ewan's Maths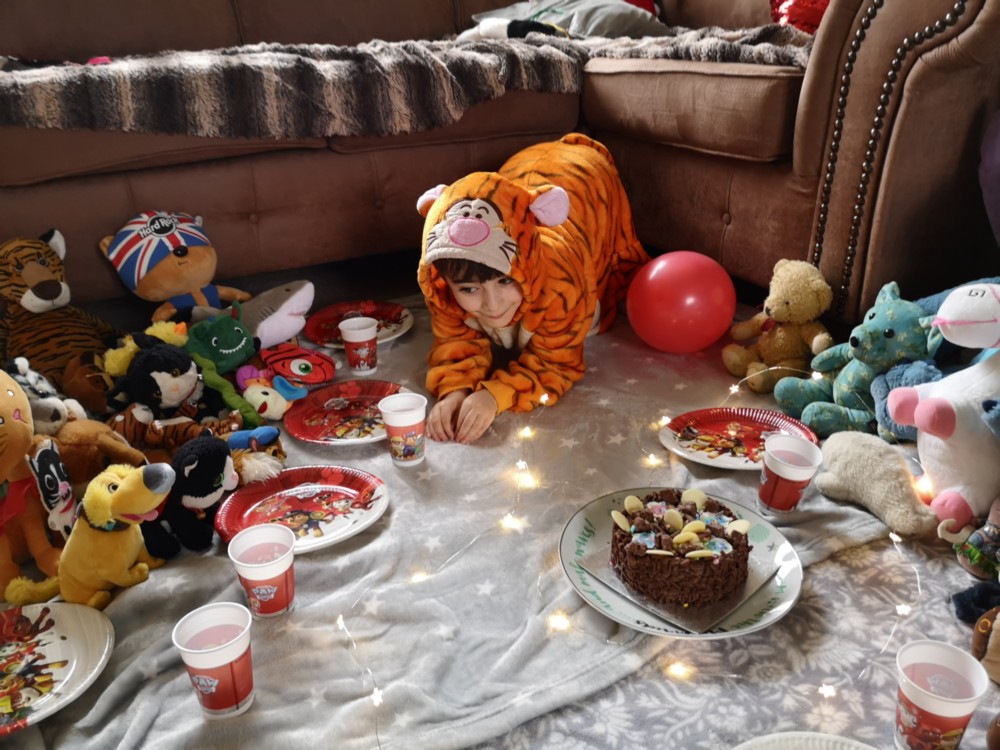 Ewan's Tiger Who Came to Tea Birthday Party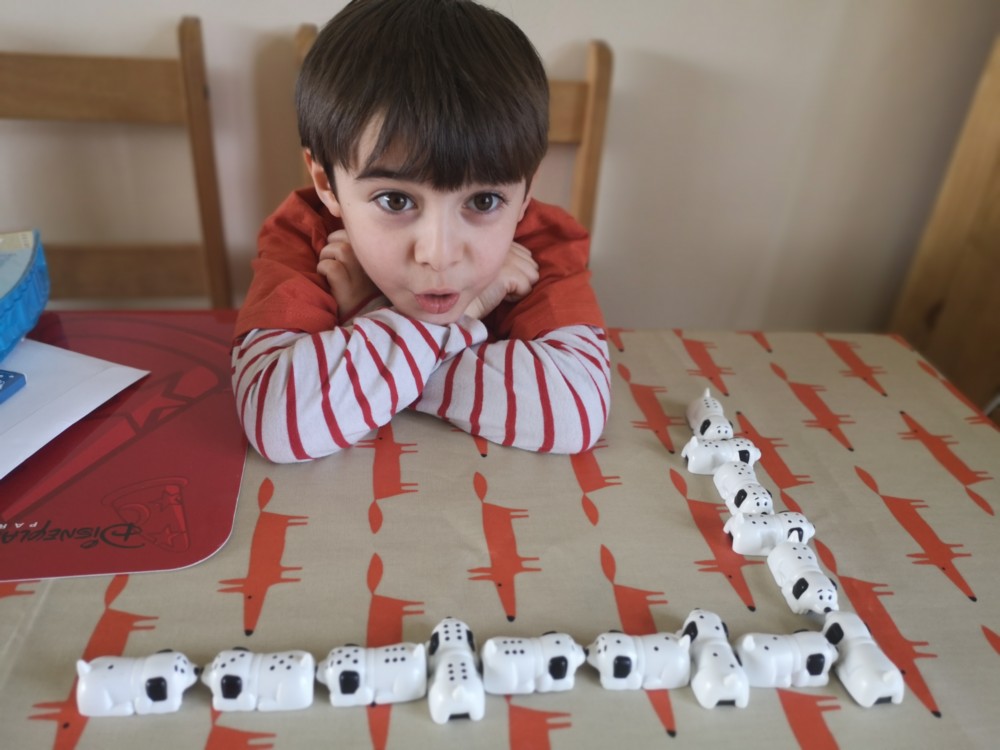 Ewan's Maths Dominoes

Harriet's New Cast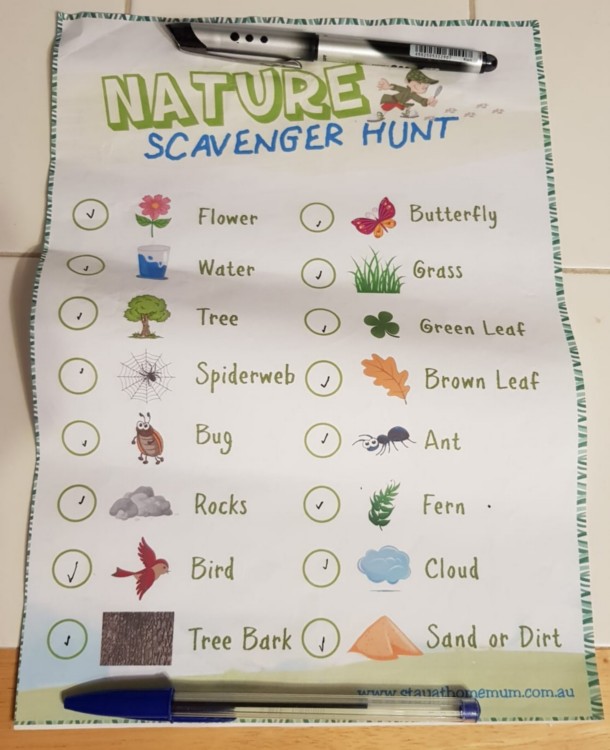 Thomas' Nature Hunt

Thomas' Nature Picture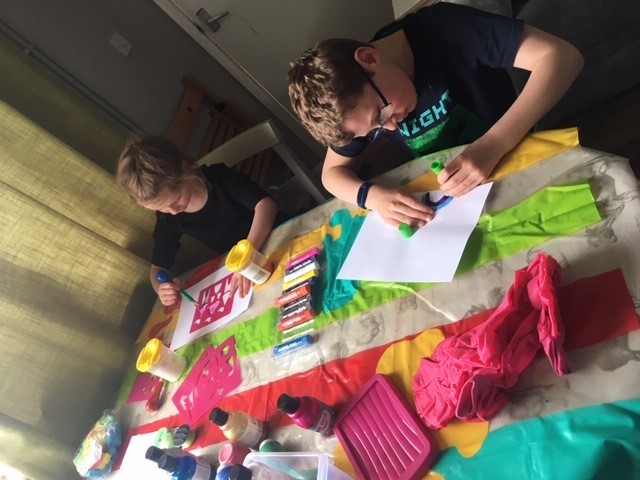 Poppy Painting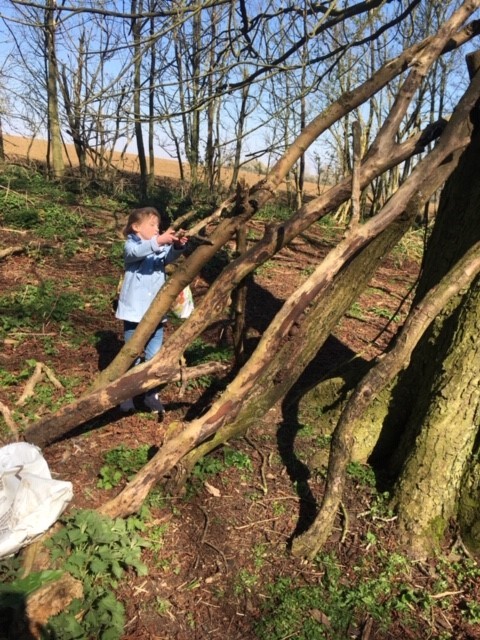 Poppy Making Dens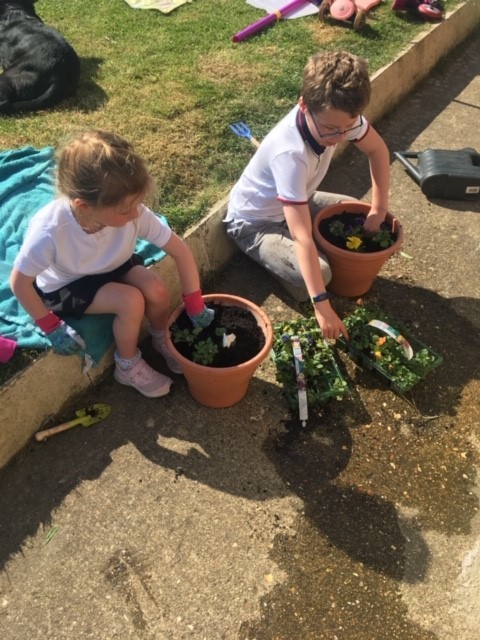 Poppy Planting Seeds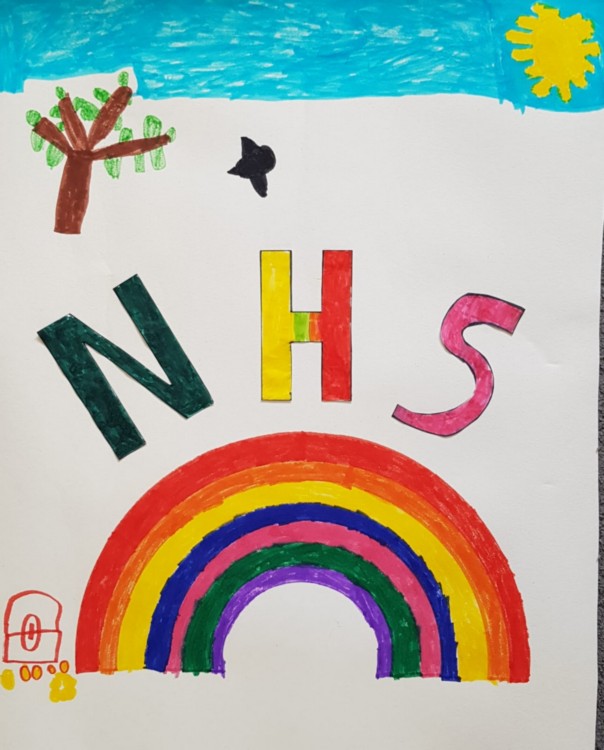 Thomas' Rainbow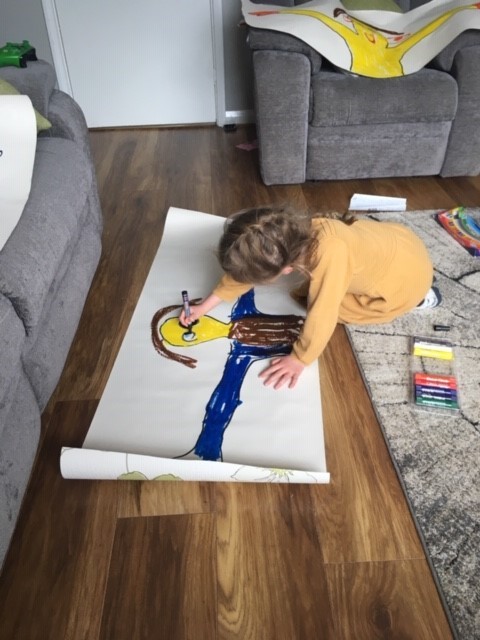 Poppy 's Picture
---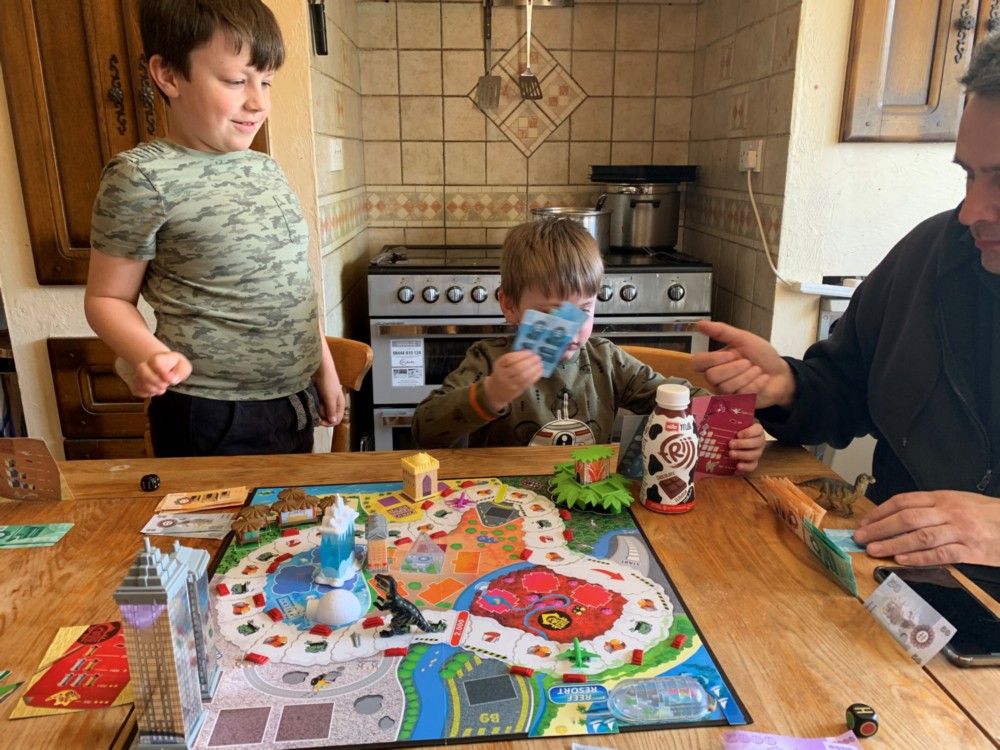 Playing a game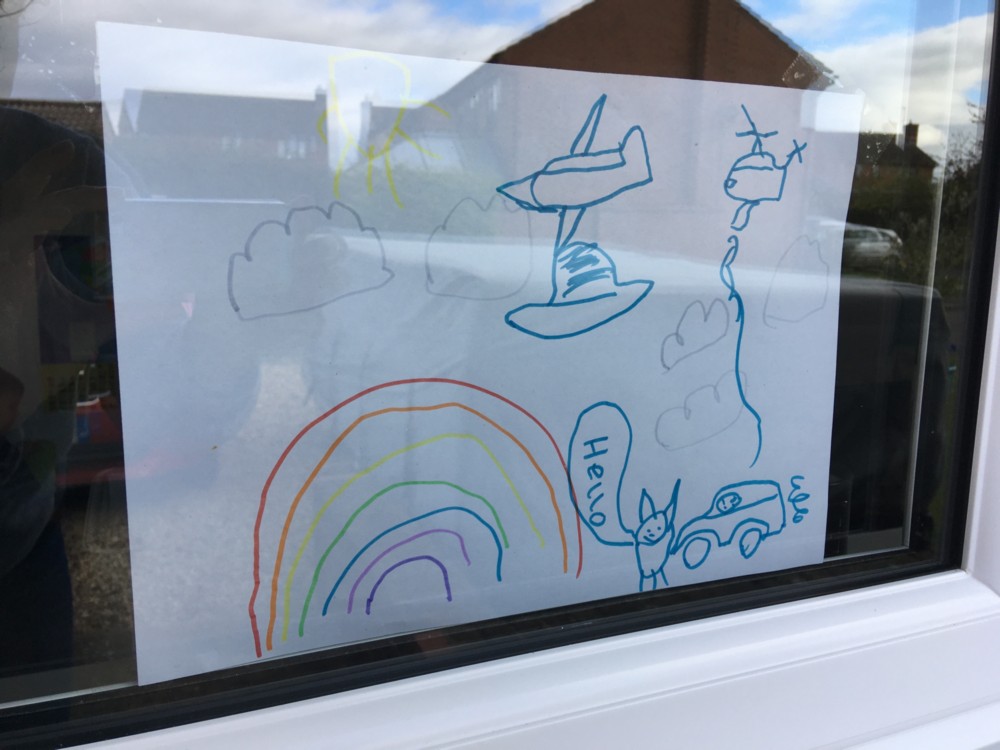 Teddy's Rainbow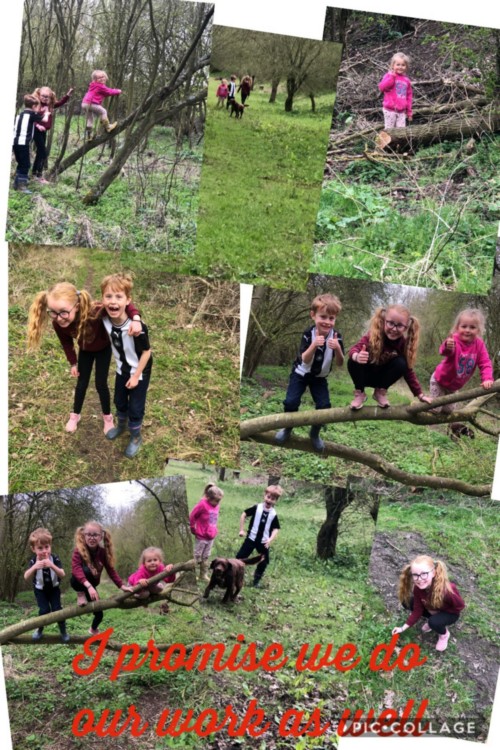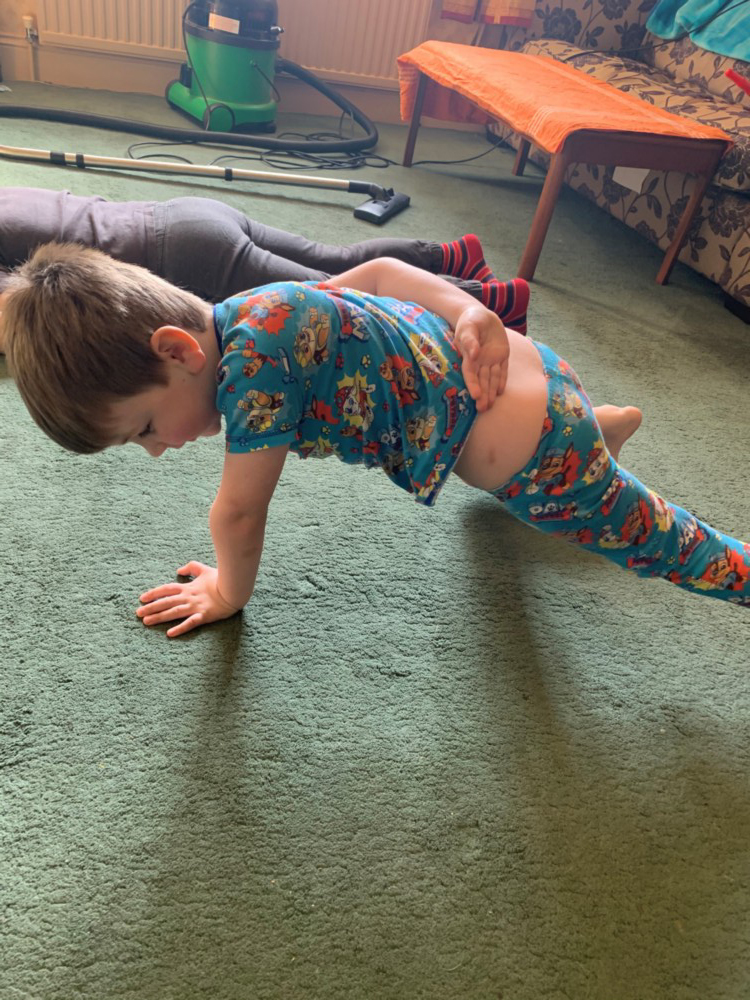 PE Class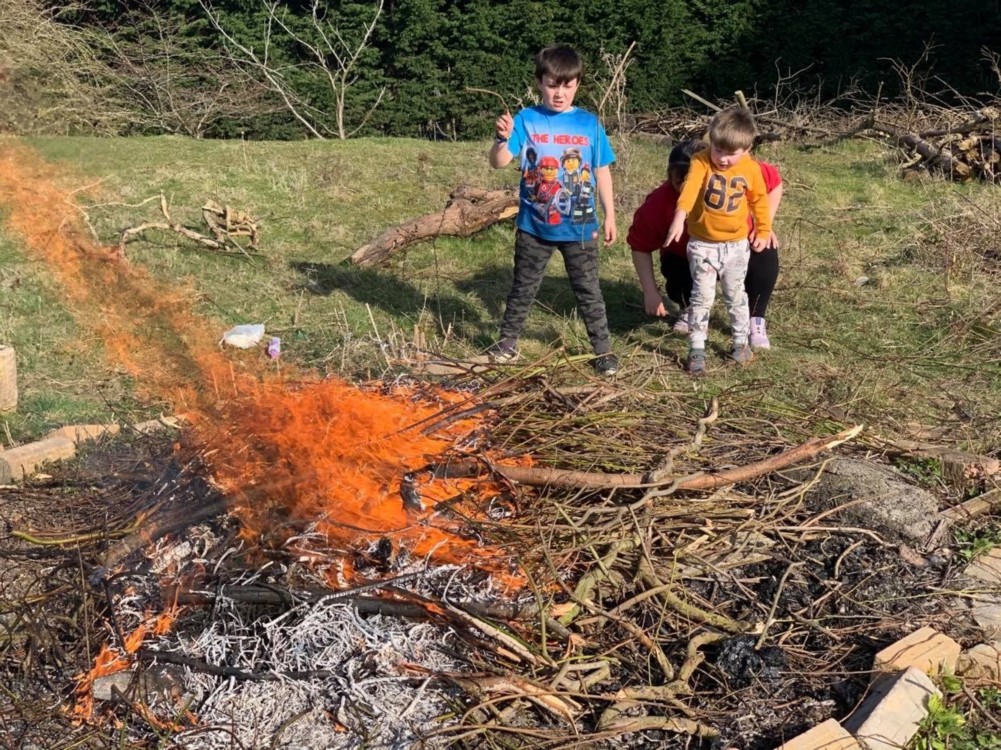 Fire!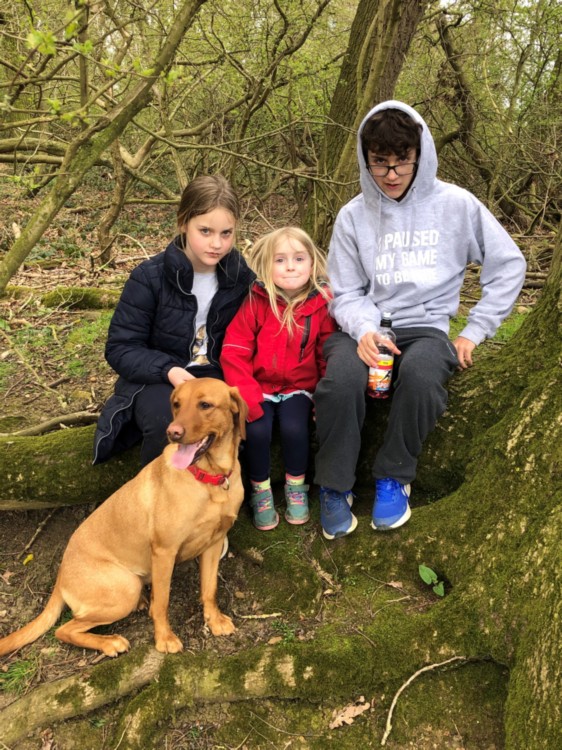 A family walk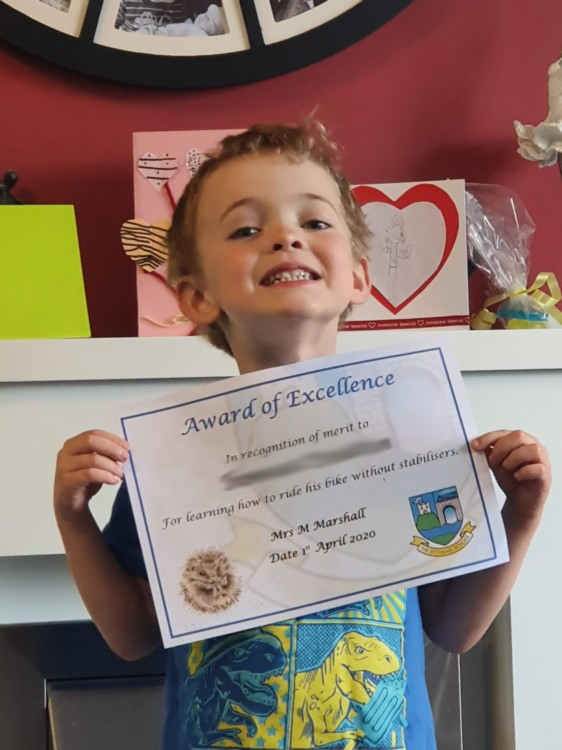 Award
---
---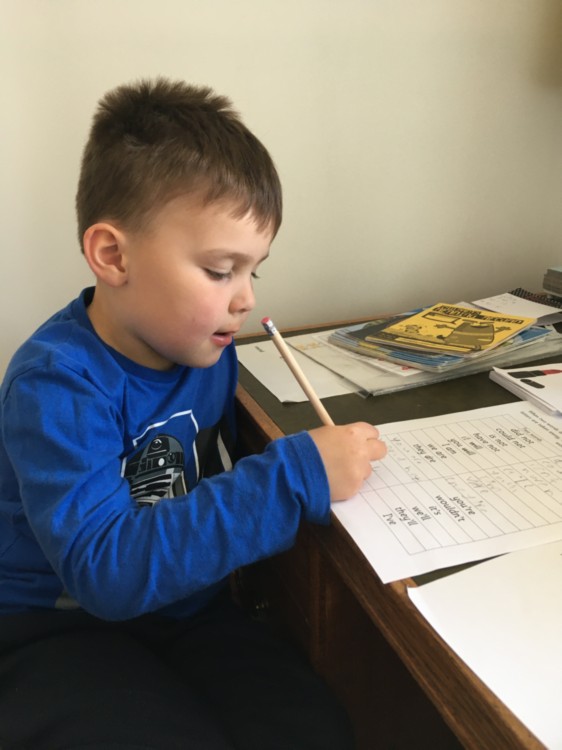 Teddy's English Work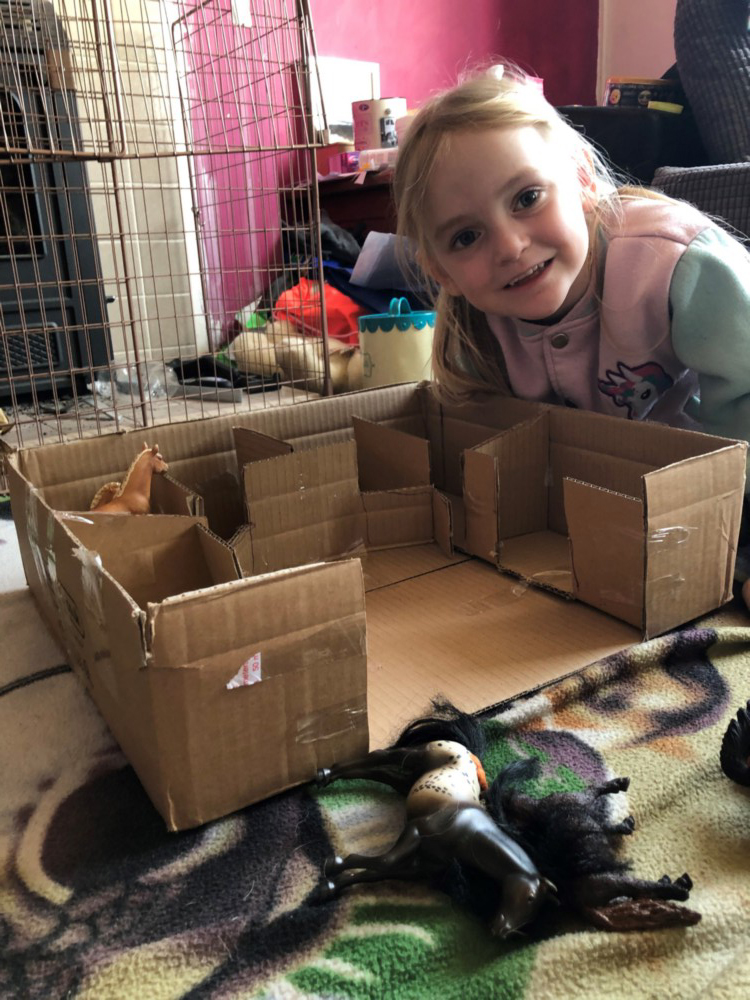 Farm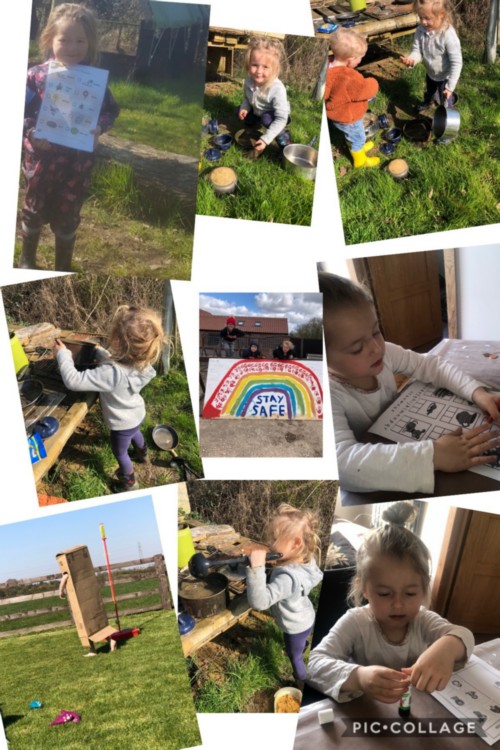 Family fun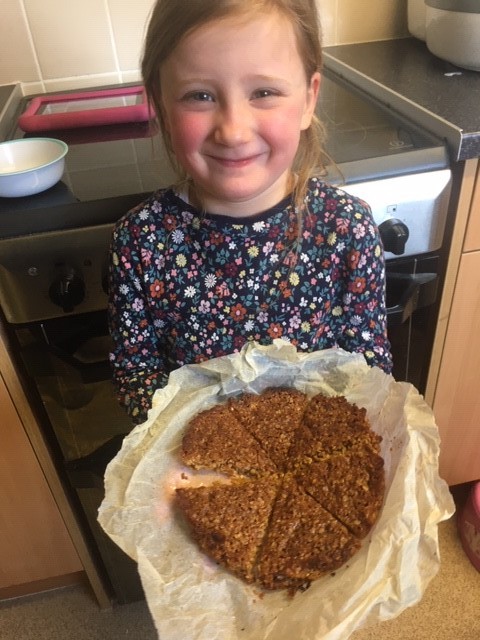 Flapjack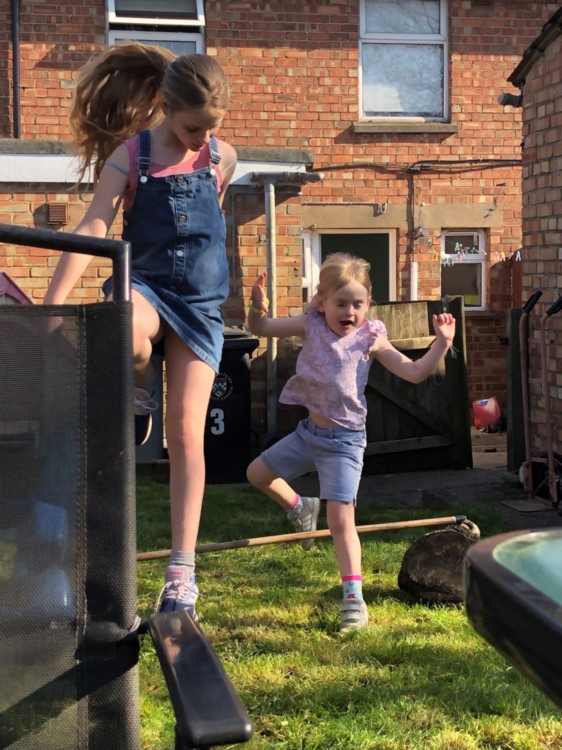 Obstacle course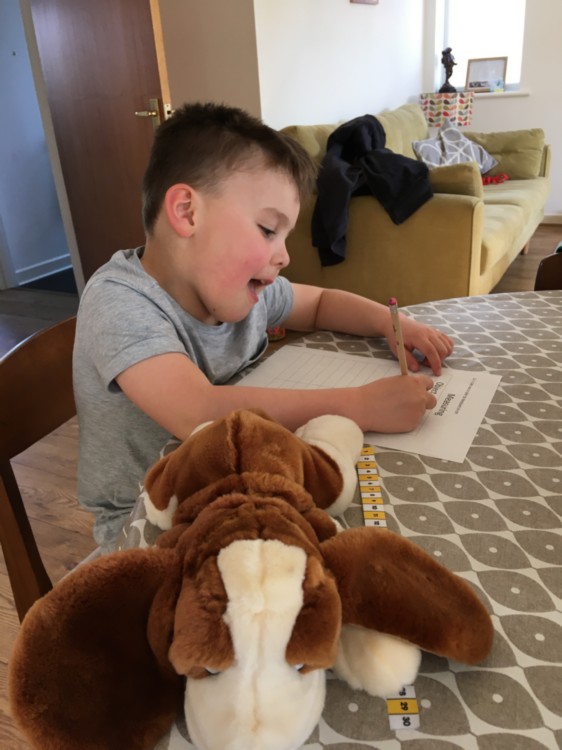 Writing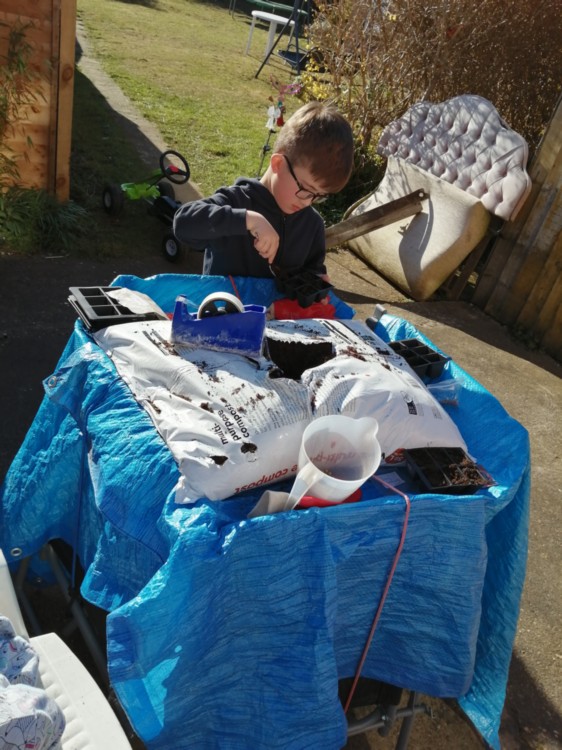 Planting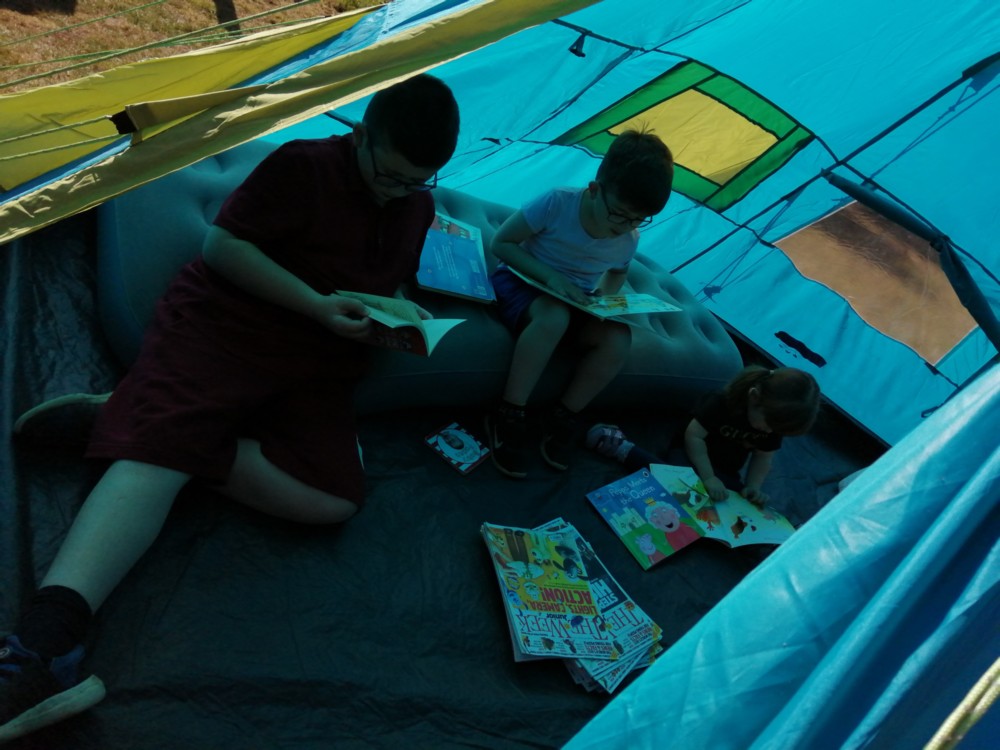 Tent reading
Chinese New Year and Rio De Vida - Celebrations from Around the World
This term we have started looking at different celebrations that are celebrated by people from around the world. We have looked at maps and on the internet to find out where China is and what the landscape looks like, comparing it to our own. In the classroom I have set up a Chinese restaurant role play area. We have been working on making a large dragon to fly over our heads white we work and play, hopefully this will be up soon! The children have been trying to do some Chinese writing, which is much harder than you think it would be. They have also listened to stories about the Chinese New Year and how the Chinese Zodiac came about. The Year 1 children have written about the celebrations which accompany the New Year. The children have made dragons out of different 2D shapes and also making their own dragon using chains.
Mrs Foster broke her hip during the holiday period and is recuperating at home after having an operation. The children made her a card and I took it over to her, it cheered her enormously. During her absence the other TA's in school are helping to support the Hedgehog class, but we look forward to her return.
Forest School has now begun again on Tuesday mornings. The children have been learning about winter and looking at the signs of winter around our environment, they have been learning basic forest school skills such as hammering, sawing and lighting the fire.
Witham Hall is on Wednesday mornings and the children go in minibuses to the school, where they use the amazing sports facilities, so our children have gymnastic lessons there.
Seasons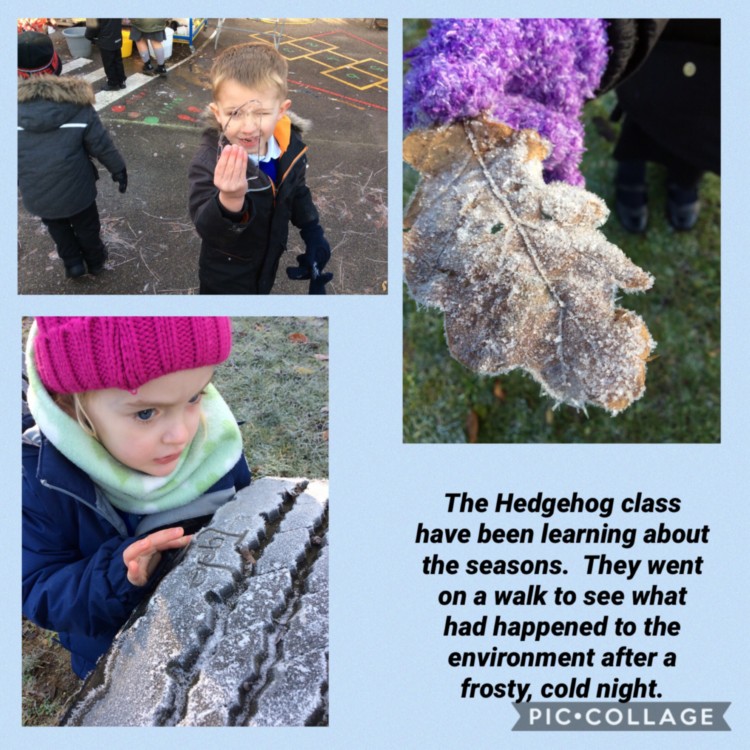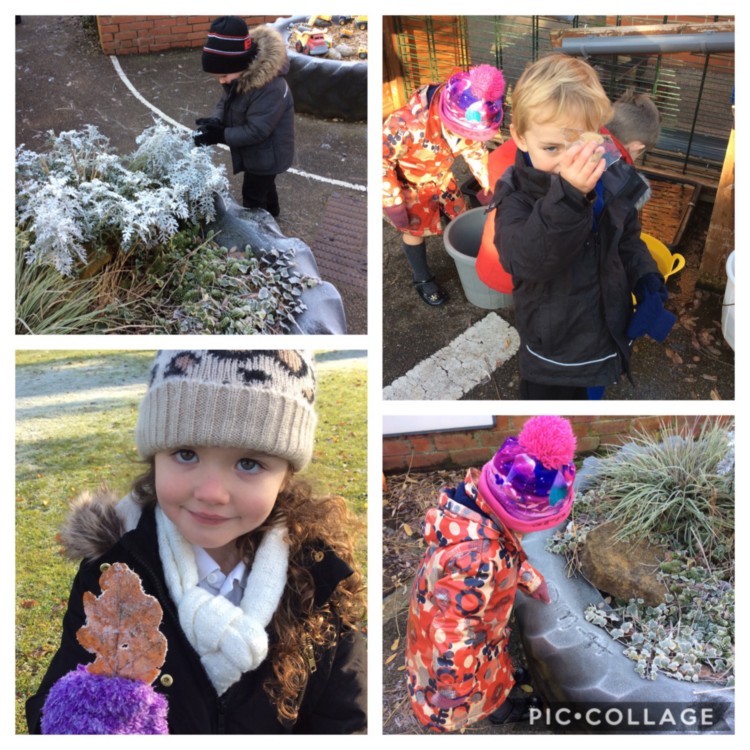 Number Patterns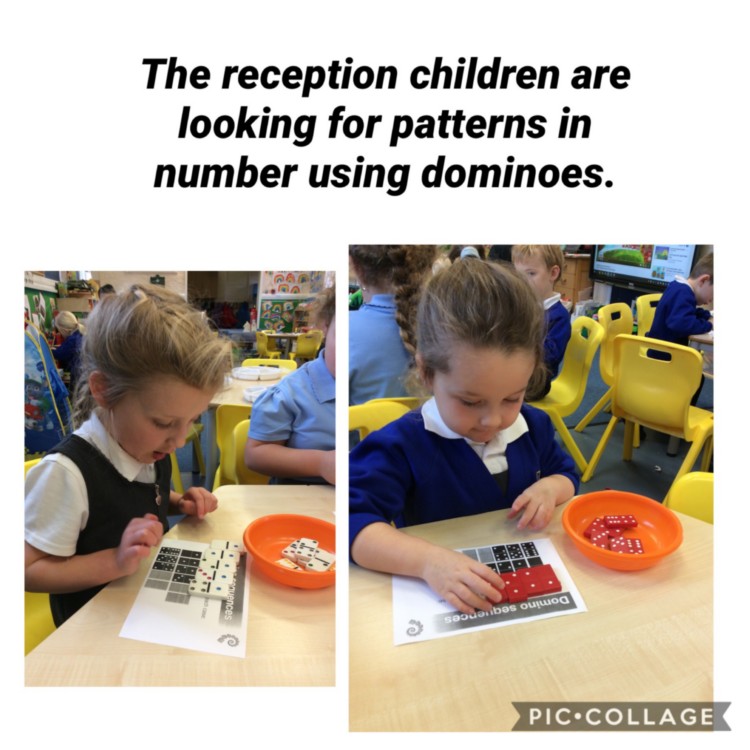 Frosty Walk 20 November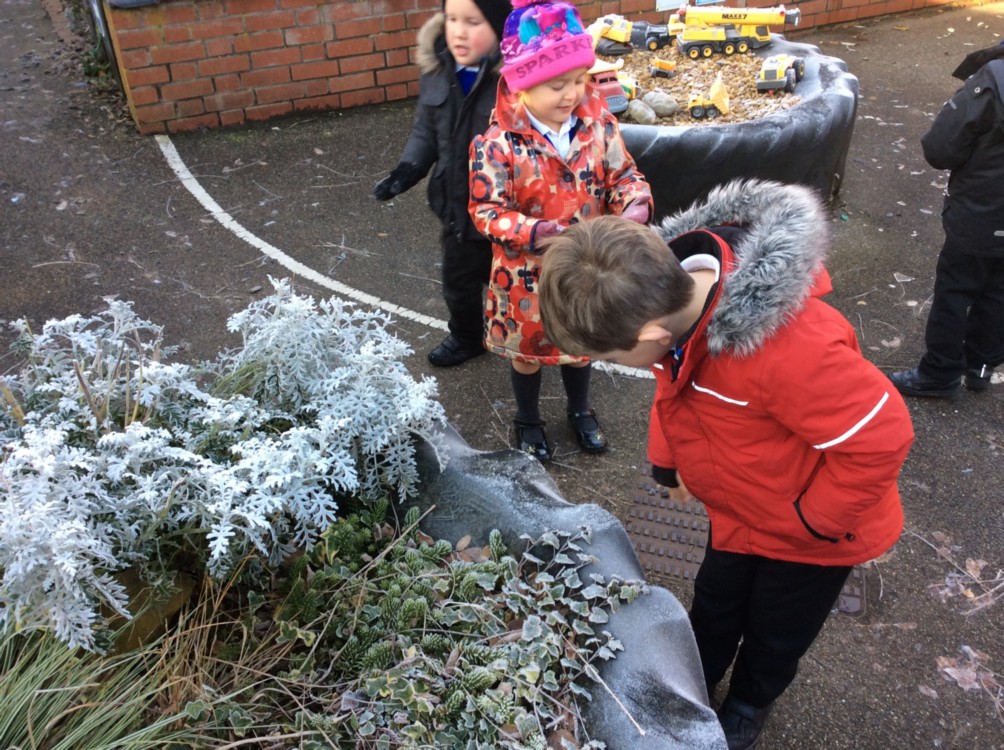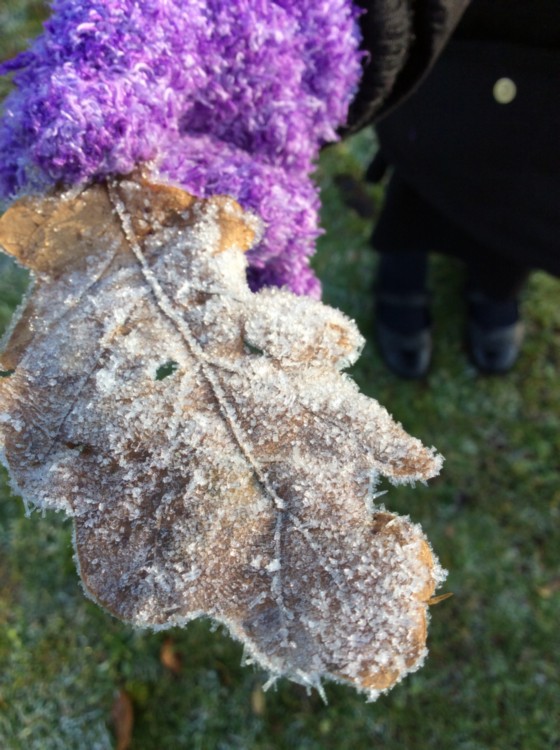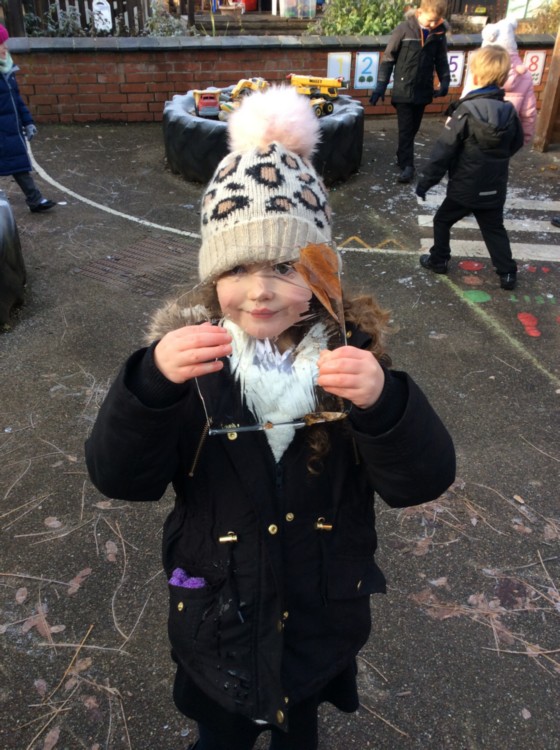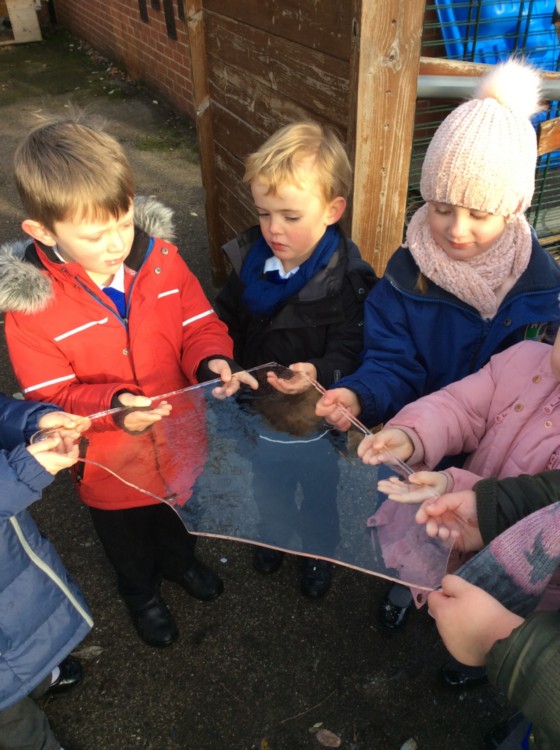 Maths 9 October
The Year 1 children are learning how to add two numbers together using the 'part, part whole' technique in maths.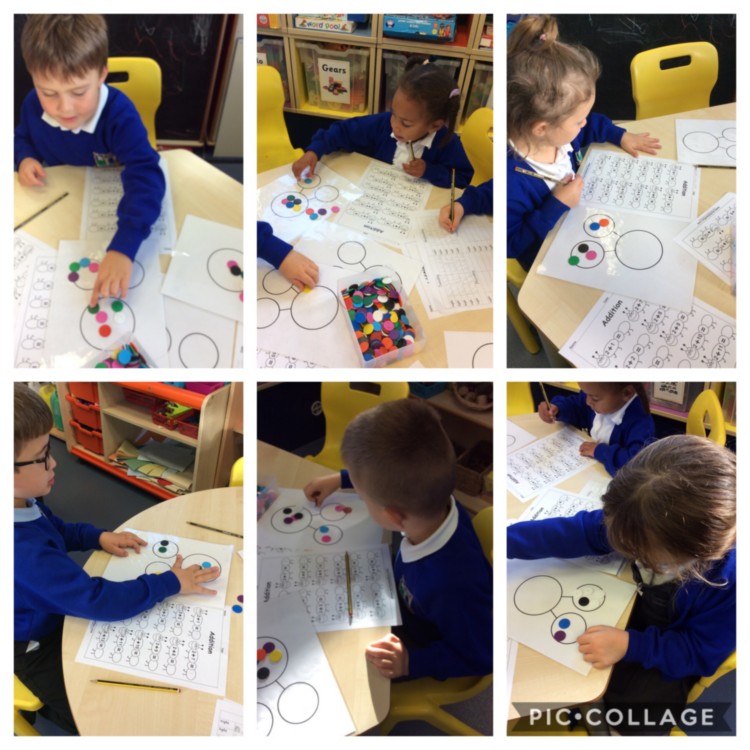 Firefighter Chris 27 September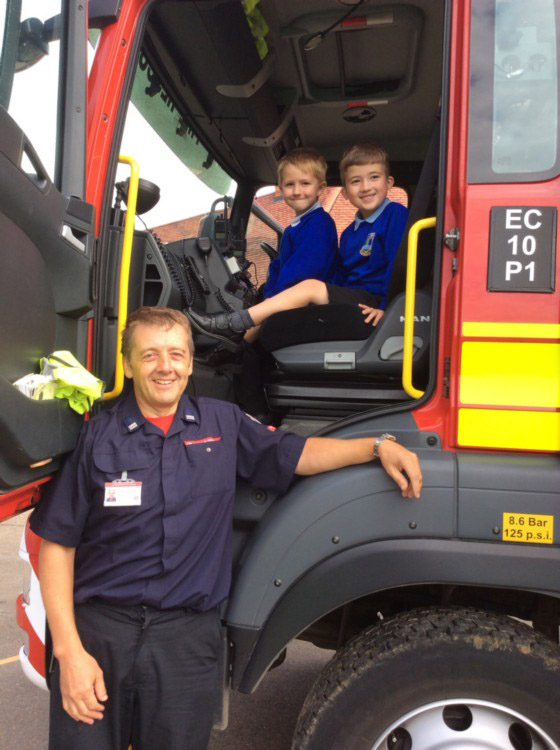 Firefighter Chris made a visit to our school to talk to the Hedgehog class about being a firefighter. The children were so excited to go into the fire engine, try on the firefighter's clothes and spray the fire hose!
The sirens were so loud, but we did have fun. Disclaimer Notice: This email and any attachments are confidential and intended solely for the use of the individual to whom it is addressed and may be legally privileged. If you are not the addressee, any disclosure, reproduction, distribution or other dissemination or use of this email is strictly prohibited. If you received this email in error, please notify the sender.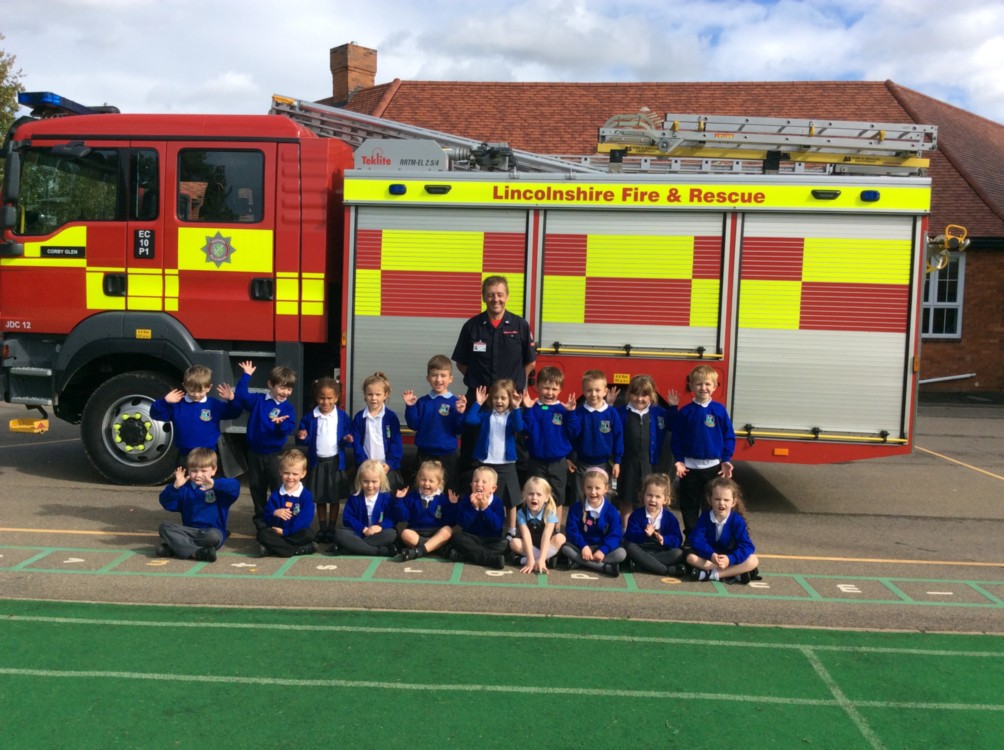 Thank you for all the support we have received from you to ensure the children are at school prepared and ready to learn and have fun.  I appreciate you leaving the children quickly in the morning, it makes it so much easier to get them settled and we can get straight on with learning.  After school is always the best time to catch me if you have any questions or concerns.  I firmly believe teaching is a partnership between school and parents and I hope we will work together in the best interests of your children.
The children are settling into the new routines of the Hedgehog class and look very smart in the morning.
Staff
In the Hedgehog class we have four adults working with the children, Mrs Foster, Mrs Pearce, Mrs Derry Ward and myself.  All of us have much experience working in schools and particularly with young children. 
| | |
| --- | --- |
| Mrs Marshall | All Week |
| Mrs Foster | Monday, Tuesday, Wednesday, Thursday, Friday morning. |
| Mrs Derry-Ward | Tuesday, Wednesday |
| Mrs Pearce | Monday and Friday afternoons |
Topic
We want happy children who feel valued and safe; making excellent progress.  We will be learning through topics and there will be two each term.  This half term our topic is:
'People Who Help Us'.
We will have different role play areas throughout the term, the hairdressers, the doctors and the police and fire station.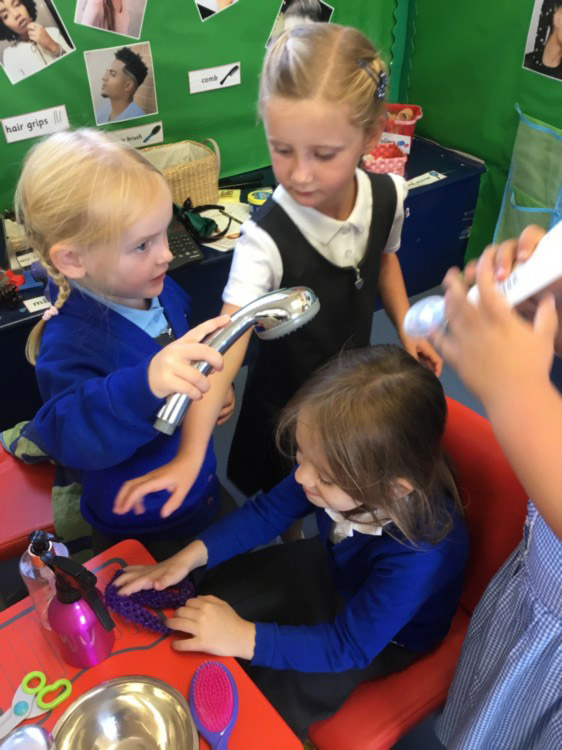 The children will learn about what helping means in school and at home. They will be introduced to the class system of 'bucket Filling' – which recognises when a child has helped, been polite or friendly towards others or been kind.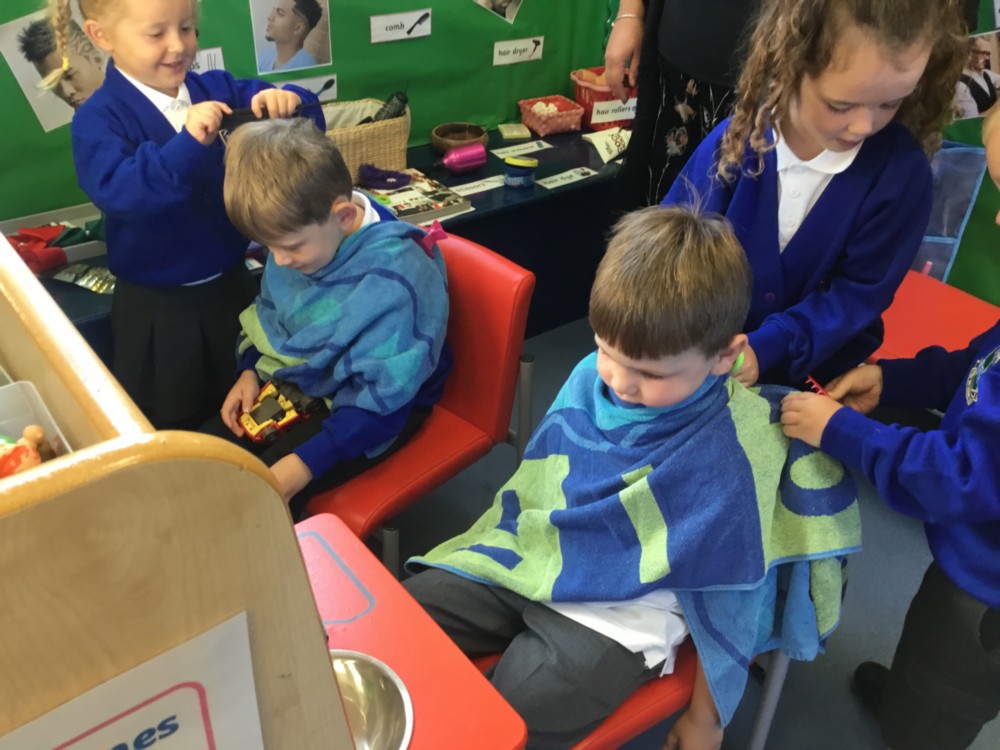 There will be opportunity to learn about those adults who help in school or in the wider community. If any parent who has a job which involves helping others and they would like to talk to the class about their role, please let me know and we will organise a time for you to do that.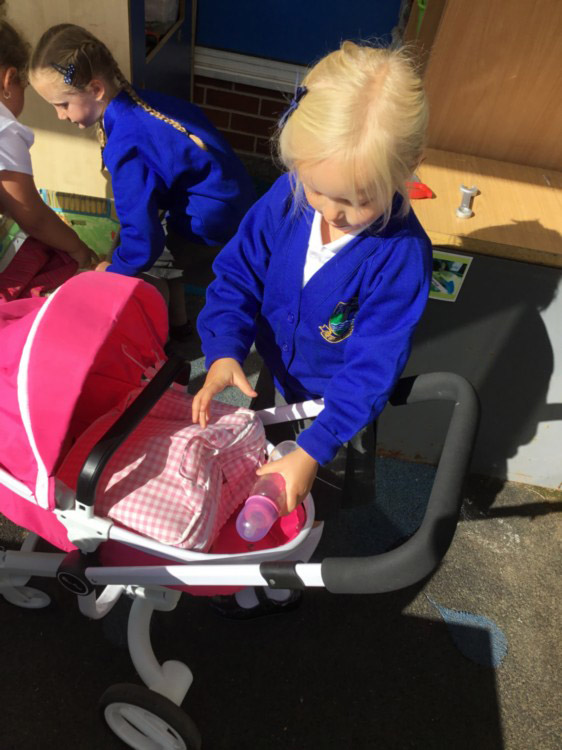 Reading
I want your child to make quick progress in their reading and with this in mind we would like to listen to your child twice a week.  I need your assistance in this by you listening to your child read at night or helping with learning their sounds or high frequency words.  Each child will get a wallet in their book bag; this will contain different things for you to help your child learn.  There will also be numbers which they need to learn.  These wallets do need to be kept in their book bags as I will be adding or taking out things when I listen to your child read.  They will each have a 'Phonic Folder' which will also support their learning of sounds.  I tend to supply lots of things for you to do at home as I am a firm believer it is important to teach children to learn to read quickly as then they can then read to learn!  I offer these things in their bags as I know sometimes listening to a child read their reading book is something which may not happen for a variety of reasons, but you may have time to get through a few words or practise sounds.  Young children need little but often, so don't plan to spend any longer than 10 minutes a day on this, you can lengthen this out if your child wants to, but only do so if they are enthusiastic. 
Maths:
Year 1 will be recapping numbers to ten and working with these in various contexts, recalling and learning number bonds for each number. Later, moving onto numbers to 20.
Reception will be identifying number labels, counting, reciting numbers to ten and writing these numbers.
English:
Year 1 will continue with Read Write Inc and independent writing, learning to spell words using the digraphs learned.
Throughout the term Reception are learning the first set of phonemes:
m, a, s, d, t, i, n, p, g, o, c, k, u, b, f, e, l, h, sh, r, j, v, y, w, th, z, ch, qu, x, ng, nk
The reception children will be learning how to blend these sounds to read simple CVC words such as: sat, mat, tin, pin. Once they can do this they will be given simple reading books with words in. At all times the children will be learning how to write these letters. You may have noticed a green phonic folder in their book bags; these are so you are aware which sounds they have been learning, for your child to practise reading and writing the sound. When your child is writing the sound please encourage them to say the phrase as they write: a – around the apple down the leaf. Learning each sound this way helps to ensure the correct letter formation of each letter. I will pop in a phonic booklet into each child's reading folder; this should offer some guidance for you and it is also in the sidebar under 'Curriculum'.
Science:
We will be looking at the signs for Autumn, watching the weather and noticing the length of days.
PE:
Every child needs black shorts, white t shirt, jogging bottoms and plimsolls or trainers in a named bag which hangs on their peg. PE kits will go home at the end of every long term so parents will be able to wash them. This term PE will be mainly in the hall. We will be doing PE on Monday afternoons.
Forest School:
This will be every week on Tuesdays. Your child will need to arrive in school in the clothes they will be wearing for forest school: warm coat, hat, gloves, walking boots or wellies, warm trousers, tee shirt and a sweatshirt or jumper. It is cold being outside for longer than an hour so please ensure your child is dressed warmly.
Please ensure every item of clothing, footwear or sandwich box is clearly labelled.
Awards:
Every Friday we have a celebration assembly, when each teacher awards a child from each year group 'An Award of Excellence' and a 'Handwriting Award'. The photos of the children who have received the reward of excellence will be published on our school website for the week and displayed in the school hall. The children who get an award also receive a head teacher's sticker – when they get eight they can get a prize from the Excellent Box. Within our class we have a sticker system, when a child does anything good, great or amazing they will be given a sticker to put on their star. At the end of the week the stickers are counted and the winner gets to take home a cup for the weekend, their photo is displayed on our Star of the Week board. There are also house points which the children get for their colour houses, these are added at the end of the week and the house with the most receive a cup.
Homework
I believe young children have a long day in school and they need time to unwind so homework will be something at the beginning or end of a topic.  I do plan to have Show and Tell sessions, which will be related to the topic of the term.  I will send details to you the week before I wish your child to bring something in.  It's really important for you to talk to your child before they bring in their 'Show and Tell', so treat this as a homework job.  For Year 1 children I will be sending a little more home so you can keep in touch with their learning.
Tapestry for Reception Children
This is a great way for parents to see how their child is progressing and what they've been enjoying doing at school.   More importantly it is a communication system for you to let me know what interests your child and any 'wow' moments in their life – such as a swimming award, riding a bike or reading words in different contexts. 
Equipment or Clothes
All children need wellies in school and to bring a coat, we often go outside throughout the day, later please ensure they have a hat and gloves too; which they could store in their trays.  A book bag is essential as we often give them things to take home, along with their books and wallet.  Please try to empty the letters, work and other things which are in it (except the book, diary and wallet). They need some trainers for their morning run; these are stored in the outdoor classroom Hedgehog box.  They also need a PE kit, we plan to do a PE session on Mondays. Please encourage your child to be in charge of their own things, storing them in their trays or finding their pegs independently.
Thank you for your support,
Mrs Marie Marshall
New Children