We have a great selection of lunchtime and after school clubs.
Monday
Mrs Hammond will continue to run her Start Art Club and it will be offered to children in years 3, 4, 5 and 6.  There will be 4 sessions prior to the May half term holiday, commencing on Monday 24th April.  Parents/Children will have the option to continue and do the 6 sessions after the May half term. There is a charge for this club of £6 per session; payment can be made weekly or upfront in full, cheques payable to Start Art.  Payment should be made direct to Mrs Hammond once your child has started the club.  Mrs Hammond has spaces for 11 children next term.  The children will be learning how to do silk printing during the first term back.
The club runs from 3:15 to 4:30 pm.
Tuesday
Singing club will continue with Mrs Wilson on Tuesdays for children in years 2, 3, 4, 5 & 6, 3:15 pm to 4:15pm. 
Cooking Club – Tuesday 3:15 pm to 4:30 pm – Yrs 5 & 6 – Mrs Lovesey
Cooking club will run for 5 weeks, finishing at the end of May.  If there is a high demand for places we may offer cooking club to children in Yr 5 & 6 after the May half term.
Fun Club – Tuesday 3:15 pm to 4:15 pm – Reception, Yrs 1 & 2
Mr Starr and Mrs Foster will be taking fun club this term, lots of exciting activities for the children to take part in.
Dance Club – Tuesday 3:15 pm to 4:15 pm – Yrs 3, 4, 5 & 6 – Mrs S Woodward
Do you wanna dance?   Mrs Woodward (Isaac and Seth's mum) will be running a lively and fun dance club based on traditional country dancing with a kick-ass twist.  The club will be on Tuesday afternoons, 3:15 to 4:15 pm, the club is open to children in years 3, 4, 5 & 6.
Wednesday
Woodwork Club – Wednesday 3:15 pm to 4:15 pm – Yrs 4, 5 & 6
Thursday
Kwik Cricket/Rounders Club – Thursday 3:15 pm to 4:15 pm – Years 3, 4, 5, 6 – Mr Clarke
Mr Clarke will run Kwik Cricket and Rounders Club, alternating the 2 sports week by week.  Children requesting a place in this club will need to attend both kwik cricket and rounders sessions.
Gardening Club - Thursday, 3:15 to 4:15 pm – Yrs 1, 2, 3 & 4
Gardening Club places were allocated last term and remain in place for the rest of the year.  We do however have a couple of spare slots, should your child be interested in joining the gardeners.
See reports from Gardening Club
---
Art Club
Christmas Lanterns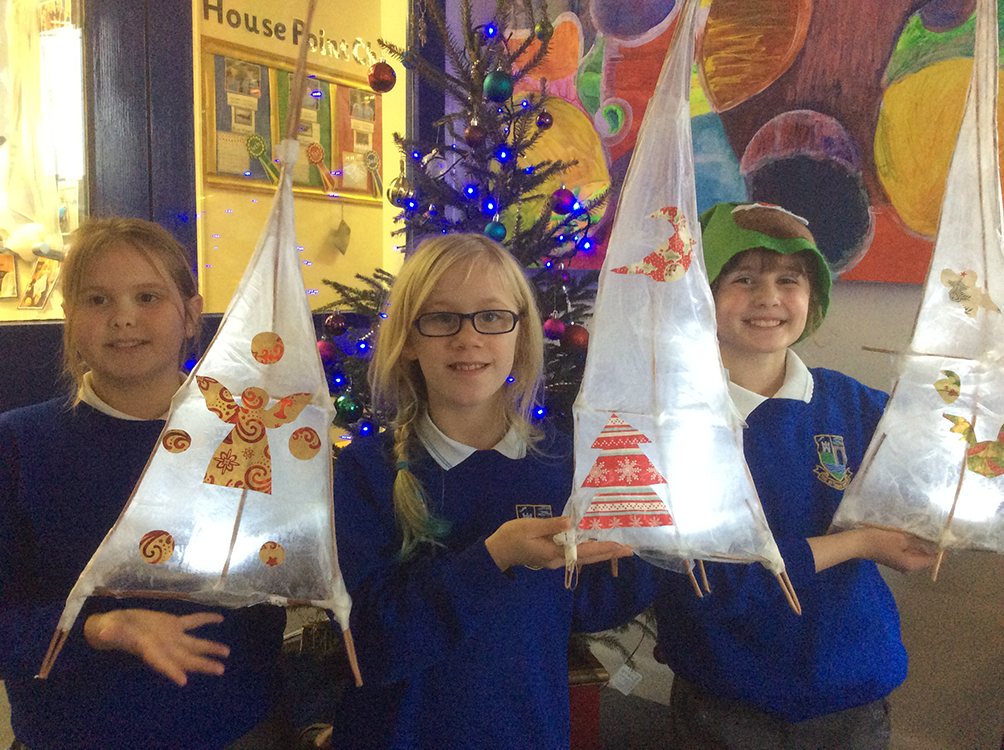 The children in art club this term have been making Christmas Lanterns. Made from willow and tissue paper these lanterns look amazing, well done art club.
Cooking Club
Cake week!
Lemon and Rhubarb
To balance our offerings at Cooking Club we try to have a cake week, based on produce available in the school garden whenever possible. Luckily the rhubarb still had some sweet stems which replaced the raspberries in the original recipe. Thank you, Lara, for picking it. If you want to do the same, just chop one small stem of rhubarb and add in place of the raspberries.
We made 1 batch of muffins per 3 children so everyone got involved in each step of the recipe. Mrs Wilson managed to time her visit to the Staff Room just as the cakes were cooked! "Whphhh!" She exclaimed with pleasure, followed by "Gorgeous! I like sharp flavours and these have two with the lemon and rhubarb. Very good!" Needless to say, the team were very proud of their baking.
The recipe can be downloaded at The Childrens Food Trust
A 'Souper' session
Last week we had a vote on the soups we would enjoy making this week. So this week we have made the winners: Pea and Ham soup and Tomato and Basil soup. Both are full of vegetables - making them nutritious as well as tasty.
Everyone prepared the vegetables and took turns in cooking and blending the soup. We also laughed at ourselves as the blender made us all jump the very first time we heard its mighty roar! The soups were both delicious with equal votes for each – give them a try!
To cook or not to cook lasagne sheets?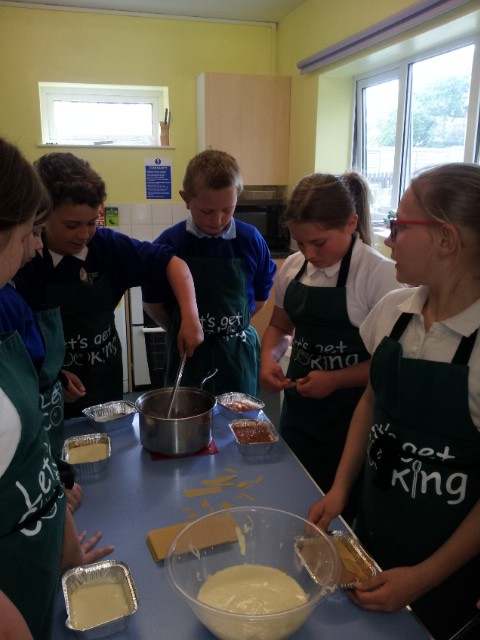 Some families pre-cook their lasagne, some do not…we decided not, as time is always short at Cooking Club.
Using the recipe from last week our experienced cooks made the cheese sauce in the microwave. Meanwhile our new members made the meat sauce, practising their safe handling of knives to chop the onions, before cooking the meat with the tomatoes and onions.
Finally they went round and round the table adding layer upon layer to their individual dishes, some layers being much thicker than others!
Mr Clarke tried the resulting dish and declared it "Delicious!" What more could we ask for?
We're back!
Cooking Club has returned - after our brief break whilst After School Club used the Staff Room – it's good to be back! Our team is a great mix of experienced and new club members from across Years 5 and 6, who are a pleasure to work with.
We experimented with making cheese sauce from scratch on the hob and in the microwave. Next we compared their resulting taste and appearances when made into Macaroni Cheese. Our conclusion was that the hob method seemed cheesier and creamier, although both looked the same. The hob method needed continuous stirring whilst the microwave all-in-one method was easier. Needless to say, the samples of both disappeared very quickly!
"What are we making?"
From about the Thursday before a session until the session itself, this question pops up repeatedly – that's how keen our cooks are! Our dish of Moroccan Vegetable Stew with couscous got a big thumbs up even before we started. Comments included "I love couscous.", "What is couscous? I 'spect I'll like it." and "Stew? Yum!"
Although this stew has an African flavour, most of the vegetables are from the British autumn/winter. It is quick to make, low in fat and is easy for children to help with. Courgettes are easy to cut with a table knife, herbs can be snipped with scissors or torn apart and the couscous can be made with warm or cold water – just leave to stand for up to 25 minutes then stir into the stew at the end to heat it.
When we use vegetables we always collect the peelings and anything else that is compostable and take them to the school garden at the end of the session, no matter how dark and cold it is – check out our photos.
Moroccan Vegetable Stew with Couscous
Christmas is coming!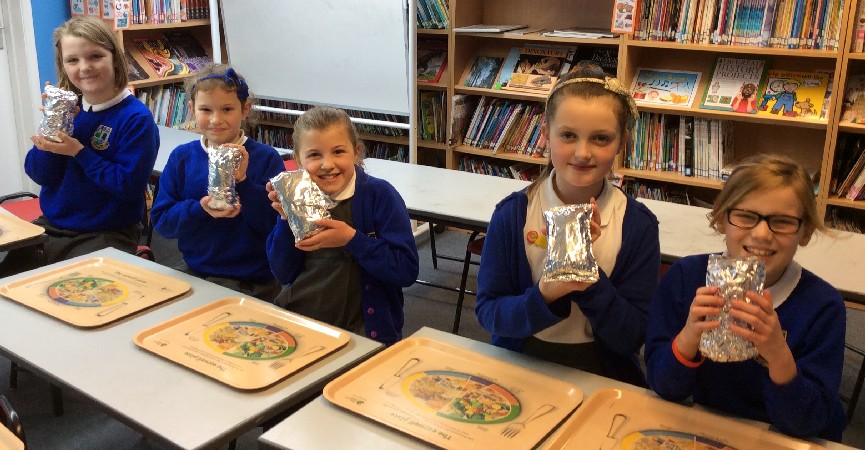 This is definitely a multi-session task for the club. The team started on Friday by weighing the dried fruit and zesting the lemons which were then mixed with orange juice. The whole bowlful was covered tightly and left in the fridge to allow the fruit to absorb the juice and lemon flavours.
On Monday everyone shared making a huge bowl of cake mixture by creaming sugar and butter; then adding eggs, flour and mixed spice. The soaked fruit was then stirred in to make a fragrant cake mixture. Mrs Lovesey took the cakes home to bake as they needed over an hour to cook.
On Wednesday everyone wrapped the baked cakes in baking paper followed by foil. They are now stored in a cool place ready for decorating at our last session before Christmas.
Our photo only shows the wrapped cakes as they are going to be a surprise for the families.
Bythams' Bacon, Leek and Cheese Bake
Following on from last week, the team made another dish which could be popped in a lunchbox with some fresh vegetables to make a healthy meal. This bake is a savoury bread and butter pudding which has become a favourite of our school. The vegetables and herbs are varied as to the season. In summer we may use spring onions or peppers or tomatoes with basil, whilst for our winter bake we used leeks, rosemary and thyme. This week we also made a vegetarian version, omitting the bacon.
In this session, we discussed how to prepare leeks, looking for hidden soil amongst the layers; and the use of brown or white bread. The team practised measuring both solids and liquids with care. However, the counting of eight eggs by Olivia made us laugh (she can share that story!)
The final dishes looked and smelled mouth-watering, enticing the teachers leaving the weekly Staff Meeting to pop in for a taste. Everyone commented on how brilliant our cooks are, to have baked such a delicious dish!
Bacon, Leek and Cheese Backe recipe
Final week – oh no!
The Year 3's have had 6 weeks of cooking so this was their final week until next school year. After much demand from the cooks to make a pasta dish we settled on Spaghetti Bolognaise as it is a good base for future recipes as the Cooks progress through school.
While the sauce cooked the team answered a short survey on their club sessions then learned about the different food groups through a fun game. Comments such as "My favourite!" and "It tastes better than tomato!" came from the tasting at the end.
Something fishy going on?
Yes, our fishcakes, tuna and salmon. Fish should be in all our diets and these are a fun way to include them.  They also are a great way to use up any leftover mashed potatoes. We added sweetcorn and cheese to the tuna ones and peas to the salmon ones, but almost any leftover vegetables can be used. The potato peeling and mashing was hard work but the team did an excellent job of both. As we made two different types of fishcake there was a lot of washing up this week – bowls, chopping boards and cutlery. Everyone takes turns at either washing, drying or putting away and in this way learn about teamwork and hygiene too.
Egg-citing session….
So far our Year 3 team have made a dessert, a curry and a risotto, each containing ingredients new to some of the children. By cooking a range of recipes we encourage the children to try different foods. However, no encouragement was needed at all this week as we made both a chocolate and a lemon drizzle cake. Cake making requires accurate weighing and efficient egg-cracking; a sugar spill and eggshell explosion proved that practice was needed!
The recipes can be cooked in a variety of tins – we used 4 mini-loaf tins for each recipe and cooked the cakes for about 25 minutes. To use other size tins, search the internet for 'Baking tin equivalent sizes.' Remember to adjust the cooking time too – a wide thin cake cooks faster than a squarer deep one!
The children enjoyed sampling the cakes and Mr Spires, our caretaker who has to clean the floor every week, was certainly looking forward to eating his too.
Cracking Chocolate Cake Recipe
An easy recipe this week which everyone loved – the tasting bowl was empty in minutes! Everyone practised their chopping and cutting skills, learned in previous weeks, by working with different ingredients (see photos). We cooked the risotto in the multi-cooker as it allows the children to safely stir the dish without the use of a step. If making at home it's easier to use a shallow pan, where possible, so children can cook too.
This recipe can be adapted to use up leftovers or whatever your family likes … chicken, sliced sausages, ham, any other vegetables, lemon zest, the list is almost endless!
Ahaar, me Hearties! Peaches and Peas…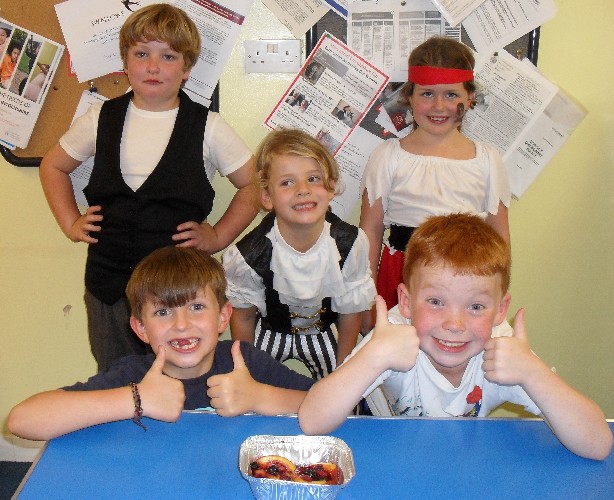 As pirates invaded the Staff Room for our first Year 3 cooking session, we just had to make Baked Peaches for Pirates. Everyone knows that as they sail the tropical seas they regularly plunder islands for fresh fruits!
Our shipmates learned how to correctly handle knives. For example, only to pass a sharp knife from person to person by laying it down on the table between them and then picking it up. They also used their gold digging muscles digging out the peach stones and finally measured out golden honey in sticky spoonfuls.
Unusually we had a second recipe to try this week. School has several small bags of dried peas left over from the prize-winning Food and Farming day collages. We will be using these over the school year to try unusual recipes. Whilst the peaches baked, Mrs Allett fried some Maple peas and the shipmates chopped herbs (thank you Gardening Club) using scissors in a jug. When these were combined with some cumin we all got to try them and some peaches. The verdict on the peas was "N0!" However, the peaches got mainly a thumbs up and feedback since shows mums especially enjoyed them! No walking the plank for the team this week!
Computing Club
This term computing club has been with the year 5 and 6 children. We have been using a wide range of apps on the iPads. Firstly we have been using Lego Movie, this is an app which the children love to use and create stop start animation. Their imaginations have been unleashed, and below are several examples of animations they have created.
During the club, we have been following children interests; these have included photography and using Scratch. Over the coming weeks we will be using the green screen, creating courses for the Beebot and looking at creating out own Augment Reality triggers. Below is example of photographs taken 'from a small perspective.'
Dance Club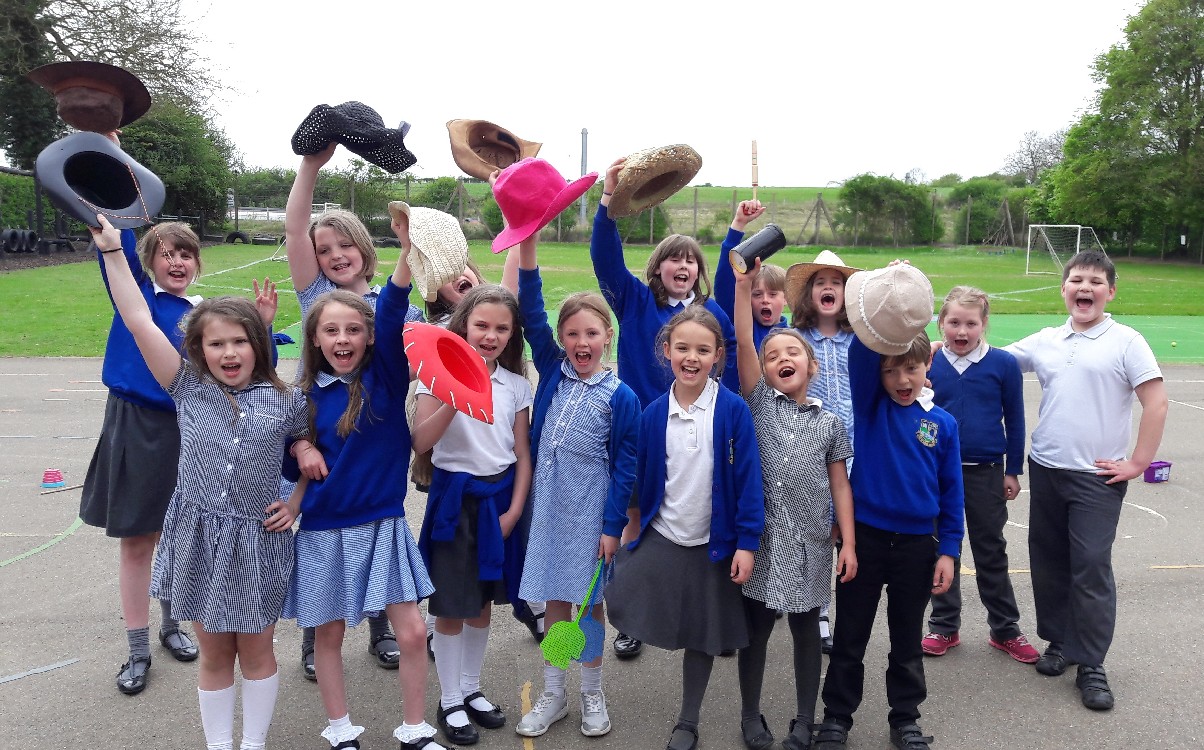 The dance club are busy rehearsing for their May Fair performance of 'Cotton Eye Joe'….yee-haw!!
Gardening Club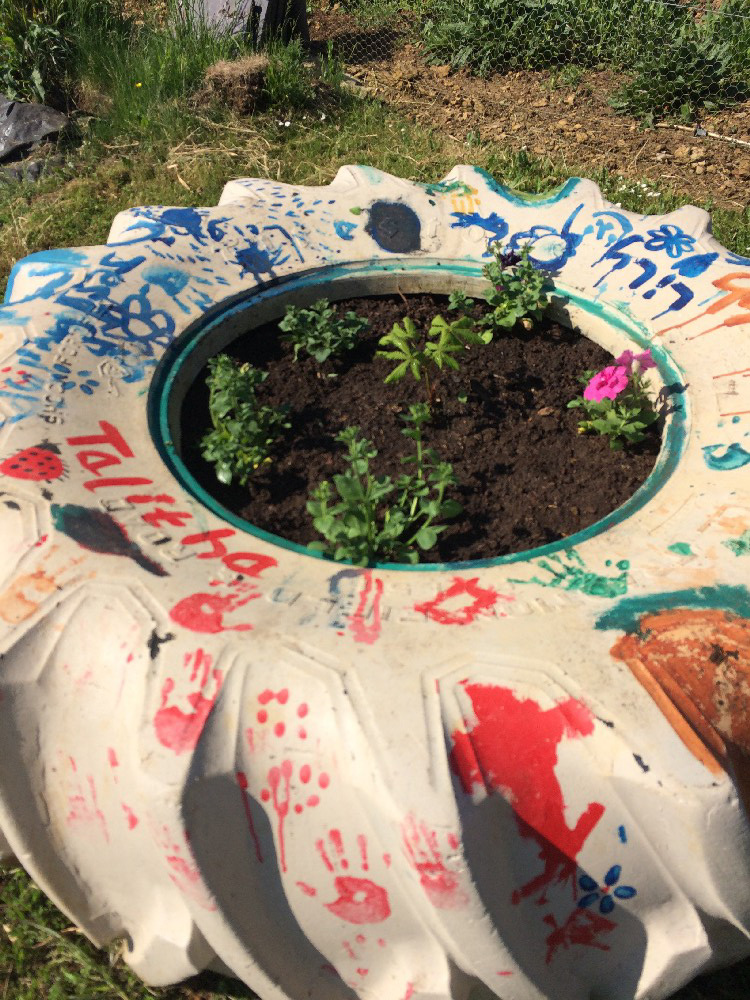 The children from gardening club planted a horse chestnut tree in the garden yesterday to remember Mrs Golby. Mrs Golby was a frequent visitor to the garden and she always used to buy gardening clubs vegetables, and donated a lily to put in the pond.