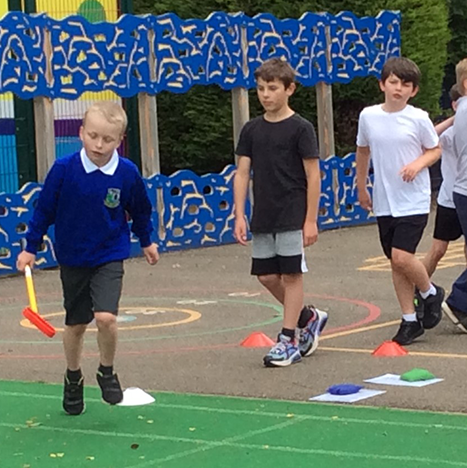 Children at the Bythams Primary School are encouraged and given the opportunity to participate to the best of their ability in a wide variety of sports, games and physical activities. It is recognised that children are naturally enthusiastic about movement and we aim to develop this to enable them to become both skilful and creative.
Foundation Stage
In Foundation the children follow the Development Matters and Foundation Stage Profile frameworks when delivering PE. The PE at this stage includes fundamental multi-skills, dance and gymnastics.
Key Stage 1
In Key Stage 1, a programme of games, athletics, dance and gymnastic activities is planned.
Year 1 children focus on fundamental skills such as throwing, catching, running, jumping and hitting in their games and athletics lessons. Their gymnastics and dance lessons develop their fundamental movement and balance skills.
Year 2 follow a similar programme to Year 1 but during the spring and summer terms they start to focus more on transferring their fundamental skills in to specific sports activities including tag rugby, basketball, cricket, tennis and more. This allows for a smooth transition into Key Stage 2.
Key Stage 2
In Key Stage 2, the above programme is extended and arranged with the addition of indoor athletics, outdoor and adventurous activities and a course of swimming for Years 3 - 6. The games unit is split into individual sport covering all the areas of invasion games, net/wall games and striking and fielding games.
Swimming is taught, using a qualified swimming instructor, and covers areas such as water skills, stroke development and enjoyment.
A competitive sports day is organized yearly for both key stages. This is the final competition of the House Championships.
We are very proud of the sporting successes the children have achieved in recent years and in order to maintain this success, we have many after school sports clubs for children to attend. These after school clubs cover all the sports we compete in including tag rugby, basketball, cricket, football, netball and more. As a school we take part in many different sporting competitions and festivals throughout the year allowing many children to experience playing against children from other schools.