Welcome to a new school year in Squirrels class. 
On this page we share some of the great things we do in class.
Term 3
Our topic this term is Predator, a great topic to develop our science knowledge and we will investigate food chains, bug eating plants, skeletons and predator birds.
Our class reading book for the term is The Boy Who Grew Dragons. We will be using this and other dragon books to inspire our writing and art work this term.
Term 2
Squirrel's topic for this term is entitled Scrumdiddlyumptious. Our book associated with this is Charlie and The Chocolate Factory, which the children are thoroughly enjoying.
We have been investigating chocolate, taste testing a lot of different flavours and the children have invented their own bars and designed the wrappers, which are on display in the classroom. We are currently looking at how chocolate is made, and the journey of the cacao.
Making our own chocolate bar inventions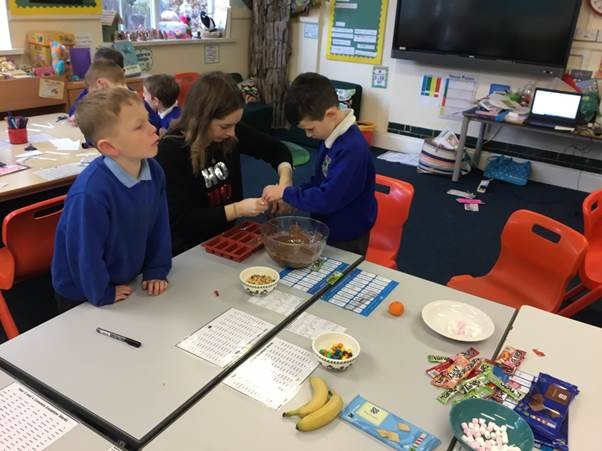 We made our own fruit bowls using paper mache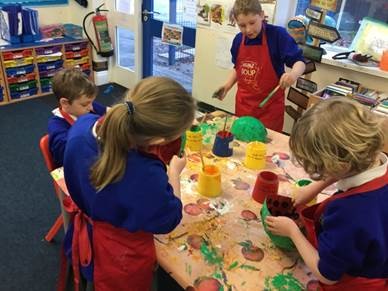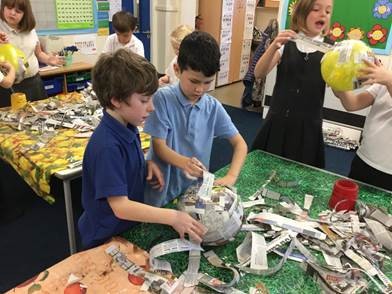 English
In Year 3, our guided reading book is The Christmasarus, the children are learning lots of new vocabulary, and they are enjoying predicting what is happening within the story.
In the first 3 weeks of the term, we used How to Wash A Woolly Mammoth as a guide for children to write instructions of how to wash an ice age animal. We also learnt a lot about mammoths too as the children were very interested in them.
Term 1
Our Topic this term is Muck, Mess and Mixtures. The children had a fabulous Messy mixtures morning. They experienced a variety of weird and wonderful mixtures that they felt with their hands, and used some amazing vocabulary to discuss the properties of the mixtures. We have a display of pictures in the classroom and you are welcome to come in and see them. Their favourite concoctions were soap flakes and jelly snakes.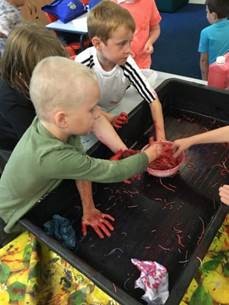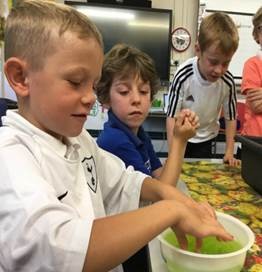 Our class reading book this term is George's Marvellous Medicine to link with our mixtures topic.
Mixtures will also inform our Science work this term as the children will have opportunities to investigate, make simple tests and predictions. What soap will make the biggest bubble? Which food will melt the fastest? How can we make ice cream?
Making ice cream in bags
The children will investigate the Mess element of our topic through art and DT, using clay, inks, food landscapes and cooking.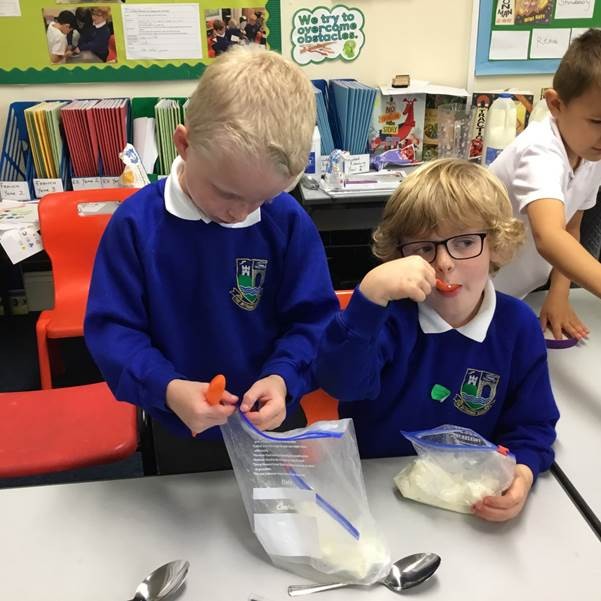 The children will investigate the Mess element of our topic through art and DT, using clay, inks, food landscapes and cooking.
Reading
Children are expected to read regularly and it is key they are heard read several times a week. Please ensure that their reading achievements are recorded in their diaries, which are checked every Monday when their books are changed. Two books are issued per week. At The Bythams we try to nurture a love of reading in the children and the activities we do should enhance their experiences and enjoyment of reading.
Spellings
Your child will still receive weekly spellings to practise in their spelling book, which is an extension of their learning in school. Their spelling test will be every Friday.
Maths Homework
The school uses Mathletics, homework is set on a weekly basis. If you would like your child to have paper set homework, please let me know and this can be arranged.